I know I change my mind, like every 3 seconds; but while researching my post on new campervans for sale in Australia, I think I may have found my new, favourite best small campervan Australia.
The smallest campervan with a toilet and shower in Australia, are those that are built on the Fiat Ducato LWB or the Volkswagen Crafter MWB.
On the Fiat we have the Avan Applause 500, Horizon Melaleuca, Nova RV E2S and Adra Twin.
And on the VW Crafter you can get the Jacana Seeker or the Trakka Akuna A2M.
And it's the Trakka Akuna A2M that has totally taken my fancy.
I do acknowledge that anything that's 'best' on the internet is purely subjective, so here are the reasons why I think the Trakka Akuna is the best small campervan in Australia.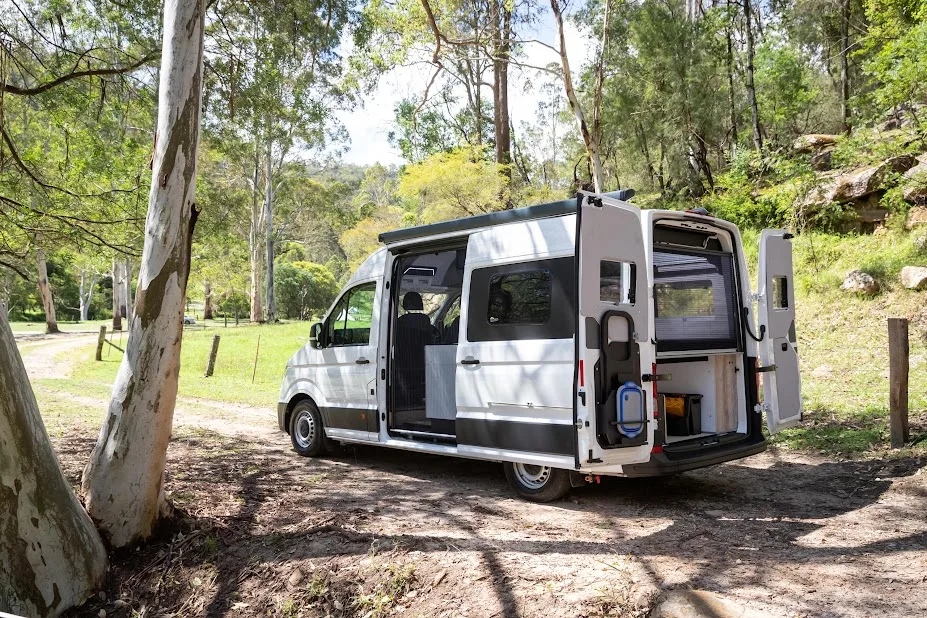 Here's why the Trakka Akuna A2M is the best small campervan in Australia:
Shortest length that includes a bathroom
At less than 6m (I mean, the tiniest smidge under 6m) this campervan will fit into most car parks, making the transition between rural and city driving easy. (She's tall though, so parking buildings are going to be a no-go.)
But to have a bathroom too… well that's just awesome. It is a teeny tiny little thing though, so you're probably going to be doing some gymnastics having a shower in there, but at least it's an option (or you could add the optional external shower).
Innovative features
Things that make life a little bit easier, not deal breakers, but really useful.
Things like the double hinged fridge so you can open it from either side; the extra fridge drawer which can be accessed from either inside or outside the van.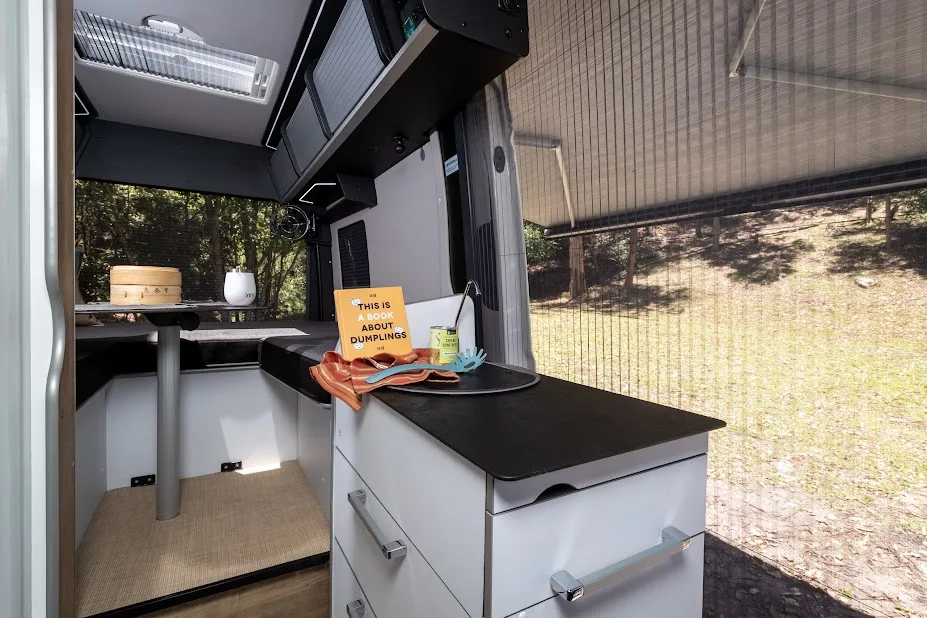 North / South Bed
I love the bed configuration of the A2M. You can have north/south single beds, east/west double bed or one giant bed taking up the back half of the van. (The max length is 1.9m so it still may not work for taller people)
Thin table/counter tops
Trakka have developed, what they call SlimTec, which are thin, yet durable table and counter tops. Much as I love a butcher block kitchen bench, the SlimTec looks great… and saves a lot of weight!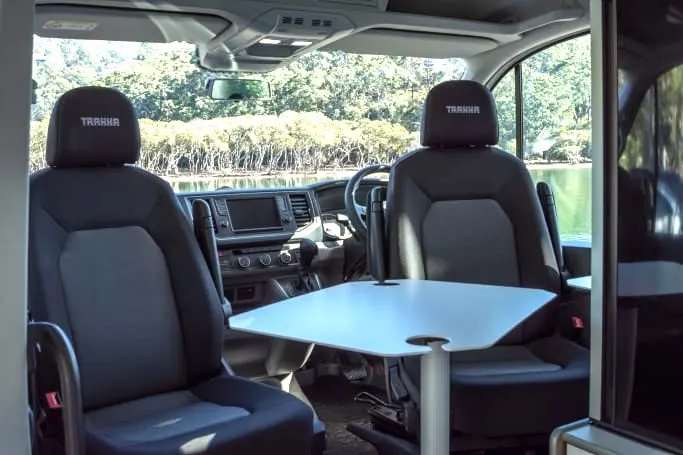 Emphasis on off-grid capabilities
Lithium batteries, solar charging, 12V and USB outlets and digital monitoring of electrical and water systems are standard on all the Trakka campervans. Coupled with the toilet, fresh water and grey water tanks, you're set for free camping almost anywhere.
AWD
The option of All Wheel Drive opens up a world of possibilities. Coupled with it's off-grid capabilities this vehicle will take you on amazing adventures!
Cons
Ah, but it's not all lollipops and rainbows; there has to be some give and take, a little compromise. And here are the compromises:
Interior decor
The interior decor is pleasant with neutral tones and a nice wood finish option on the exterior of the bathroom. It's got a modern, but not too space age shiny.
Tiny kitchen
You're not going to be cooking anything too complicated in this kitchen. Do we call it a kitchen when it's this small?
But I do like how the induction cooktop is portable, encouraging you to cook outside, but having the option of cooking inside if you need/want to.
I feel like they've made really sensible compromises with this van though. Like, the kitchen and bathroom are tiny (but you can cook outside, and you don't shower as much as you use the loo) and they've used that space for things like a bigger bed and a bigger fridge.
---
I always look at vans through the lens of a full time traveller, and even though it's small (which is what I like) I think the Akuna A2M would be great for full time #vanlife.
You'd have to be careful with your payload (which is gonna be the case for any MWB van) but it's the perfect base for embracing a minimalist and free-camping lifestyle!
Trakka Akuna A2M
Vehicle: Volkswagen Crafter MWB
Length: 5.99m 21'
Height: 2.72m (2.87 with air con)
Internal height: 1.92m
Fresh water: 140L
Grey water: 80L
Toilet cassette: 16L
GVM: 3,550kg
Payload: 505kg
Max towable: 2,500kg

Price from $177,154
BTW – this is not sponsored or anything, it's just me gushing and wishing I had a beauty like this one to travel our amazing and vast country. <sigh>
What do you think, is the Akuna A2M as great as I'm making it out to be? What am I missing?
---
Looking for the right van / campervan for you?
I've created a spreadsheet with all the vans and campervans that can be bought new in Australia.
It includes the exterior dimensions, interior height, base price, seating and bed layout, bathroom, solar and air conditioning; with links to each one.
Subscribe to our newsletter below and we'll send you the Campervan Comparison Spreadsheet for free! You can unsubscribe at any time.