DIY camper van conversion kits
If you're looking for DIY camper van conversion kits in Australia there are limited choices, unfortunately.
However, if you're looking for van conversion components, removable camper conversion kits or a drawer under the bed type of solution, we'll get to that in a bit.
If you're after a full interior van conversion kit that includes the bed platform, storage, kitchen unit and even a bathroom, hmmm, that will be a little tougher to find in Australia.
If you don't want to do any of the work yourself, you should consider one of these Australian van conversion companies. Let them do all the hard work.
You may have seen blog posts from the USA or UK where there are companies that specialise in making modular kits that will fit a variety of different van make and models.
I'm talking about companies like Adventure Wagon, Happier Camper and Contravans.
They're perfect for the first time builder, someone who has a quick turnaround or just doesn't want to make some of the more complicated parts of their van build, because you can buy the parts of your van interior and just put it all together.
I know it's not particularly helpful to tell you what they do in other countries, but what you really want to know is what 'ready-made' parts or van conversion kits can you get here in Australia?
All is not completely lost, it depends on the level of conversion you're going for. And the size of your van.
---
If you're in the process of looking for a van now but not sure what vans come in what sizes, I've created a spreadsheet with all the vans that can be bought new in Australia.
The spreadsheet includes exterior dimensions, interior height, base price and links to each one.
(It also includes all the camper vans you can buy new in Australia, if you change your mind and decide you don't want to do a conversion.)
Just enter your name and email address and I'll send you the spreadsheet.
---
Van Conversion Kits – Australia
Campervan conversion kits by Happy Camper Conversions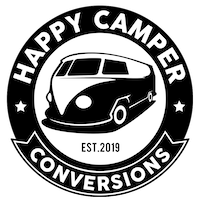 Mat from Happy Camper Conversions has combined his love of road tripping with his skills as a carpenter and cabinet maker to create some wonderful van conversions.
Just recently he has created a line of pre-assembled modular fit-outs. These components are perfect for those that want to do some of the work converting their own vans, but want it to look professional and stylish!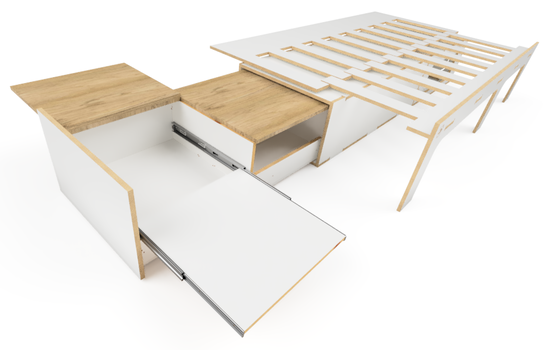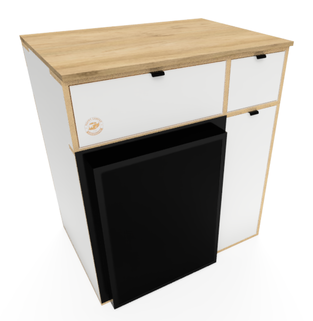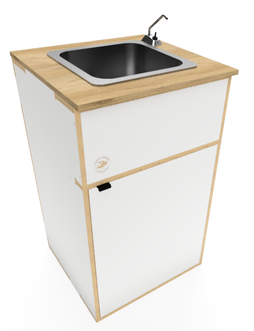 Starting at $450 for a basic storage unit, up to $3,250 for a slide out bed with kitchen drawer and storage unit.
As at writing this article they're only doing pick ups from Sydney, but they're working on a flat pack solution that can be shipped to you anywhere in Australia.
Flat pack van conversion kits by VanLife DIY Fitouts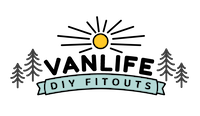 VanLife DIY Fitouts enables others to experience the freedom of van life and reconnect with nature; with their flatpack kits you can simply buy a layout and put it together without the needs for a myriad of tools or building 'know how'.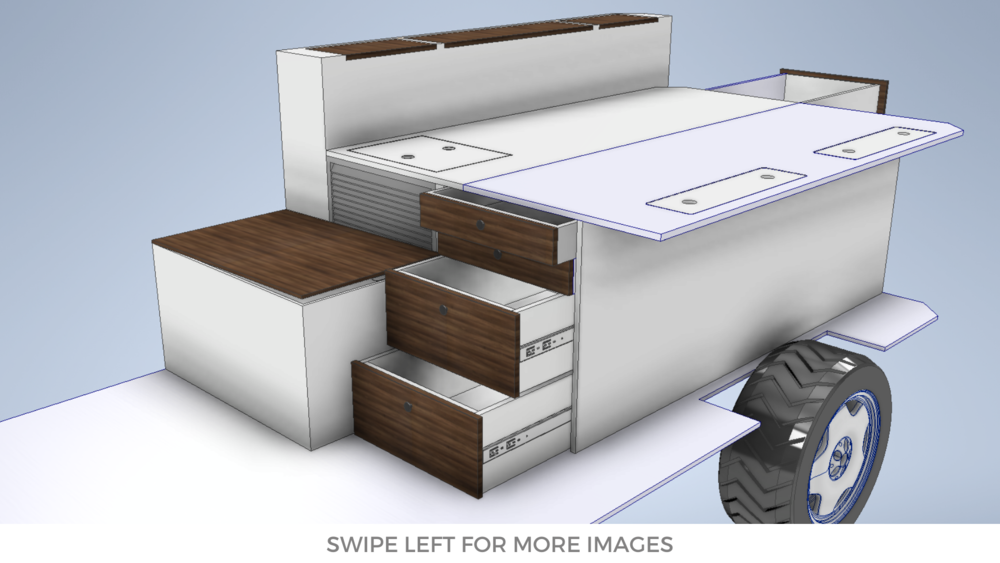 Starting at $2,897 for the Base Camp suitable for either short or long wheel base vans; this kit comes equipped with a bed platform, rear pull out kitchen set up , side storage unit, battery or crate space.
There are 8 layouts to choose from and range in price from $2,897 to $4,247.
Removable camper conversion kits by Kata CamperBox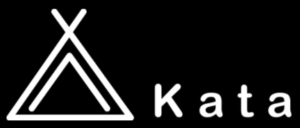 Kata CamperBox has 2 drawer systems that are perfect for camping.
The CamperBox Standard is ideal if you're looking for a camper kit that you could slot into your SUV that would allow you to have a comfy bed and an outdoor kitchen setup.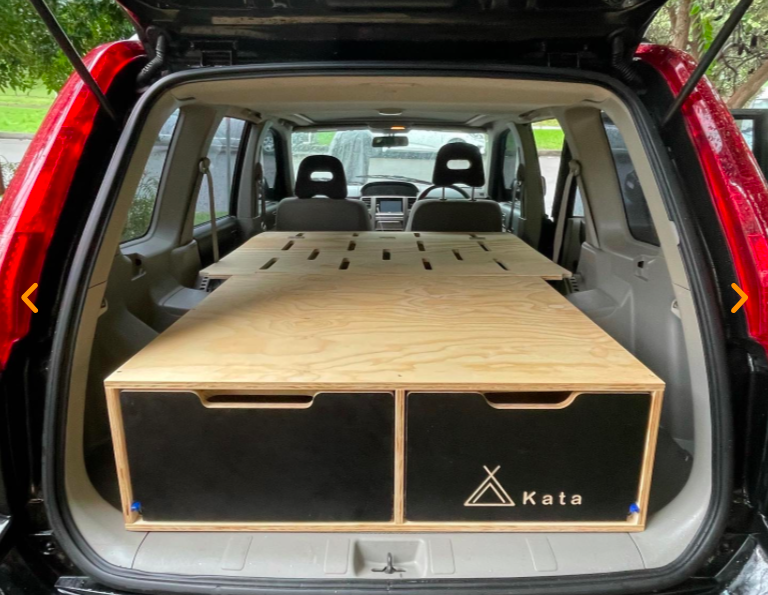 These boxes instantly convert the rear of your vehicle into a cozy bed with storage and a pull out kitchen underneath.
From $1,150 AUD + GST
The other option is VanBox, which is sized to fit into the back of a van. It has a pull out kitchen and more storage space for your supplies and room for a battery set-up.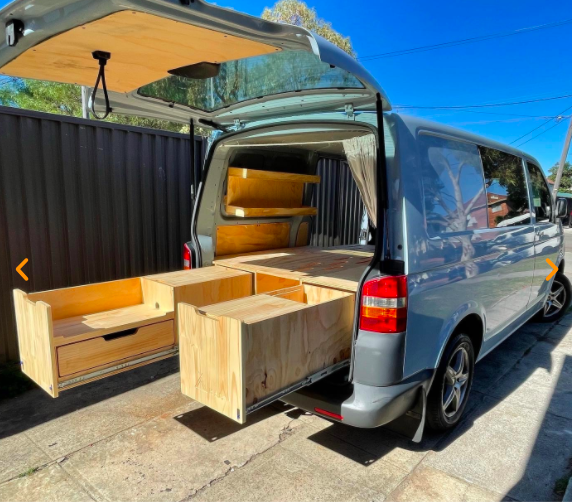 From $2,800 AUD + GST
When you come back from your weekend adventures you can remove the kata box and use your vehicle as normal again.
VW camper van conversion kits by VanEssa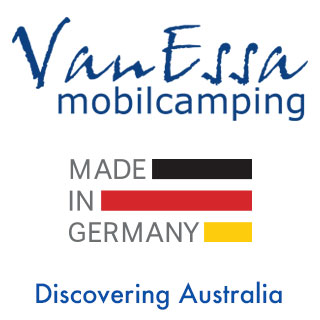 VanEssa Mobilecamping has a selection of modular camping units that are designed specifically for VW vans and VW Caddy.

These units are removable, so you can just lift in and lift out to make your vehicle versatile for holidays and every day life.
Camping boxes by Reimo
Reimo is a campervan parts supplier that I see popping up on Google more than the others. They've got lots of parts and accessories, but they also produce these 'camping boxes'. A removable unit that fits in the rear of your van with a bed platform on top and a slide-out kitchen and storage below.
Camper van conversion parts – Australia
There are a small number of suppliers of camper van conversion parts and accessories in Australia. So if there's something specific you're after, it's worth doing a google search for that part.
DIY RV Solutions

DIY RV Solutions are a Brisbane based business that produces components for a van conversion. They take care of the difficult parts IMO, like fibreglass components and exterior hatches/doors.
Their range includes:
Showers & basins
Roof conversions
Gas storage box
Door conversions
Access doors/hatches
Battery storage box
Made for the Toyota Hiace, Toyota Coaster, Mercedes Sprinter, Volkswagen Crafter and Ford Transit.
Just Kampers

Just Kampers are an online store that specialises in van conversion parts and components  for VW vehicles.
Vantastic RV Accessories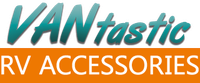 Vantastic RV Accessories are a division of Southern Spirit Campervans so you'll see their shops are quite similar. They are an authorised and official REIMO parts dealer, but they also have a loads of other parts and accessories.
And don't forget all the other motorhome and caravan parts suppliers that aren't specifically for camper vans, but have many of the same parts.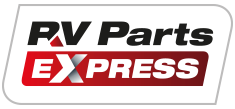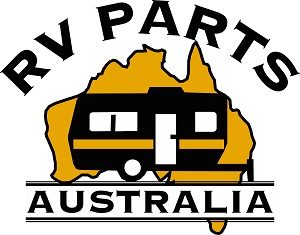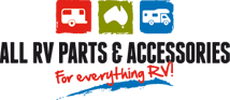 I hope the list above helps you to find the van conversion kits, parts or accessories that you need to complete your van build.
Don't forget, if it's all too much, there is always the option of passing the job over to a professional van conversion company.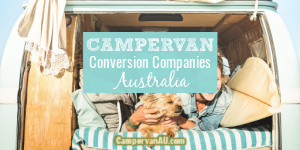 Save 'DIY van conversion kits' to Pinterest