Want to learn about campervan hire in Australia?
Travelling around Australia by road, is one of the best ways to see this vast country.
And hiring a campervan for your travels, is sometimes the most convenient and cost effective way to travel.
Links in this post may be affiliate links, which means I may make a small commission if you decide to purchase anything (at no extra cost to you). Please see our affiliate disclosure for more information.
Why rent a campervan in Australia
If you're an international visitor to Australia, then renting a campervan is a great option! A campervan (same as a Class B RV) means that you would have your transport and most of your accommodation cost covered when you rent.
I say 'most of your accommodation cost' because if you decide to stay in a caravan park or other organised camp sites, you will still need to pay camping fees. If you're going to be free camping, then of course you won't have these camping fees.
The reason why I love campervans, is that they are large enough to have your whole house in there, somewhere to sleep, somewhere to cook and relax, and (for some) somewhere to go to the toilet and have a shower.
But campervans are still small enough to fit into a regular car space.
In this article we answer some of the common questions we see about renting a campervan in Australia.
Where to hire campervans in Australia
You can rent a camper van from one of the large car/RV rental companies, or you could find a campervan for rent by owner.
Campervan for rent by owner
Caravan, campervan and motorhome owners are able to list their RVs on these RV sharing sites, so that they can rent out their RVs when their not using them.
It's a win/win for the owners and the renters, because owners can offset some of the cost of owning the RV; and renters get a huge selection of well-loved vehicles that they can rent.
There are two big RV sharing companies here in Australia: Outdoorsy and Camplify
Outdoorsy
Outdoorsy are a large US based company that are very popular, particularly in North America. A search on their website below, shows that they do also have a large selection of campervans for hire in Australia.

Just enter the location of where you want to hire your campervan, select the dates, and it will come up with lots of options for you.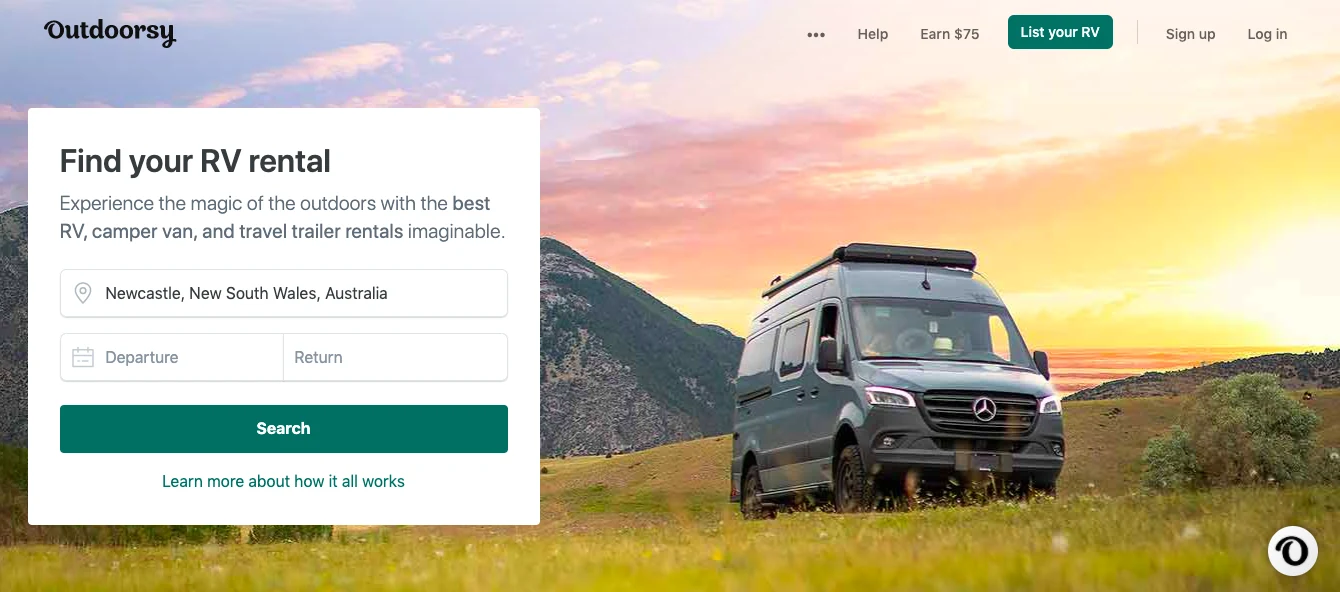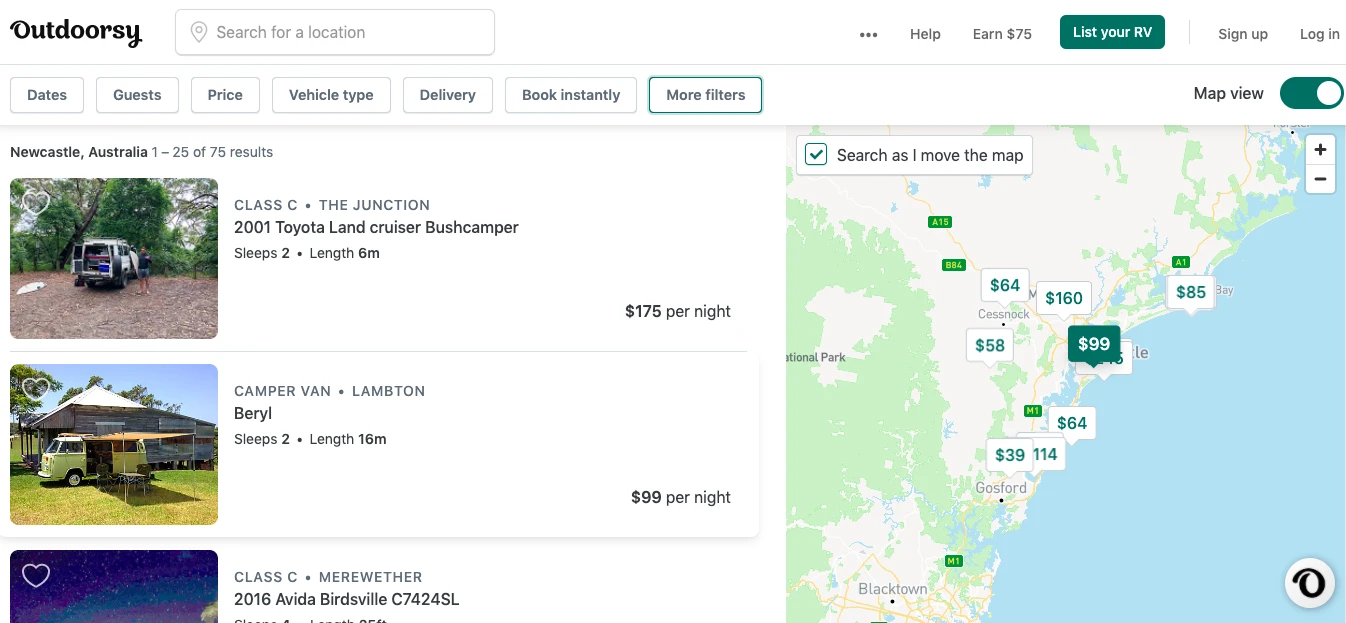 Camplify
This is an Australian based company and they're making great inroads into the RV share market.
It works the same as Outdoorsy. Just enter your hire location, dates, vehicle type and number of people etc, and it will come up with all the available campervans for rent near you.
I've found in my own searching through these 'rent by owner' sites, is that since each van is listed by a different person, the listings are all quite different.
Many people seem to have mislabelled their vehicles (listing their camper trailer as a campervan, or listing a campervan as a motorhome) and offering wildly differing nightly rates.
So you'll probably need to do a fair bit of filtering and screening of the camper vans, before making your choice.
Large RV rental companies
Comparison websites link up all the major campervan hire companies into one search engine.
So you enter the location where you want to hire from, the dates, how many people travelling and what type of RV you'd like.
The website will bring back results from all the campervan hire companies in Australia that have vehicles available that fit your criteria.
It makes it super easy to compare all the different campervans and their prices.
It's particularly good if you're looking for budget campervan hire Australia, as you can sort the results by price.
When searching for a campervan rental, it helps to know what your 'must haves' are, so that you can filter for these straight away. Things like: how many people does it sleep, and does it have a bathroom.
Other questions that you may want to ask before paying for your rental RV:
Is the transmission manual or automatic?
What is the interior height of the van (will you be able to stand up)?
Can you bring your pet with you?
Is there air-conditioning in the living area (or is it just the cab, when driving)
What is the insurance policy (excess etc)
Are kitchen utensil and linen included?Are toilet chemicals included?
Is it petrol or diesel?
Questions about how to rent a campervan in Australia
Can I rent a campervan one way only?
Most of the large campervan rental companies will allow you to do one way rentals. So you can pick up your campervan in Sydney, and drop it off in Brisbane, for example. But it will depend on where the rental company has offices.
You won't be able to do one way rentals with Outdoorsy or Camplify… I mean, those people will want their RVs back!
If you just want to travel one way, one option you could look at rental relocations.
Rental companies often need to move their stock around to different locations, so they offer up RVs at really cheap prices. They are restrictive in that you have to go from point A to point B within a certain timeframe. And they only come up last minute.
Worth keeping an eye out for these if you're flexible with your dates and locations. DriveNow.com.au explain it all here.
How much does it cost to rent a campervan in Australia?
Anywhere from AU$30 per day (for a minivan-type vehicle, bathroom) to AU$150+ for a van you can stand up in, with a bathroom.
How old do you have to be to rent a campervan in Australia?
Generally, the minimum age is 21. However there are a few companies that allow younger drivers. 18 years old is the minimum.
Can you park a campervan anywhere in Australia?
No. For overnight parking you will need to camp at a camp ground (paid or free).
In some places you can park in an area that is not a campground, but you will need to look out for signs that say you're not allowed to park overnight.
What Licence do I need to drive a campervan in Australia?
A standard car license.
It must be in English, or supported by a translation or international drivers permit.
Planning your campervan road trip
Planning your route
Google maps – I've found that this is easiest way for me to plan our route. You just enter in the start and finish points, and the places on your bucket list in between.
Google maps gives you the drive times so you'll be able to gauge how far you can travel each day and you can search for local attractions, restaurants and things to do.
Online Trip Planners are another tool that may be helpful – these are where you can input your start and finish points, and stops along the way, and it will show you your route along with some tourist attractions along the way. I find them to be a little bit limiting, but they can be a great way to start your planning and give you some ideas.
Here's one from the NRMA that you may find helpful: Holiday Finder
Pre-made Itineraries – you'll find lots and lots of itineraries already planned out for you. For example, Tourism Australia has some great self-drive itineraries here, that you could just follow these trips and you'll have a great time.
But chances are, you'll use them as a guide for planning your route, taking note of the things they recommend that appeal to you, and ignoring the rest.
Finding a place to camp
You can either camp in a paid camp site (caravan park, campground, show ground etc) or free camp. One of the best ways to find a place to camp is the Wikicamps app. www.wikicamps.com.au
The app costs $7.95 and shows you all the campsites around Australia, both paid and free.
The information is continually updated by other travellers, who will add prices, reviews and photos.
You can filter the results by things like location, price, facilities available, whether pets are allowed or even whether there's good phone reception or not.
Campervan Checklist
When you're new to RVing, it can feel like there are a million things you need to remember whenever you arrive at a campsite, and then when you leave.
An arrival/departure checklist is really helpful in making sure you don't forget anything!
Arrival Checklist
Park on wheel chocks/levels, if needed
Plug in power, check that it's working
Attach water hose, turn on and check that it's working
Attach waste water hose
Put out the door step, awning, awning mat, camp chairs and table.
Departure Checklist
INSIDE
Do the dishes, wipe down surfaces, put plug in the sink (so that the waste water hose can now be disconnected)
Make sure the LPG is off
Make sure everything is put away
All dishes are put away
TV is secured
Laptops and other devices are put away
Latch the fridge
Latch all cupboards, drawers and bathroom door
Latch all the living area windows and the rear door(s)
Close the roof top vent
Lower the TV aerial /cell booster
OUTSIDE
Empty the toilet cassette
Bring in the awning and secure
Pack all the outside gear away
Chairs and table
Awning mat
Fire pit
Disconnect the waste water hose & stow
Disconnect the fresh water hose & stow
Disconnect the power cord & stow
Check bike rack / external storage / roof racks are secure
Bring in door step
Drive off your site, then check for any items left. E.g. wheel chocks or levels, shoes, pegs or rubbish.
Save 'Campervan Hire in Australia' to Pinterest