Will you add a campervan shower to your van conversion?
The question about whether or not you should put a shower in your campervan conversion seems to bring out some quite heated opinions.
Some are adamant that they are a complete waste of space and you can shower anywhere you can find a hose.
While others swear by the convenience and comfort of being able to take a shower in your own space, knowing exactly who used it last and how clean it is.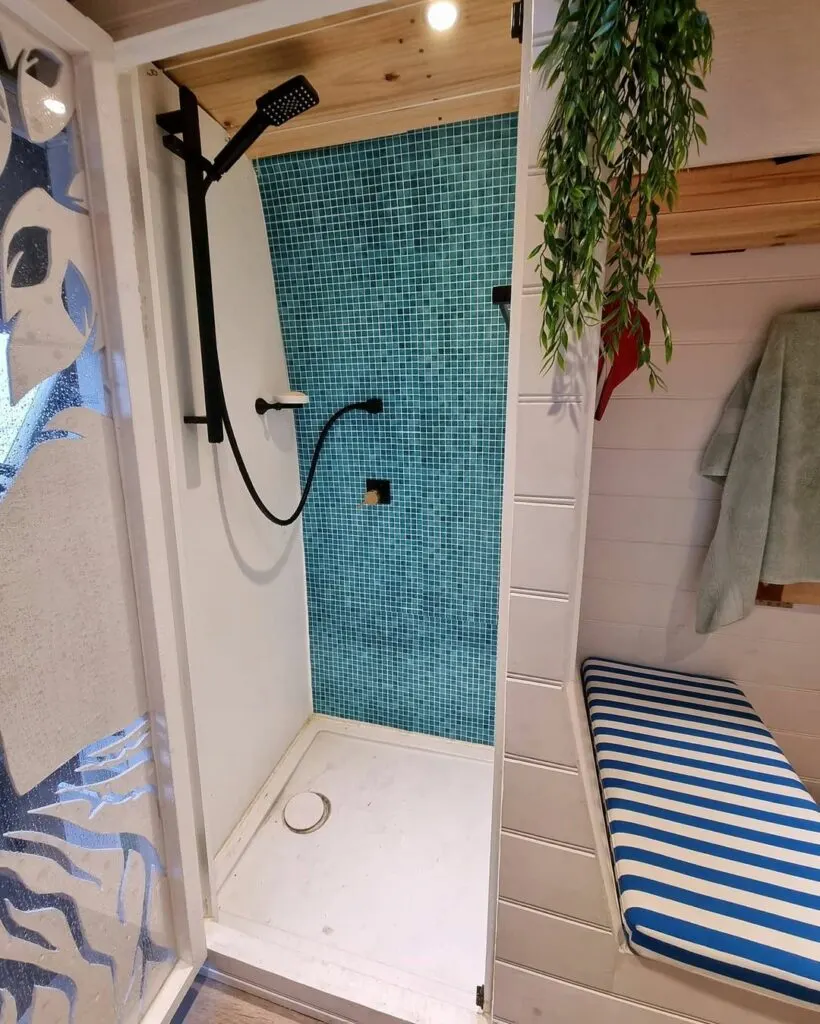 Personally, I'm firmly in the 'Yes I do want a shower in my van' camp. This is because having a toilet in our van is a non-negotiable for me. We will definitely be having a toilet inside. And I'm not talking about a toilet that slides out from under the bed. It needs to be in a separate space/room cos I don't want to go to the toilet in front of anyone, not even my husband.
So, since I need a separate room for the toilet, I may as well put a shower in there too. That's my thinking anyway.
Do you need a shower in your campervan?
Here are some factors to consider when deciding whether or not to install a shower in your campervan:
Reasons to install a shower:
Convenience: It just means you don't have to find a shower at any time. You can stay off grid, or you can avoid dodgy campground showers, if you want. You have the option, and that's always convenient.
Comfort: If you're camping somewhere cold, it may just be nicer to not have to go outside to go and have a shower, possibly walking back in the cold with wet hair.
Flexibility: With a shower in your campervan, you have more flexibility to park and camp wherever you want.
Reasons not to install a shower:
Space: This would probably be the biggest reason why you wouldn't install a shower. They can take up a lot of valuable space that may be needed for something more important.
Cost: Adding a shower in to your build is going to increase the cost of your conversion. Depending on the type of shower system you choose, installation costs can be significant, and ongoing maintenance costs should also be considered.
Water: Not only do you have to account for the space that the shower takes up, you also need to consider how big your fresh water tank needs to be and the space that is going to take up. Add to that, you may opt to add a grey tank since some camps won't allow you to discharge on to the ground.
It's not that important: If you don't have a shower for a couple of days, does it really matter? When we were travelling around Australia in our camper trailer, we, of course, didn't have a shower on board. So the few times that we stayed in free camps we just did bucket baths. A bucket of warm water and a flannel to wash the pits and parts, and we were done.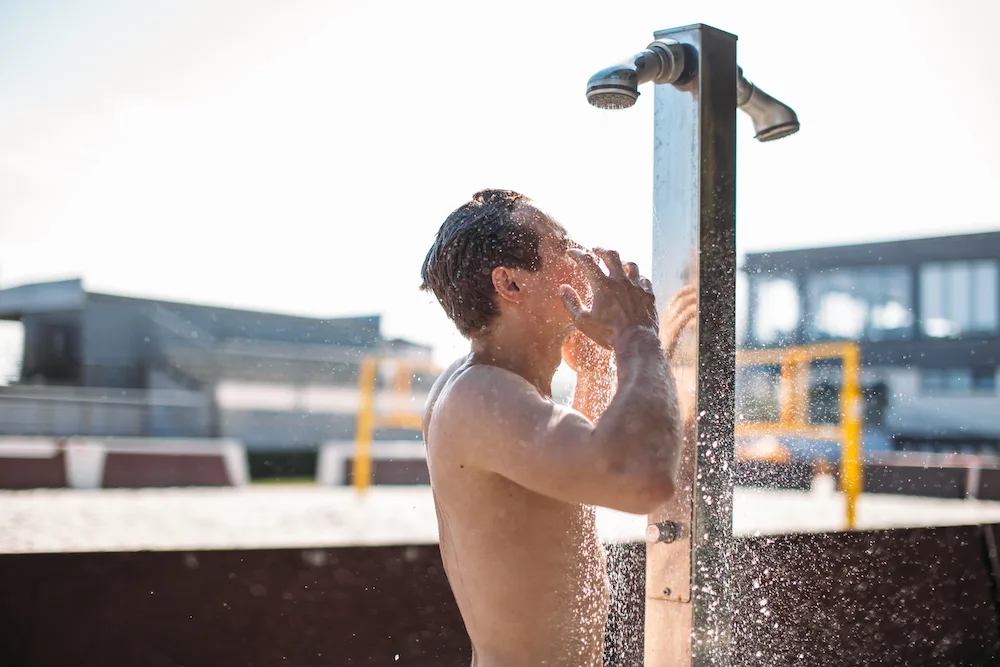 And we've also gone to the local swimming pool too. Had a swim and then a shower. All for a few bucks.
Ultimately, the decision to install a shower in your campervan comes down to your individual needs, preferences, and budget. If you plan to use your campervan for extended periods and value the convenience and comfort of having a shower on board, it may be a worthwhile investment. However, if space and cost are a concern, or if you plan to mostly use your campervan in areas with easy access to shower facilities, a shower may not be necessary.
Factors to consider when installing a shower in your camper van
However, if you are planning to install a shower in your campervan, there are a few important things you'll need to factor in:
Water Supply: You can connect to an external water source (like a hose), but if you're depending on your freshwater tank it needs to be large enough to hold enough water for showers as well as all the other water uses you have.
Drainage: You'll also need a way to dispose of the used water from your shower. This can be done using a grey water tank or by connecting to an external drainage system.
Plumbing: You'll need to install a plumbing system to connect your water supply and drainage systems to your shower. This may require some specialised knowledge or the help of a professional plumber.
Water Heater: If you want a hot shower, you'll need to install a water heater. This can be either a gas or electric model, depending on your needs and the availability of fuel sources.
Ventilation: Proper ventilation is important to prevent mould and mildew from growing in your camper van. You'll need to install an exhaust fan or vent to remove moisture from your shower area.
Campervan shower cubicles
When it comes time to do my own van conversion, you can guarantee that I'll be looking for as much pre-made components as I can.
DIY RV Solutions
DIY RV Solutions design and manufacture fibreglass components for your campervan conversion and have quite a comprehensive range of fibreglass shower cubicles.
As far as I could find, they're the only ones producing shower cubicles that are specifically designed to fit in vans, with curved walls that allow a snug fit.
With each of their cubicles they list out the vans that they are designed to fit into.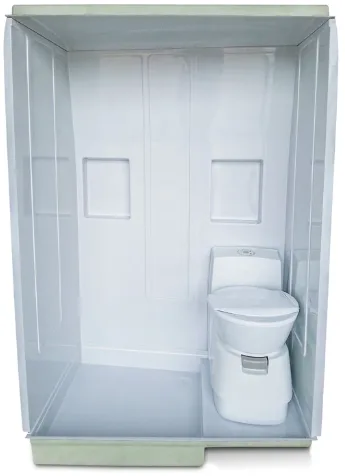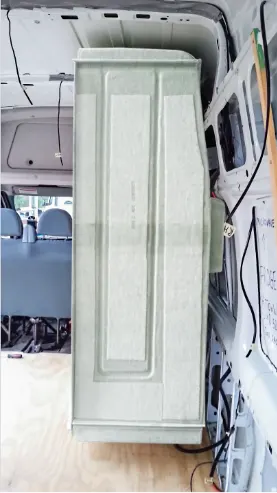 https://diyrvsolutions.com.au/collections/motorhome-caravan-showers
These fibreglass manufacturers also make shower cubicles but they look more suited to caravans or larger motorhomes/trucks, as they have straight walls. https://www.diycaravans.com.au/shop/shower-cubicle-one-piece/
https://www.flairshowers.com.au/product-category/motorhome-caravan-rv/
Camper Van Shower Tray
If you want to create something unique for your van shower, you could opt for just a shower tray and then do tiling or some other water proofing for the walls.
Campervan Shower Mixers
There are loads of options when it comes to mixers, here are some online suppliers that seem to have a good range:

Other suppliers you may want to check out:
They all have much of the same equipment for sale.



Campervan Shower Doors
With such limited space, a roller door really does make a lot of sense for any van shower.
Rollaway Shower Door
Kinda like a roller blind, the Rollaway shower screen is a semi opaque screen that rolls open and closed within its frame.
Glidaway Shower Door
I've seen a number of van conversions that use the Glidaway Shower Door and it's the same as the Rollaway product above, except the screen is white (the Rollaway is semi-opaque).
The Dour UK
This UK manufacturer has retractable waterproof shower door kits much like the Rollaway and Glideaway above. But they also have some more unique options that look great.
Tambour Doors
These are like a slat door that slides on a track on the inside of the shower cubicle. Like a sliding door that goes round the corner. It's a perfect option if you want a curved shower cubicle.
Foldour Bi-fold doors
Now this is a bit different for a camper van shower, but it looks like the bi-fold doors could work. They don't take up a heap of space but they're a way to have solid doors on your bathroom rather than just a screen or slats.
Folding Shower by Tetravan
Now this, THIS is an elegant solution! A shower pan that folds down, hang up the curtain and you're ready to go. It's out of the way for the 99.5% of the time that you're not using the shower. 🙂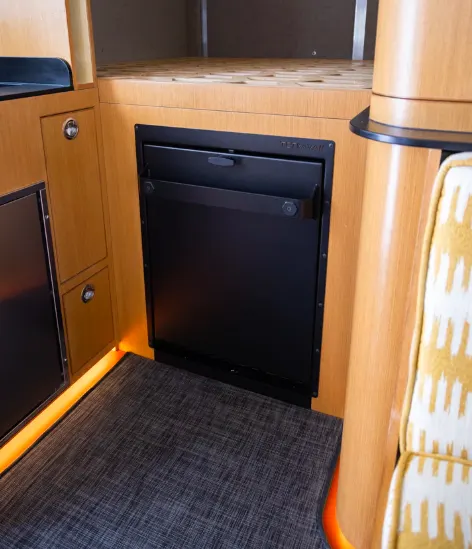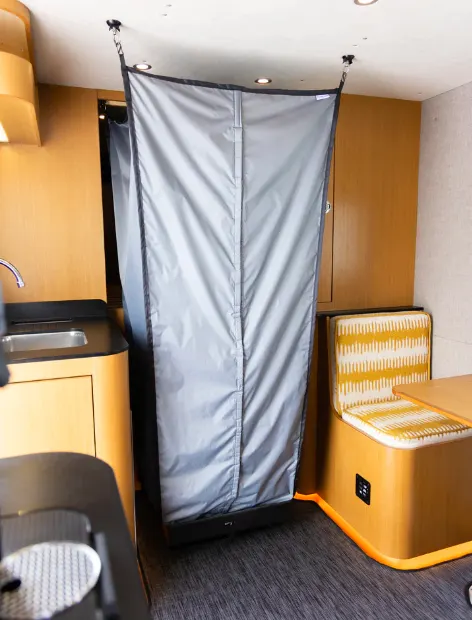 They're an American company so you'll need to email them to provide you with a shipping quote to Australia. https://tetravan.com/
Outdoor Shower
There's no doubt that a shower does take up a lot of room in a van; so an alternative is to have a shower outdoors.
EverShower Monsoon Shower
The EverShower looks like a really good option, as it doesn't take up a tonne of space and you can store it almost anywhere in the van.
You can set it up to use it outside, but I don't see why you couldn't also use it inside the van if you've got a little bit of space and the height.
It includes the shower tray and tent, and retains and recycles the water so that you can have a 20 minute hot shower with just 3L of water!
Camping Shower – Portable Hot Water Shower
Shower pump
If all you need is something to pump the water and you're happy to have cold water, these USB rechargeable units may be adequate. I've seen a couple of places where they encourage you to not expect too much water pressure though.
Solar shower
Solar showers have been around for decades and it's hard to beat the simplicity of them!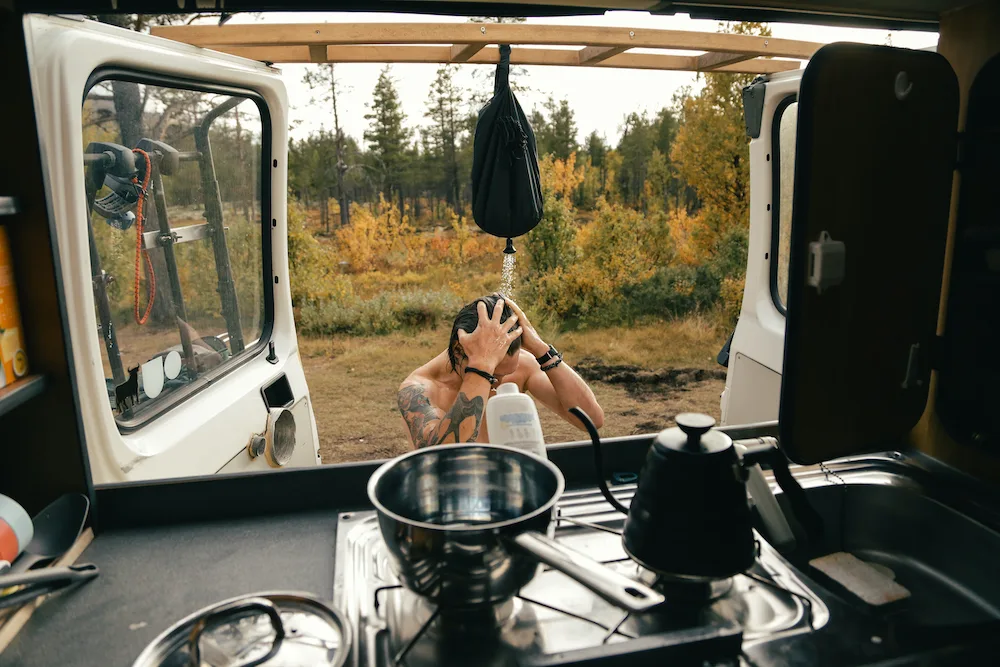 So… will you be putting a shower in your van conversion? Or is it a waste of space and money for you?