Unique Mercedes Sprinter van conversion Australia by @ourvanmaloi
In this post, we continue looking at camper van conversions that have been done here in Australia.
Prepare to be delighted by this gorgeous and unique Mercedes Sprinter van conversion called Maloi!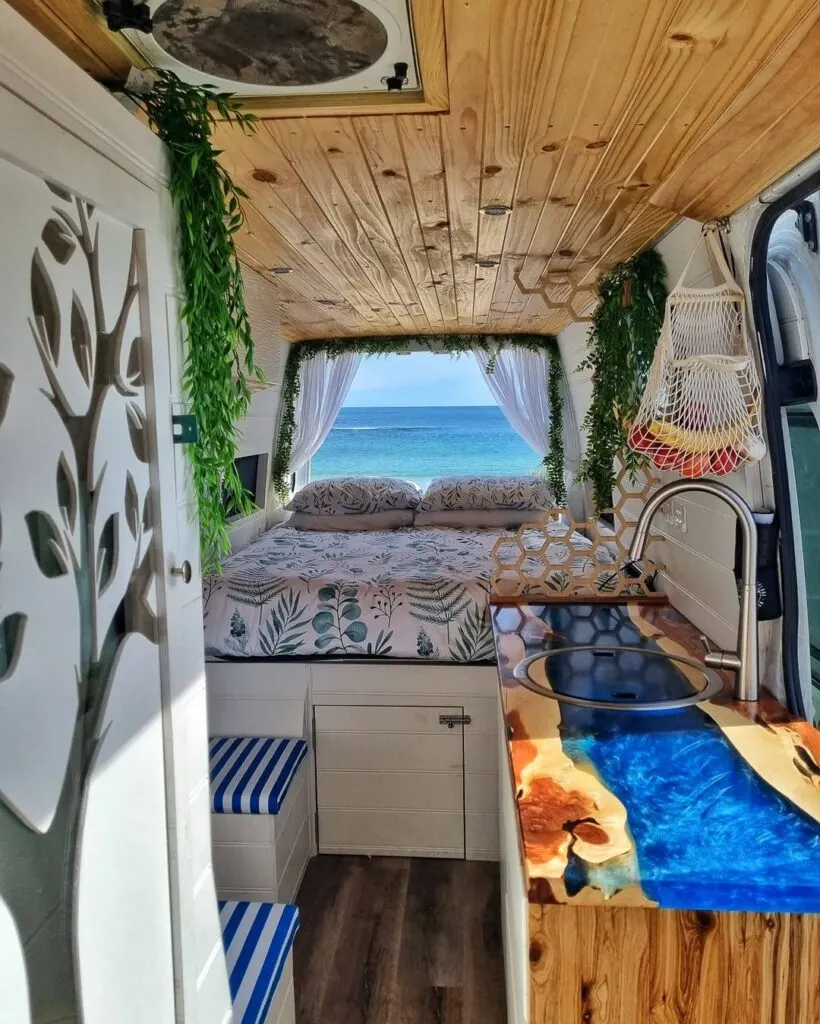 Maloi is a 2008 high roof, extra long wheel based Mercedes Sprinter, and has been converted by Larry and Nicole for their lap around Australia.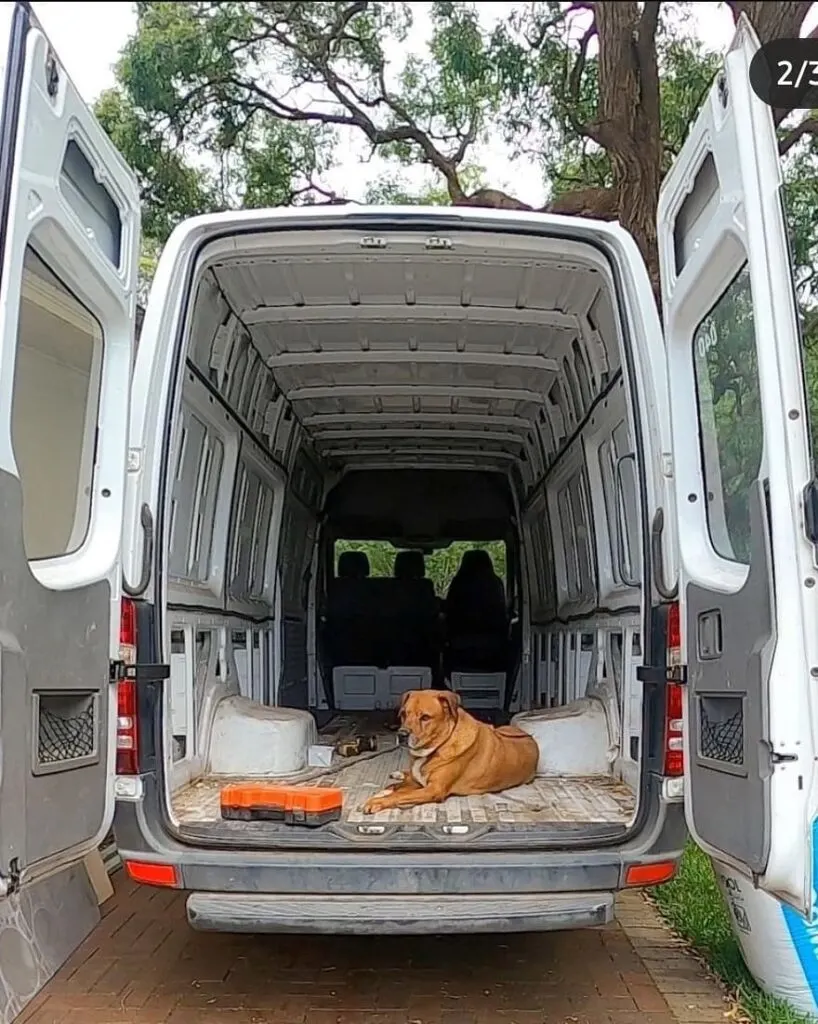 When Maloi first arrived in January he was a well used Fastway couriers vehicle; by the time he left for a lap around Australia just 4 months later, he had been transformed into a stunning display of comfort and great workmanship.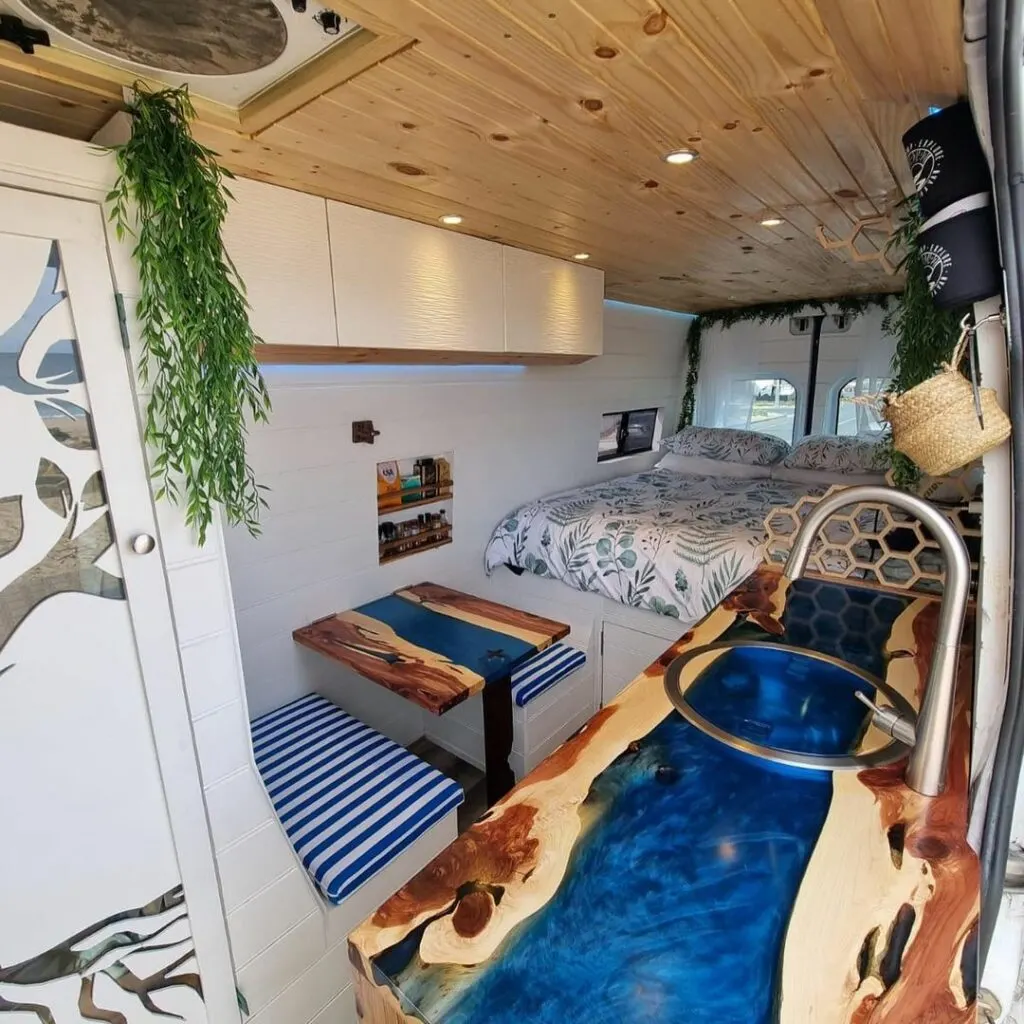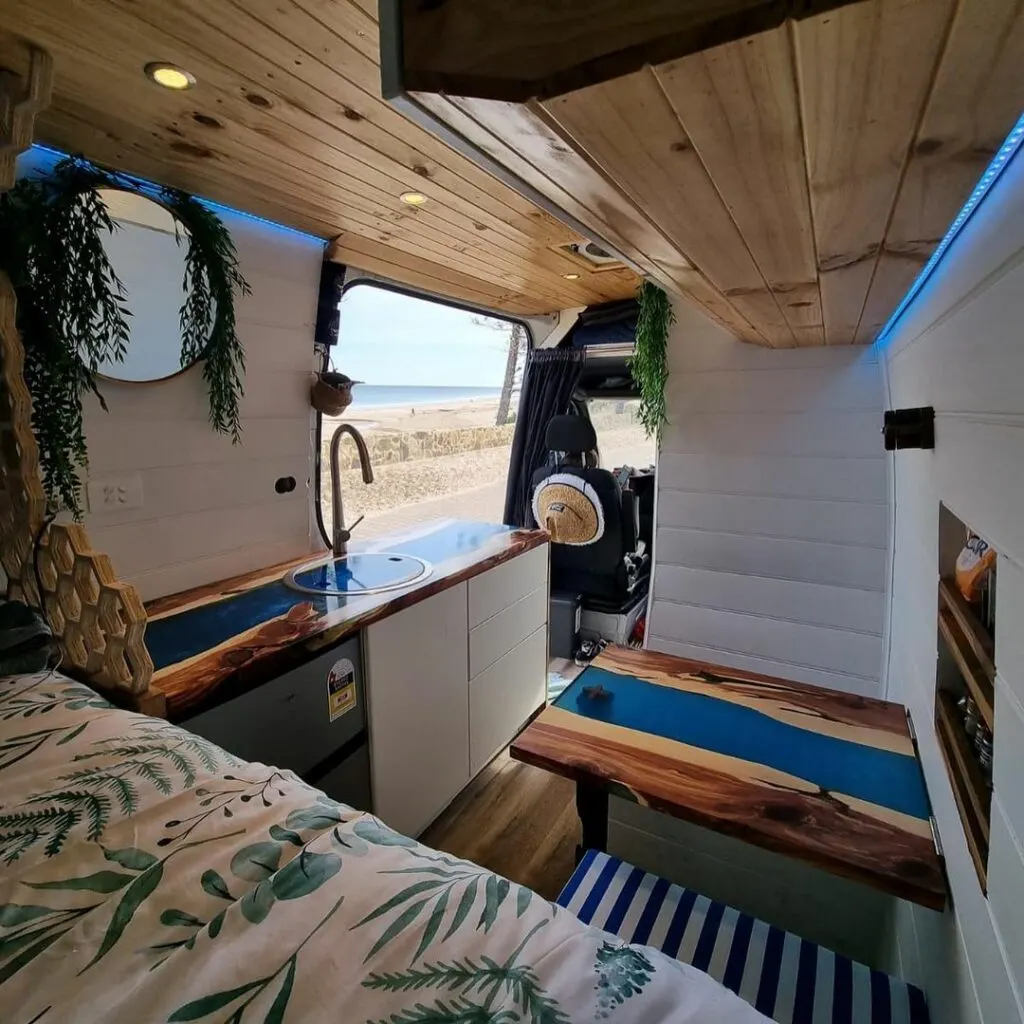 Articles on this site may contain affiliate links where we may receive a commission. Please see our Affiliate Disclosure for more information.
A totally unique van conversion
Maloi has some pretty unique features that make him stand out from most other van conversions.
The vibrant blue countertop was created by @goat.works from Japanese cedar with translucent blue dye in the resin.
The Japanese cedar is a light weight wood in lovely blonde and chocolate colours that contrast really well with the blue.
It's unique and bold, yet warm; while also being practical, and is holding up well to full time use.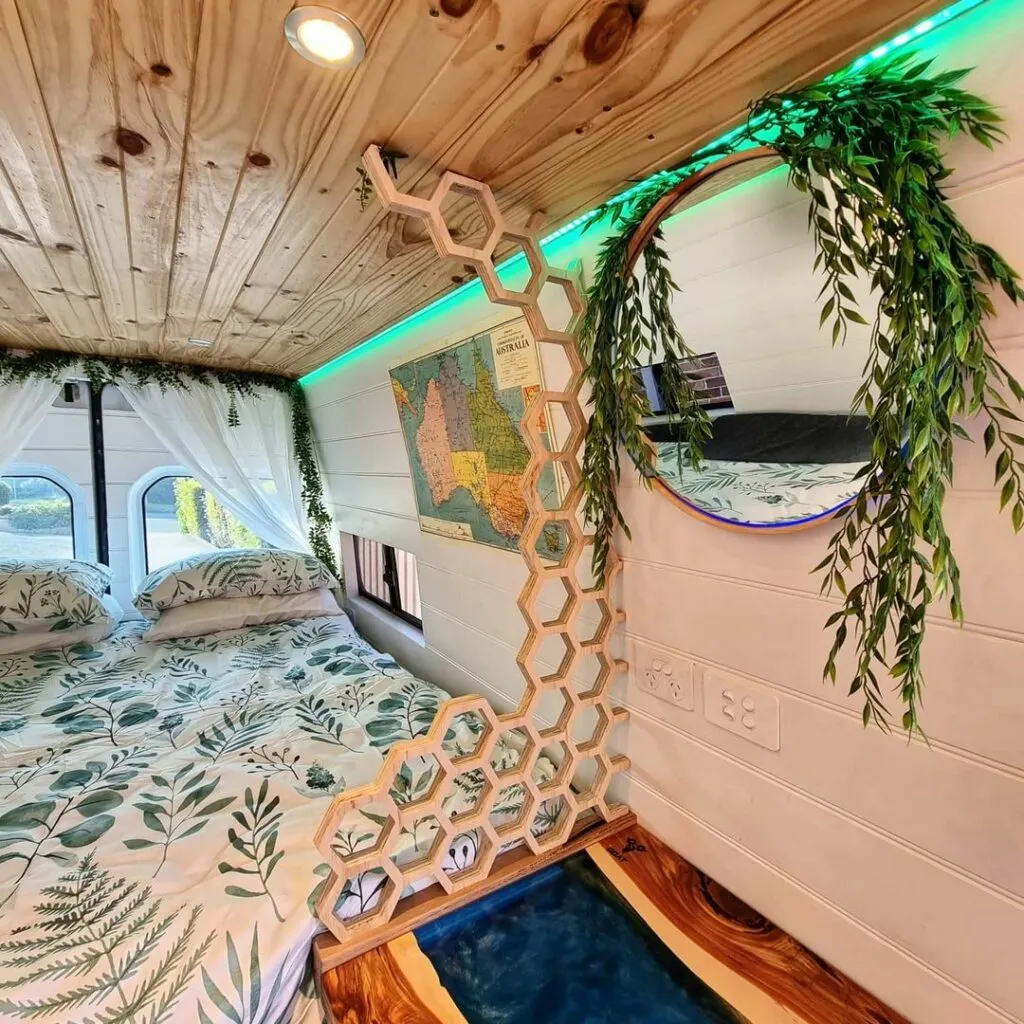 Other unique features include the hexagonal/honeycomb room divider and the fold down table, that doubles as wall art when the table is put away.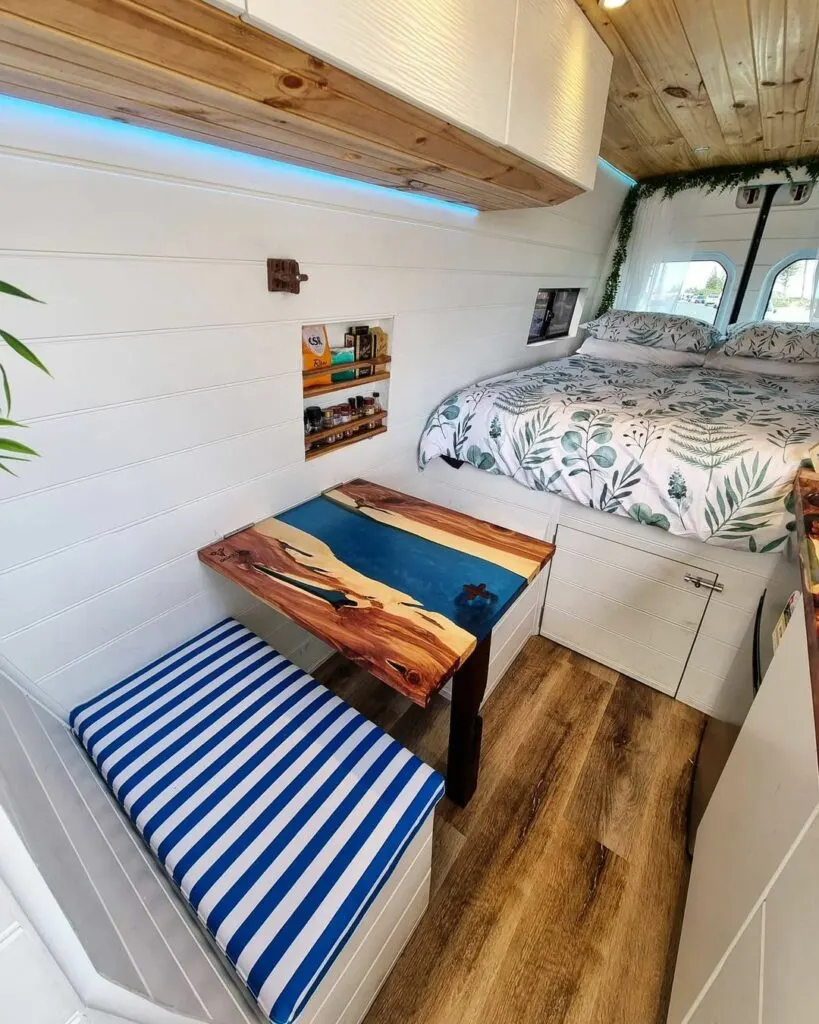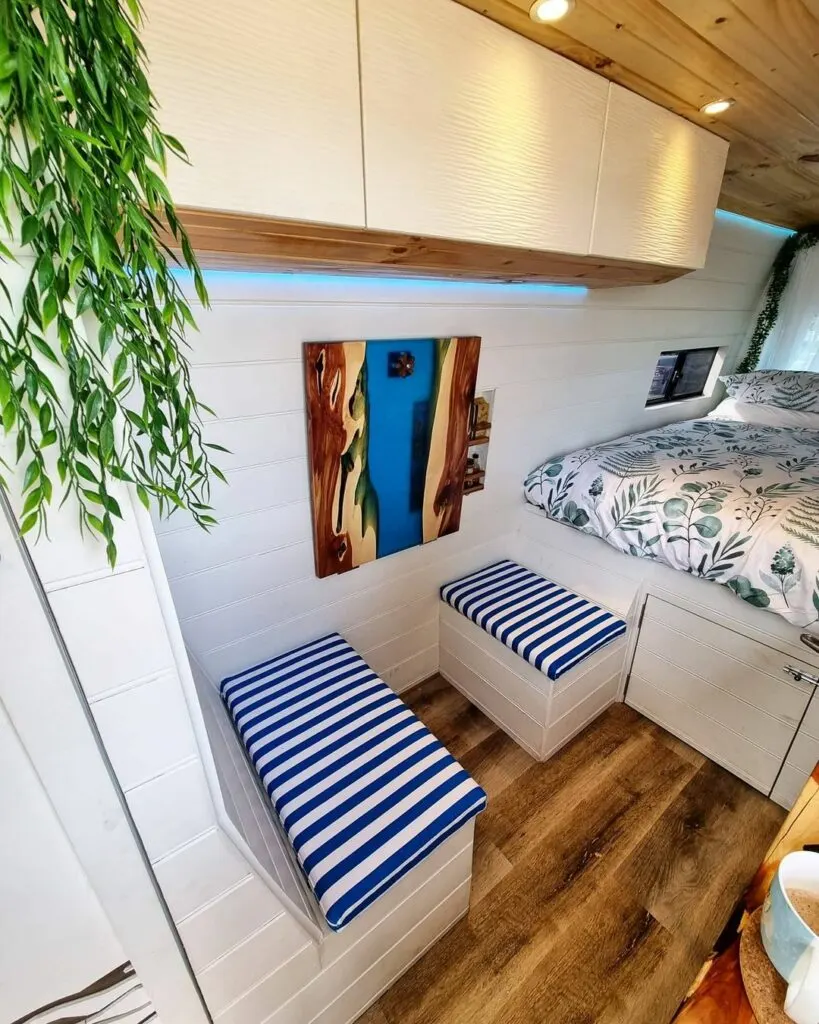 The most stunning feature IMO, is the shower door, the cool tree design with clear perspex allows for some vibrant and changing colours.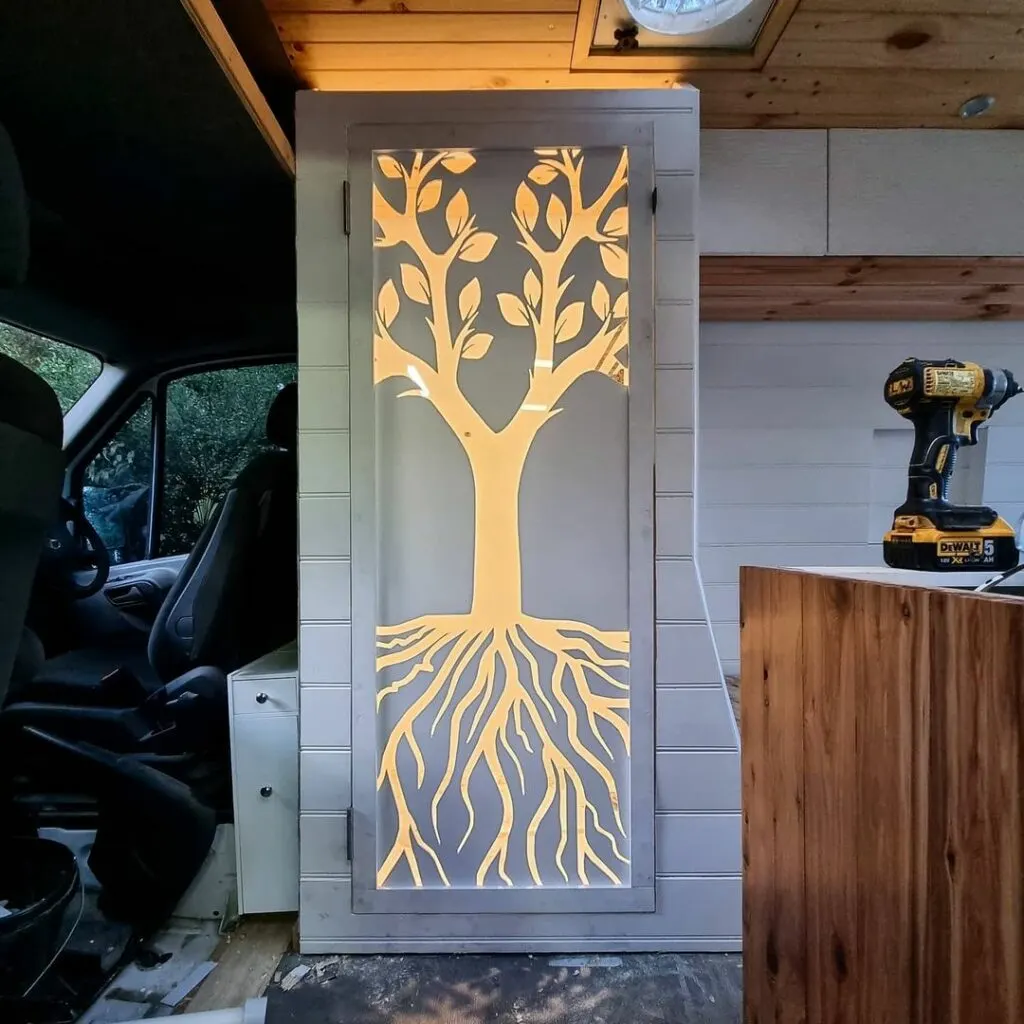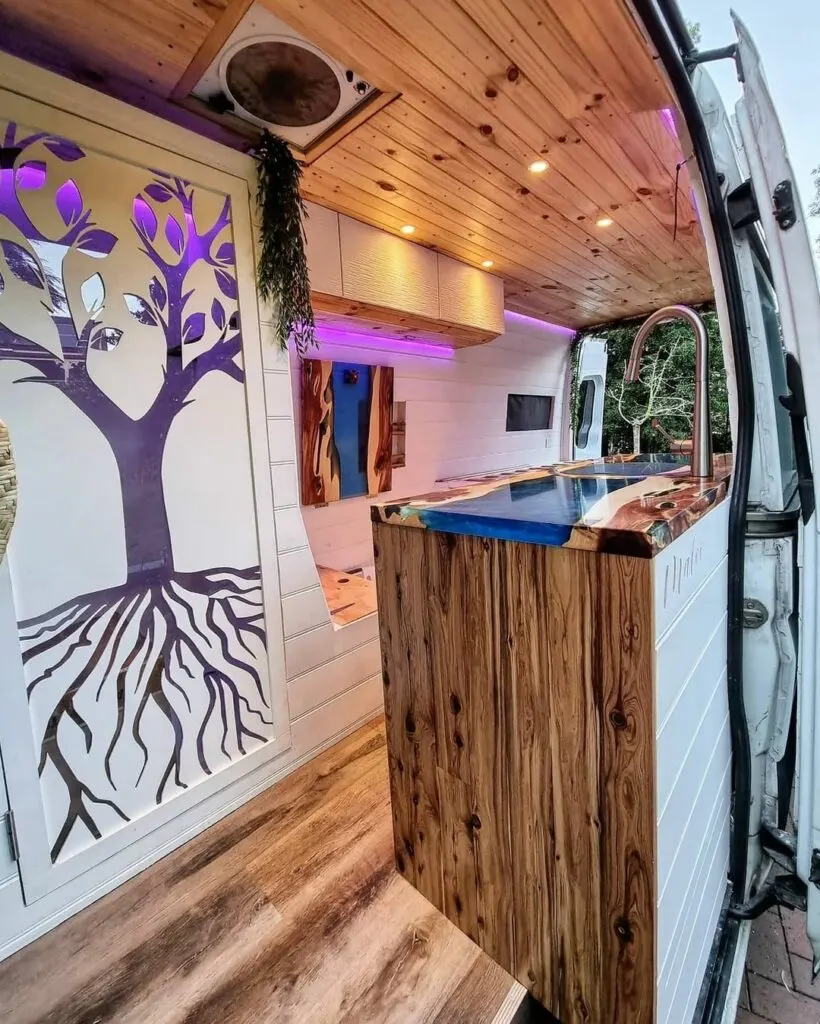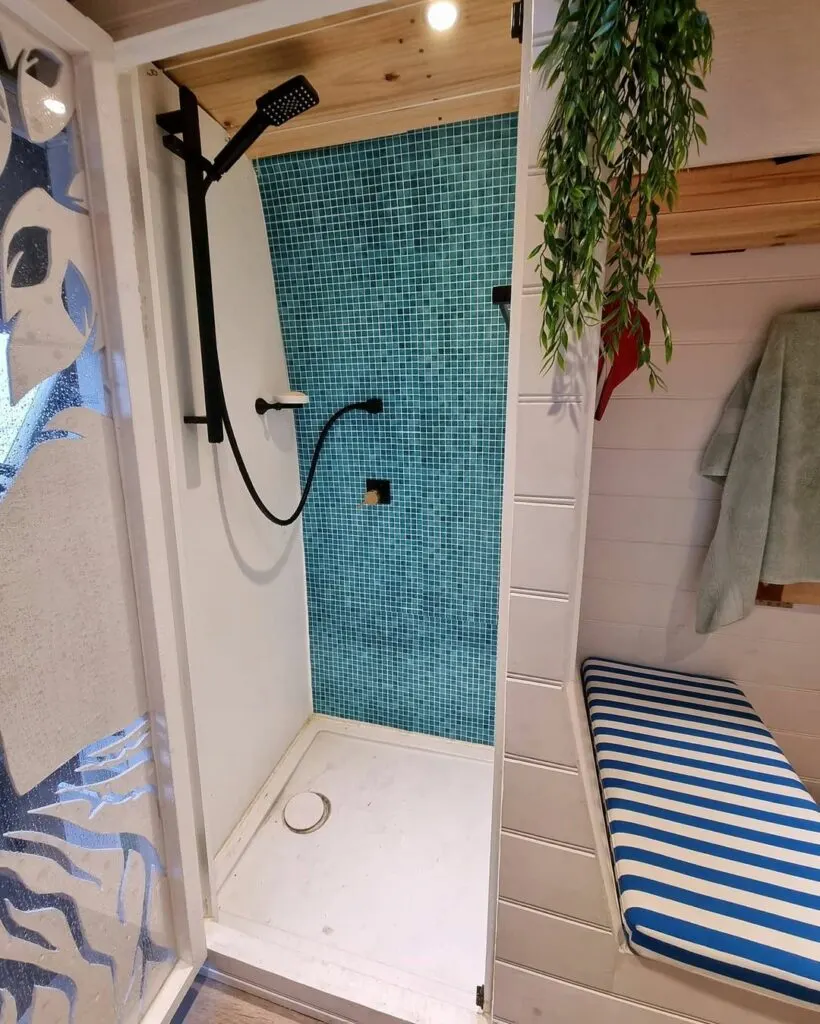 With a tight timeline of just 4 months, Larry and Nicole weren't able to complete all the pieces that they wanted, but the big stuff was done.
Since they hit the road in April, they've also:
finished the tile splashback and shower tiles
added heaps of hooks and 'hidden' lines to hang clothes and towels up
installed a fly screen to the sliding door
added an LED strip light in the garage
upgraded to a quieter water pump, and
made a projector screen from a roller blind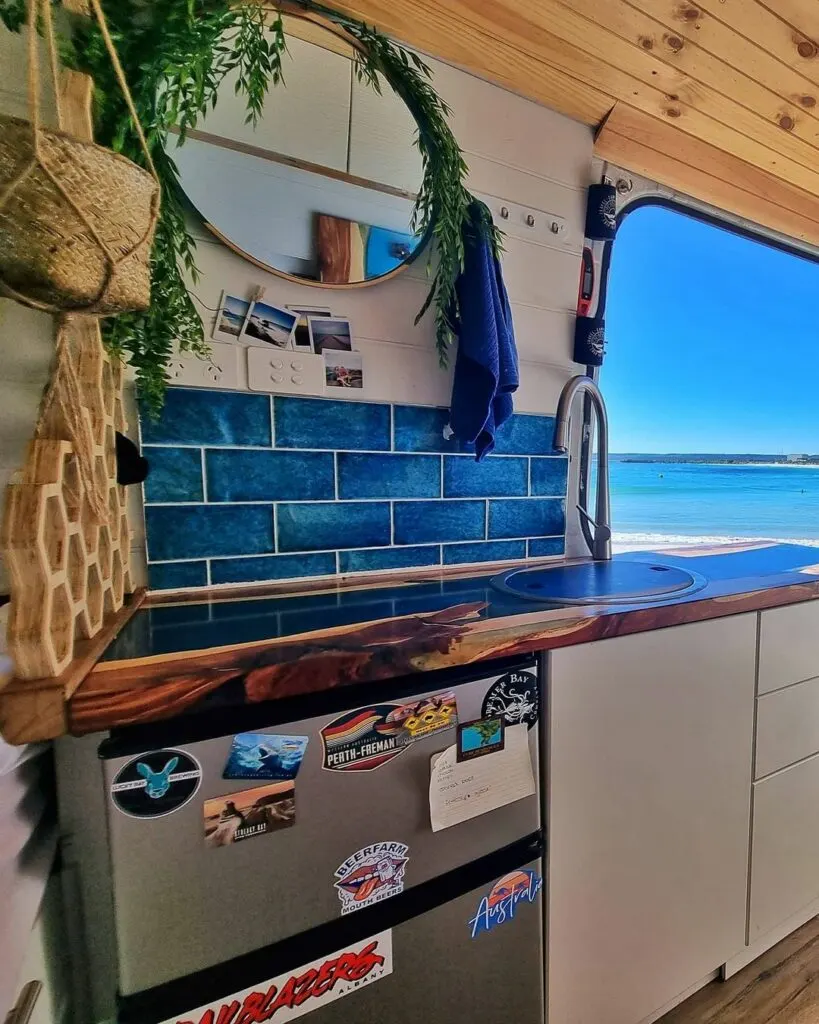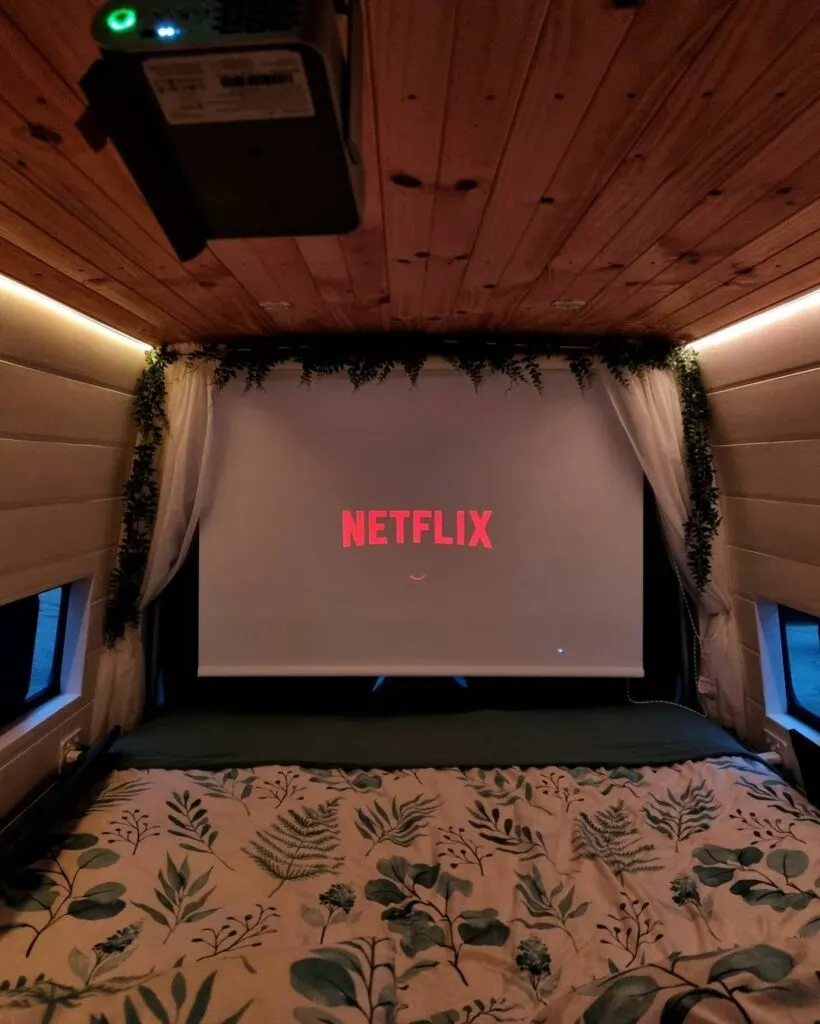 They didn't keep a strict tally of their costs, so they only know that it was between $10-15k.
However, on their Instagram @ourvanmaloi they take you through the renovation process, each step of the way. They have lots of cool time lapse videos showing you all the work they did, and have details listed in the captions.
So be sure to give them a follow.
Larry, Nicole and Maloi will be travelling for the rest of this year, heading up the west coast and across through NT and Far North QLD.
What a wonderful adventure!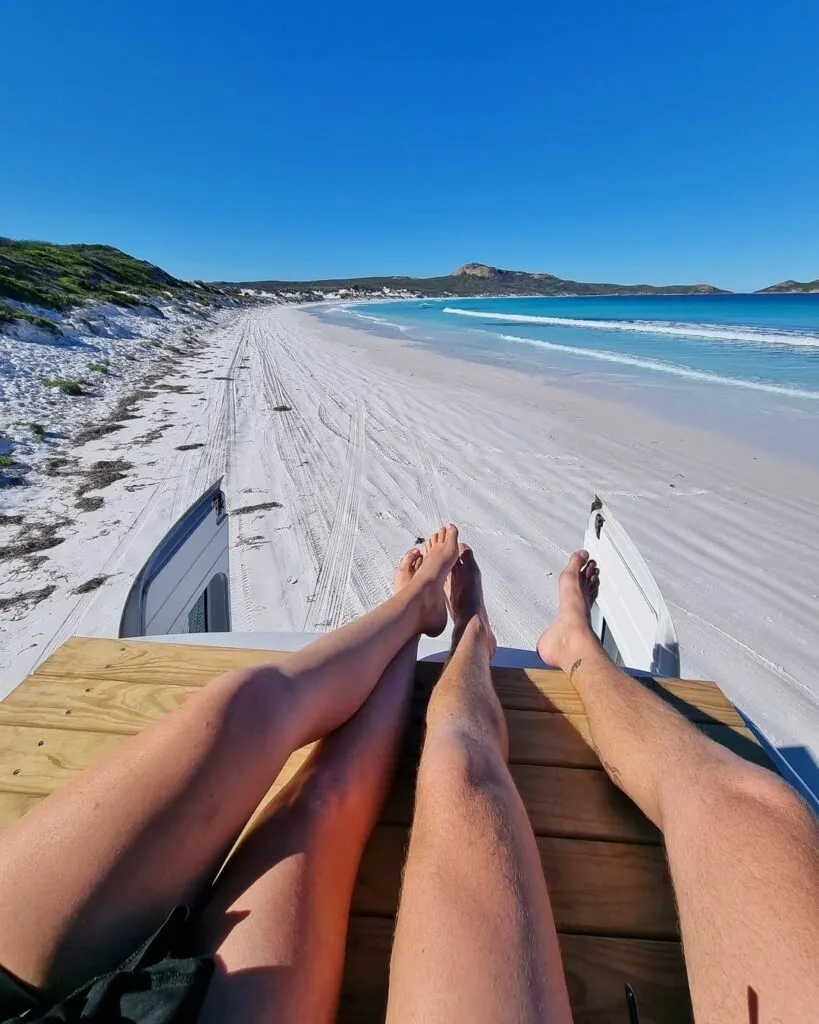 If you're dreaming of embarking on a #vanlife adventure around Australia in your own campervan conversion, we've got some resources that may help get you started:
Check out these other camper van conversions: