Electric campervans and vans in 2023
Are you looking for the perfect van to convert into a campervan for your travels around Australia? Have you considered converting an electric van?
As electric vehicles are becoming more and more popular I thought I'd have a look at what is available now, in Australia. Spoiler alert – there's not much… yet.
This is a rapidly evolving story as new models are being released all the time; but this is what I've found as at the time of this writing. May 2023
We're still a little way off having electric campervans in Australia. We're still just trying to get electric cargo/commercial vans as standard, and I've yet to see any of the campervan manufacturers produce a conversion on any of the small range of electric vans already available in Australia.
So this article is just looking at electric vans (so far) and we'll add campervans when they become available in Australia.
I do want to put a bit of a disclaimer here though. You can probably tell that cars and mechanical things are not my forte. The following article is based on the online research I have done, I haven't test driven any of these and I'm certainly not the person to ask for advice on anything mechanical. This article is intended to curate all the information that I can find and give you a starting place for your own detailed research.
What is an electric van
This is probably a basic question, but just to make sure we're all talking about the same thing: an electric van is a type of commercial vehicle that is powered by electricity rather than traditional fossil fuels such as petrol or diesel.
Electric vans use electric motors and batteries to power their operation, and are becoming increasingly popular due to their lower operating costs, reduced emissions, and quieter operation.
In Australia, electric vans are still a relatively new concept, but there are a growing number of models available on the market.
I'm talking about those vehicles that are typically used by businesses for delivery and transportation purposes (and therefore can make an ideal van to convert to a campervan), and are especially well-suited for urban areas where short driving distances and stop-and-go traffic make electric powertrains particularly efficient.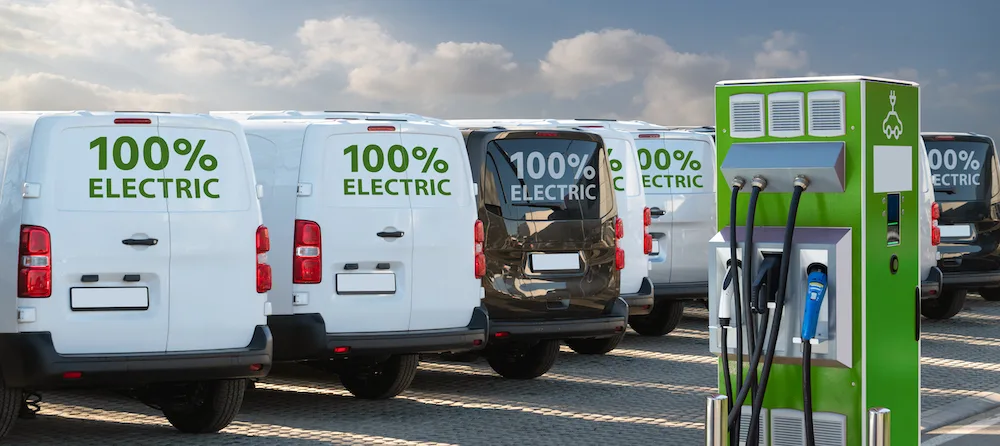 Advantages of an electric camper van
There are several benefits of an electric van, including:
Environmental friendliness – Electric vans produce zero emissions, which means they don't pollute the air we breathe or contribute to climate change. This makes them an excellent choice for those who want to reduce their carbon footprint.
Cost savings – Electric vans are cheaper to run than their petrol or diesel counterparts because electricity is less expensive. Additionally, electric vans require less maintenance, which can save you money in the long run.
Quiet operation – Electric vans run quietly, which is nice.
Government incentives – Federal and state governments are offering incentives for purchasing electric vehicles, such as tax credits, rebates, and free charging stations. These incentives can help reduce the cost of owning an electric van.
For more info on what rebates you may qualify for, this article may be helpful.
Improved driving experience – Electric vans offer instant torque and smooth acceleration, which can make for a more enjoyable driving experience. Additionally, they are often equipped with advanced safety features and technology, which can make driving safer and more comfortable.
Disadvantages of an electric van
There are some disadvantages of electric vans, of course. Here are the issues that I have with electric vans:
Range – Of course you knew this one was going to be number one.
Electric vans have a (very) limited range compared to petrol or diesel vans. Depending on the model, an electric van may only be able to travel around 200-300kms on a single charge.
Obviously this isn't going to cut it in the Outback.
However, if you're planning on sticking to more urban areas, the range may not be such a big factor to you.
Charging infrastructure – Along with the range mentioned above, is the lack of charging infrastructure in Australia, especially in rural areas.
Higher upfront cost – Electric vans tend to be more expensive upfront than petrol or diesel vans due to the cost of battery technology. However, this cost is gradually decreasing over time.
Charging time – Filling up with petrol or diesel takes just a few minutes. Whereas, depending on the battery size and the type of charger used, it can take up to several hours to fully charge an electric van.
Climate effects – In Australia, where electricity generation is heavily dependent on coal, electric vans may not be as environmentally friendly as they are in other countries with cleaner energy grids. However, this may change as the country continues to shift towards renewable energy sources.
---
I suspect that due to the advantages and disadvantages listed above (particularly the disadvantages) that we are still a little way off from having an electric van that is suitable for converting to a campervan to travel Australia, and get to all the places we can currently get to with any other van.
But, as we know, technology is advancing at such a rapid pace I'm sure I'm going to have to update this post… constantly!
Electric vans currently available in Australia
Enough of the talking already! Here are the electric vans that are currently available in Australia.
Mercedes-Benz eVito Panel Van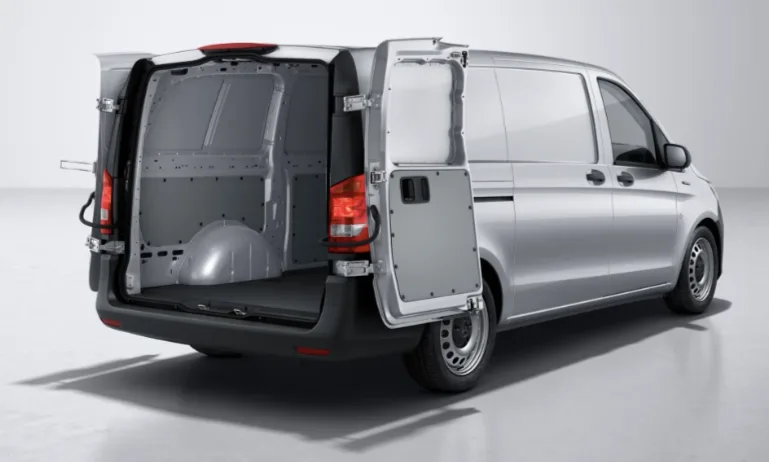 The Mercedes-Benz eVito panel van is an all-electric version of the popular Vito panel van.
With a driving range of up to 260km and a cargo load of 6 cubic metres, it would make a good, albeit small, campervan.
Range: 260km
Length: 5.14m
Height: 1.915m
Price from: $96,462
https://www.mercedes-benz.com.au/vans/en/electric-vans/range
EV Automotive EC11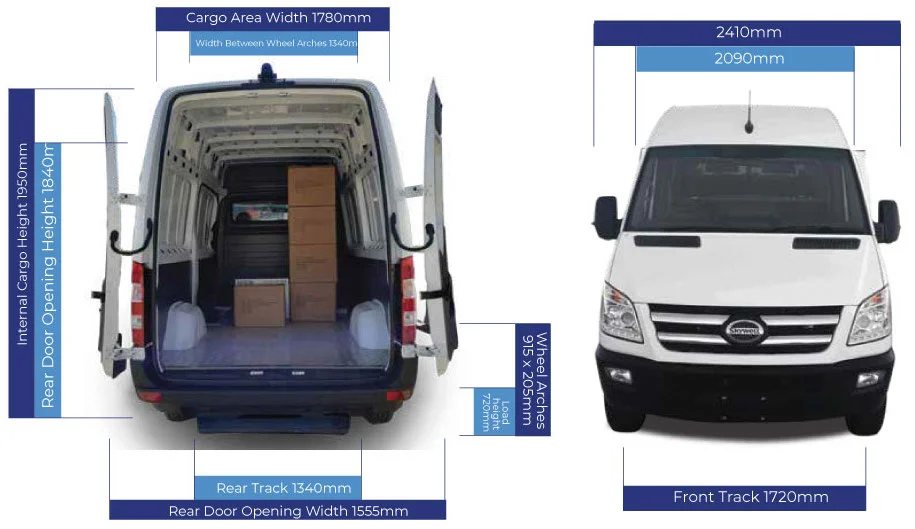 EV Automotive Pty Ltd is an Australian company that has partnered with Skywell Industries, a predominantly Electric Bus manufacturer, to produce a range of commercial vans.
It's big enough to stand up in, so I really like this option for a full-time campervan.
Range: 220-305km
Length: 6.03m
Height: 2.715m
Price from: $95,000
https://ev-a.com.au/models/ec11-e-cargo
ACE V1 Transformer
That bull-nose roof may look kinda quirky, but it adds plenty of height to this van, making it more suitable, in my opinion, for conversion to a camper van.
Range: 215 – 258km
Length:5.156m
Height: 2.37m
Price from: $55,995
https://www.ace-ev.com.au/ace-v1-transformer/
LDV eDeliver9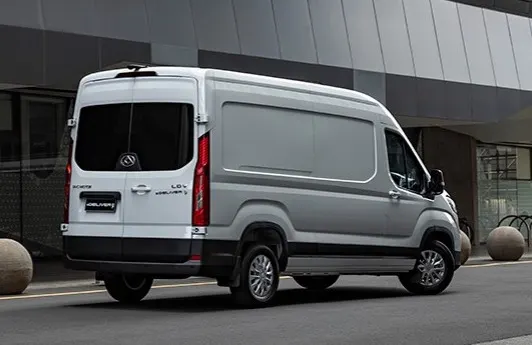 I'm seeing the LDV vans more and more, so I imagine this electric version will be quite popular. It's as big as their standard Deliver9 van with 2 height options, so this one might be particularly interesting to taller people.
Range: up to 280km
Length:5.94m
Height: 2.545 – 2.765m
Price from: $99,990
https://www.ldvautomotive.com.au/vehicles/ldv-edeliver-9/
BYD T3
Only 50 of these BYD T3's were imported into Australia and it doesn't look like any more have been imported. There is no information on the BYD website, but you may be able to pick one up second hand on sites like carsales.com.au.
Range: up to 300km
Price from: $45,000 used
https://www.carsales.com.au/cars/details/2021-byd-t3-auto/SSE-AD-14979680/?Cr=22
Electric vans coming to Australia soon
Renault Kangoo E-Tech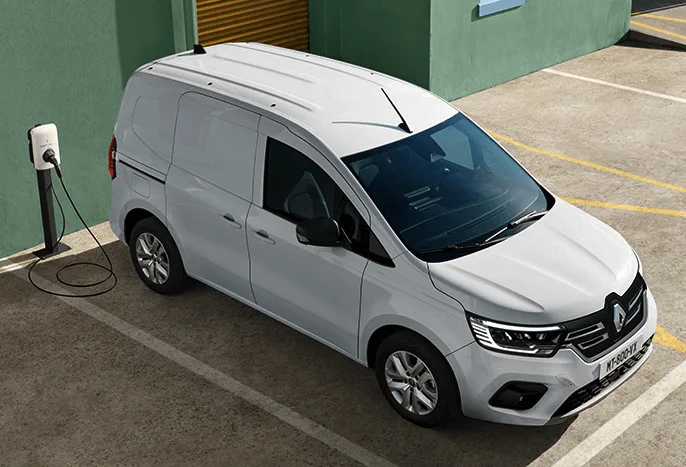 I keep seeing all these news articles about the Renault Kangoo E-Tech being released in early 2023, but we're now almost half way through the year and the Renault website is still showing that this model is 'Coming Soon'.
As you can see, the Kangoo is small. Not a stand-up-inside van by any stretch.
Range: up to 300km
Length:4.488 – 4.91m
Height: 1.83m
Price from: $60,000-ish
https://www.renault.com.au/vehicles/kangoo-e-tech/
Ford E-Transit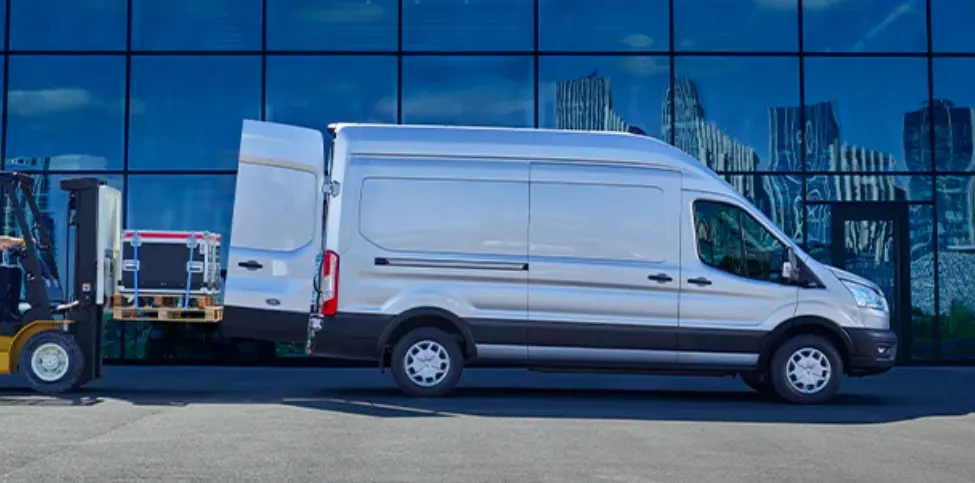 Along with most other car manufacturers, Ford have been beset with supply delays, so although the E-Transit was expected to be available in the first quarter of 2023, we're into May already and it's status is still 'Coming Soon'.
We don't have any specs or pricing yet.
Range: up to 307km
Price from: $58,000-ish
https://www.ford.com.au/future-vehicle/e-transit/
Peugot E-Partner
Due July 2023 – there are no specs on the Peugot website but I have seen that they're only going to be doing the long version of the Partner as an electric van.
Range: up to 285km
Length:4.753m
Height: 1.88m
Price from: $63,029
https://www.peugeot.com.au/models/partner-van.html
Volswagen ID Buzz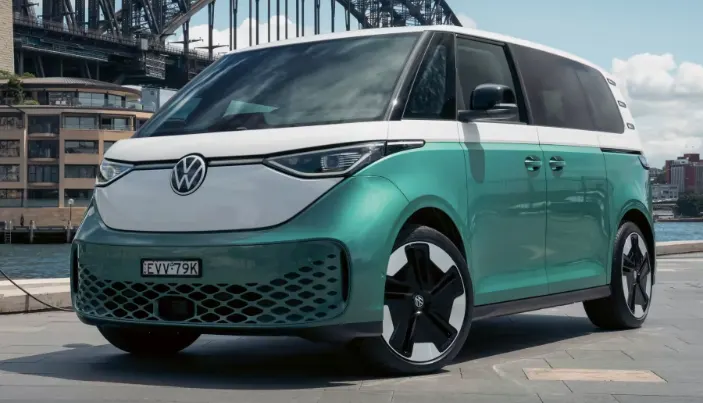 There's quite the buzz about the ID Buzz from VW. Apparently it is coming to Australia, but it's not due here until early 2025.
EV Automotive EC35
Coming soon
Range: up to 280km
Length:4.5m
Height: 1.96m
https://ev-a.com.au/models/ec35-coming-soon
Will we see more electric vans in Australia?
Judging by what we're seeing overseas, I'm sure we're going to see a lot more electric vans coming on to the Australian market.
When technology is able to give us a much longer driving range, and/or there are charging stations throughout Australia, that's when I think we'll see more electric vans as camper vans.
As it stands now, being limited to only the more populated parts of the country, well, that's not why most of us want van life in the first place!
So we could be waiting a little bit longer yet.
---
Vans, Campervans & Motorhomes Spreadsheet
Want to see all the base vans and campervans that you can get in Australia?
We've compiled a spreadsheet of all the Australian vans and motorhomes so that you can filter for the vehicles that suit your criteria.
Sign up for our newsletter below and we'll send you the campervan comparison spreadsheet for free. (You can unsubscribe at any time)