Best Australian vans for conversion to campers
Searching for the best van to convert to camper Australia in 2023?
That's the stage that we're at now.
But where do you begin a search like that? I didn't even know what to look for!
So in this post I'm compiling a list of vans, specifically for Australia, that would be suitable for converting into a campervan.
This will start you on the path to finding YOUR van.
Articles on this site may contain affiliate links where we may receive a commission. Please see our Affiliate Disclosure for more information.
What you need to consider when choosing a van
Standing height
Will you need to stand up in your van?
For some, standing up in their van is a nice-to-have, rather than a must-have.
This may be based on how often you intend to use your campervan. If you're only planning to go on short holidays and road trips, being able to stand may not be important.
But if you're planning to live in your van full-time, or use it for extended periods of time, being able to stand may be a priority.
Internal width (for a sideways bed)
How tall are you?
If you're less than 1.7m then you would probably be able to put the bed width-ways (east/west), and pushing it right up to the back of the van; leaving more space in the middle/front of the van for a bigger bathroom, kitchen or seating area.
If you can't fit width-ways, you'll need to position the bed long-ways (north/south) so consider how that would impact your desired layout.
Don't know where to start with designing the layout of your campervan? You'll find our post on campervan conversion floor plans helpful.
Free camping needs
Are you planning to make your camper van off-grid capable? Consider if there is enough space for water tanks (both fresh and grey), and roof space for solar panels.
4X4
Are you an adventure seeker that will value being able to hit the tracks and get to some of those more remote locations?
A 4WD van is a lot more expensive than 2WD, but that added expense may mean the difference between doing a trip you love, or being stuck on the sealed roads with everyone else.
Towing capacity
Planning on taking a boat on your travels? Or maybe you'd like the van to be dual purpose, using it as a tow vehicle for … I dunno, something else. 🙂
Maintenance costs
Don't forget to factor in ongoing maintenance costs. If your van is a unique European import, finding parts and people who can service it, may be difficult.
But then again, they may be really popular in Europe or USA and have lots helpful videos on YouTube, if you plan on looking after it yourself.
Some abbreviations that may be helpful
As a newbie, and not particularly interested in cars or vehicles in general, it took a little bit for me to get my head around some of the terms / expressions / abbreviations that come up when people talk about vans.
So this might be helpful to other newbs out there:
LWB – Long wheel base
MWB – Medium wheel base
SWB – Short wheel base
XLWB – Extra long wheel base
AWD – All Wheel Drive – All wheel drive vehicles drive all four wheels simultaneously and are designed for normal road use or mild off-road use.
(I'll add to the list as more come up)
---
To save you the hassle of combing through each manufacturers website, I've created a spreadsheet with all the vans that can be bought new in Australia.
The spreadsheet includes exterior dimensions, interior height, base price and links to each one.
(It also includes all the campervans and motorhomes you can buy new in Australia, if you change your mind and decide you don't want to do a conversion.)
Just sign up to our newsletter below, and we'll send you the campervan comparison spreadsheet for free. (You can unsubscribe at any time)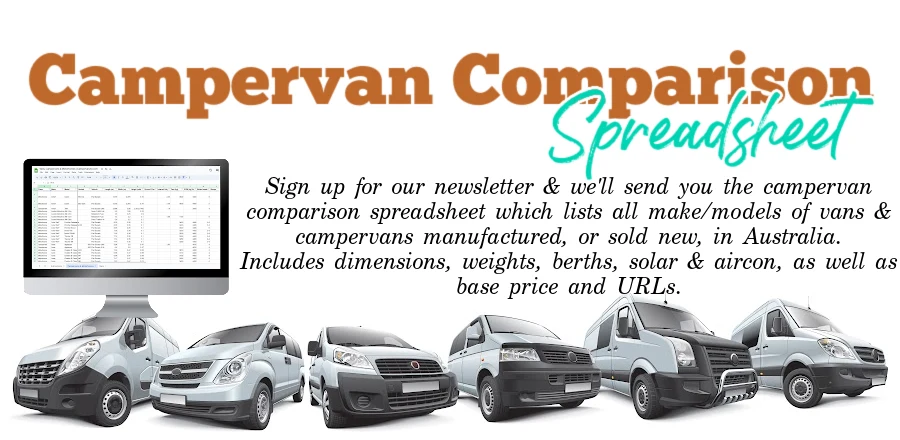 ---
Alright, just get to the vans already!
Here's what I've found:
Different types of vans for converting to campervans
Mercedes Sprinter
We'll start off with one of the most popular camper vans at the moment.
Gone are the days of a VW beetle pop top camper, all the cool kids are getting their Instagram glory while lounging in the back of a Mercedes-Benz Sprinter van conversion.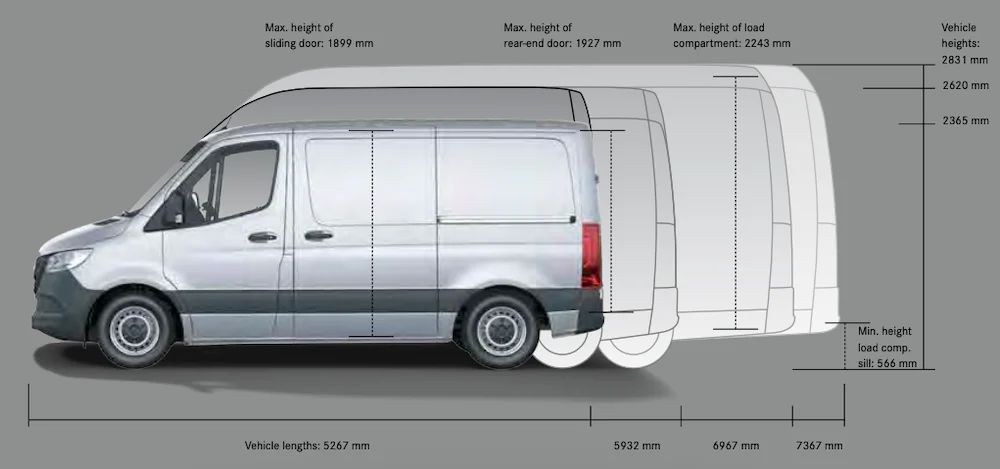 Length 5267 – 7367mm
Height 2365 – 2831mm
Width (internal) 1787mm
Height (internal) 2243mm max
4×4 option – No
Price NEW $72,000-$91,000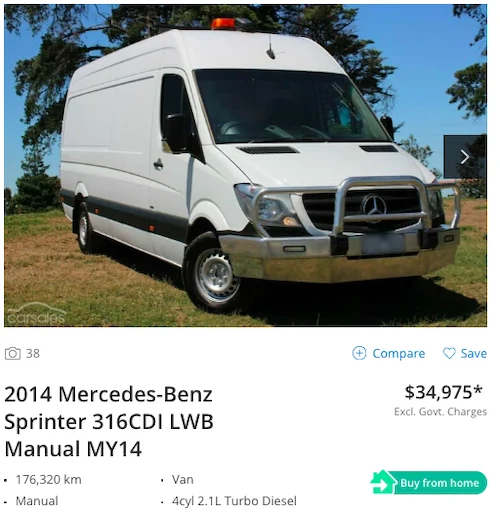 We've got a few examples of people who have converted a Mercedes Sprinter. Check them out below:
Volkswagen Crafter
www.volkswagen.com.au/en/models/crafter-van
VW is of course a European car manufacturer, but there are plenty here in Australia.
The fact that so many campervan manufacturers build their campers in the Crafter, gives us an indication of their popularity. So far I've seen VW Crafter campervans by Trakka, Jacana, Campervans Australia (previously Discoverer Campers) and I'm sure there's more that I can't remember right now.
Length 5986 – 7391mm
Height 2355 – 2590mm
Width (internal) 1832mm
Height (internal) 1726 – 1961mm
4×4 option – AWD
Price NEW $65,000-$71,000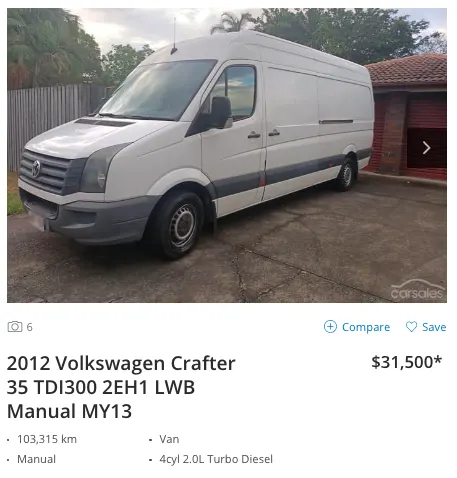 Fiat Ducato
There are a number of the campervan manufacturers that build their product on the Fiat Ducato. Trakka Torino, Avida Escape, Horizon Motorhomes, Avan Applause, Jayco Conquest DX and the Sunliner Rialta.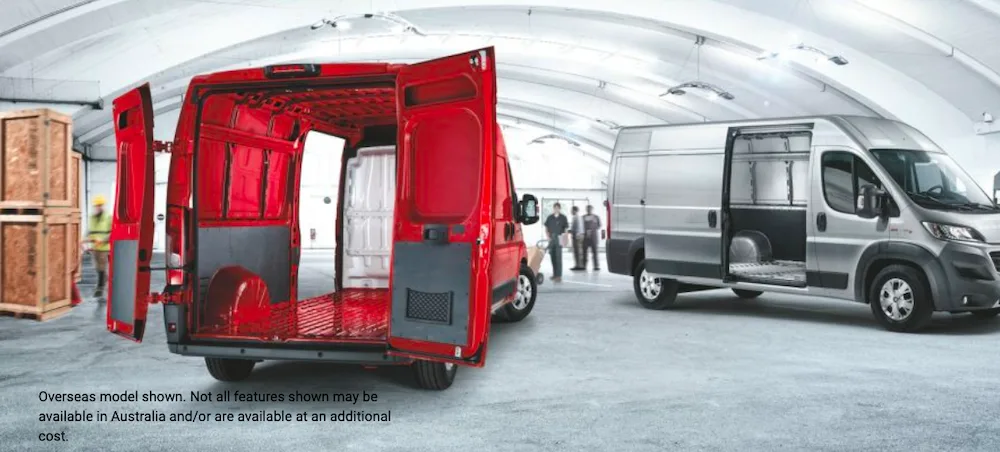 Length 5413 – 6363mm
Height 2369 – 2534mm
Width (internal) 1870mm
Height (internal) 1662 – 1932mm
4×4 option – No
Price NEW $57,000-$66,000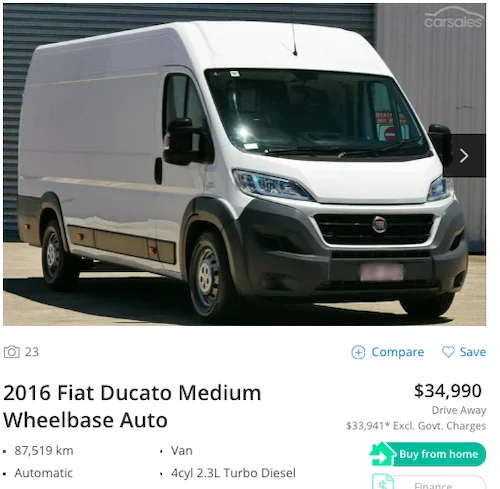 Ford Transit
www.ford.com.au/commercial/transit-van
I feel like a Ford would be a good option for us.
Plenty of dealerships, service and parts, so it's not like we're asking mechanics to work on an uncommon European brand.
But I do note, that I haven't seen any of the campervan manufacturers build on the Ford chassis. Is there a reason for that?
Length 5981 – 6704mm
Height 2543 – 2790mm
Width (internal) 1784mm
Height (internal) 1786 – 2025mm
4×4 option – No
Price NEW $57,000-$65,000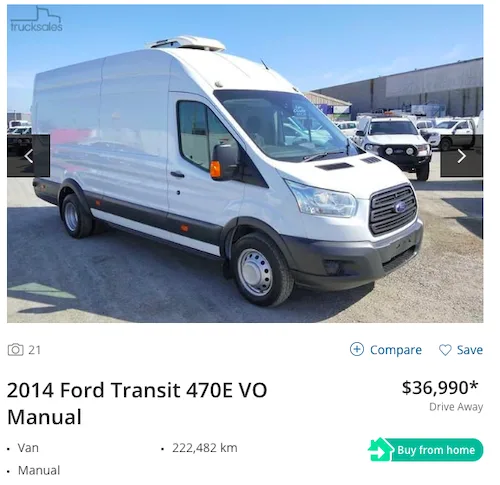 Salty Vanventures has done an amazing job with their Ford Transit. You can see it here:

Renault Master
www.renault.com.au/vehicles/commercial/master
The Renault is another popular choice, used by campervan manufacturers in their conversions.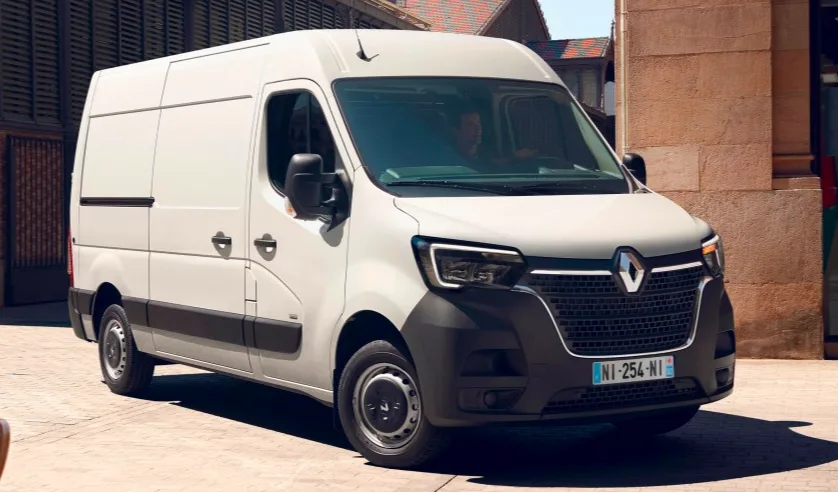 Length 5075 – 6875mm
Height 2310 – 2808mm
Width (internal) 1765mm
Height (internal) 1700 – 2048mm
4×4 option – No
Price NEW $54,000-$65,000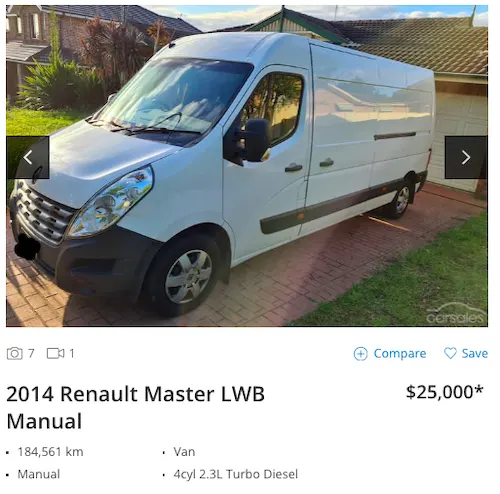 Those 5 vans are the main contenders in the campervan space.
For those that want details of all the technical and performance data; I found an excellent article by caradvice.com.au that compares the Mercedes-Benz Sprinter, Fiat Ducato, Ford Transit and Renault Master.
Large van comparison: Fiat Ducato v Ford Transit v Mercedes-Benz Sprinter v Renault Master
You may find it enlightening.
Volkswagen Transporter
www.volkswagen.com.au/en/models/transporter-van.html
I haven't seen as many of the Transporter model as the Crafter. I think that's simply down to the fact that they're smaller.
But you can still get the standing height in the Transporter, so I think they would still be a good option, especially if you're travelling solo.
If you're keen on the VW for a campervan (that you don't want to convert yourself) we've done some research on where to buy new VW campervans in Australia.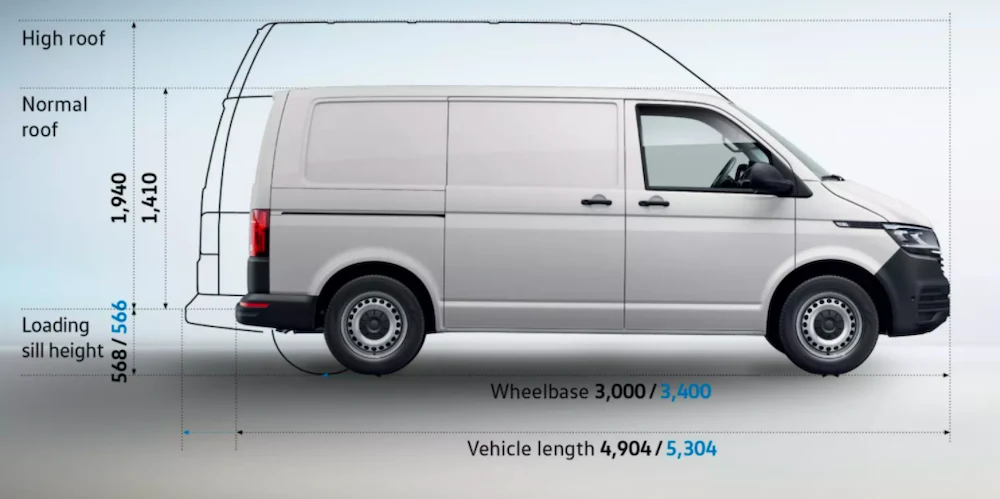 Length 4904 – 5304mm
Height 1990 – 2477mm
Width (internal) 1700mm
Height (internal) 1410 – 1940mm
4×4 option – AWD
Price NEW $50,000-$65,000
LDV Deliver 9
https://www.ldvautomotive.com.au/vehicles/ldv-deliver-9-large-van/
Have you ever heard of this before? I haven't. (But really, that's not saying anything).
But while researching this make, I find that LDV is a division of SAIC (Shanghai Automobile and Industrial Corporation), the largest auto manufacturer in China.
They were formerly the British van manufacturer, Leyland DAF.
It's new on the market, so this article may help you decide if it would be right for you. LDV Deliver 9 2021 review GVM test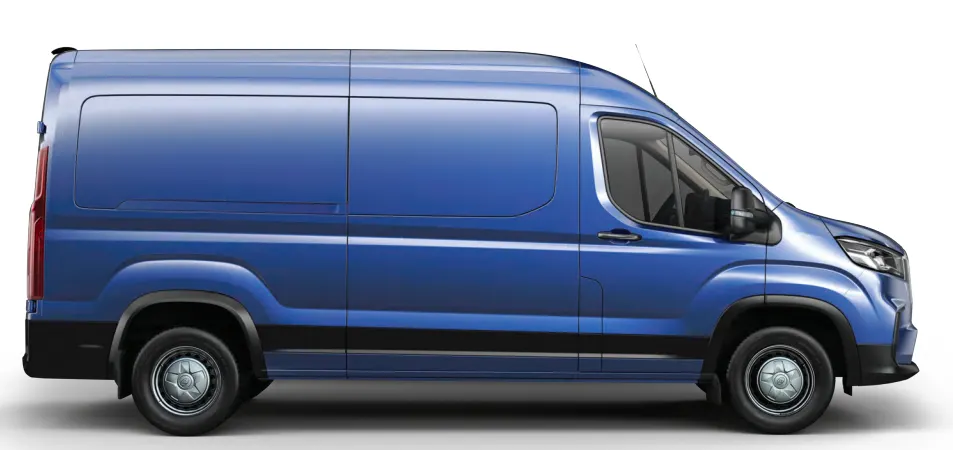 Length 5546 – 5940mm
Height 2555 – 2755mm
Width (internal) 1800mm
Height (internal) 1792 – 2014mm
4×4 option – No
Price NEW $46,000-$51,000
Iveco Daily E6
https://www.iveco.com.au/product/new-daily-e6
For something a bit larger, you may want to consider the Iveco Daily E6. I had only known of the Iveco range of trucks, but they do also have the large cargo van.
With 3 different models you can get a van from 5.5 – 7.66m in length and up to 3m tall, which is great for tall people.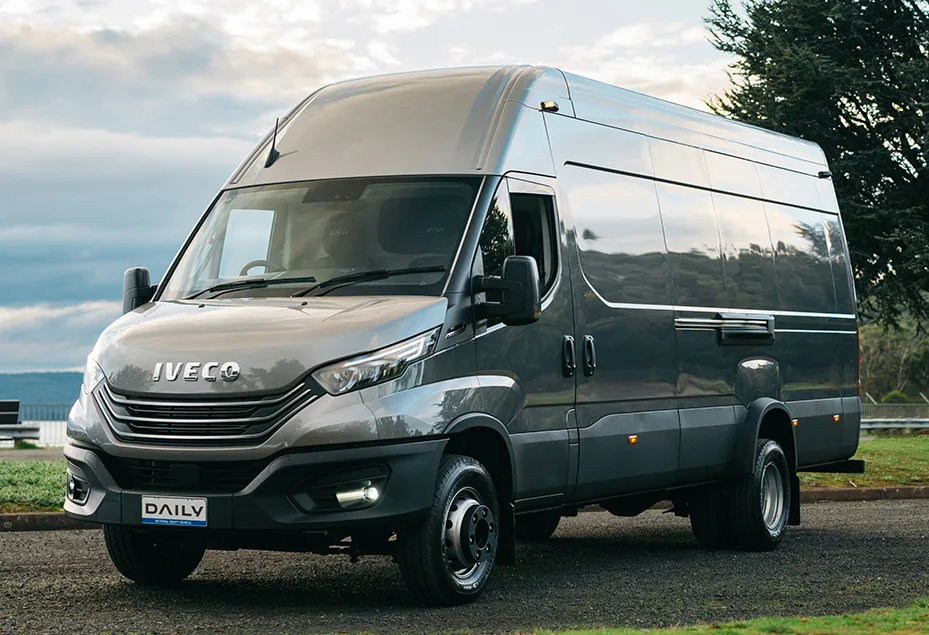 Length 5476 – 7664mm
Height 2315 – 3054
Width (internal) 1740mm
Height (internal) 1545 – 2100
4×4 option – No
Price NEW $82,000+
Max and Occy are YouTube famous so you've probably already seen this van. But here's the van tour if you haven't seen it yet:
Smaller vans / mini-vans
There are lots more smaller vans that would be perfect for those campervans that you don't stand up in and don't have a toilet/shower.
The best small van for camper conversions include models like:
Toyota Hiace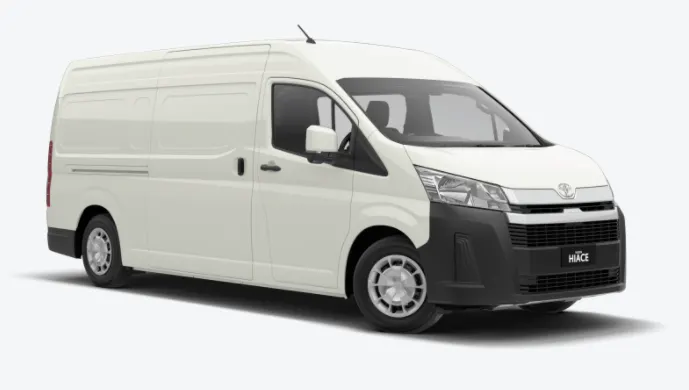 Length 5265 – 5915mm
Height 1990 – 2280mm
Width (internal) 1670mm
Height (internal) ?
Price NEW $50,000-$62,000
Mitsubishi Express
Length 4999 – 5399mm
Height 1971mm
Width (internal) 1662mm
Height (internal) 1387mm
Price NEW $39,000-$45,000
We then start getting into the minivan size:
Mitsubishi Delica
Nissan Elgrand
Toyota Tarago
Buying a used van for conversion to a camper
Much as I would love to buy a brand new van, with exactly the right dimensions and colour and engine size… the choice for many (including us) will be to buy a used van, and convert that into our campervan.
And there are lots available.
These are the sites you can check out:
www.carsales.com.au
www.gumtree.com.au
---
Van Conversion Academy
Wanna stop reading and just get busy doing?
Katie and Ben from Two Wandering Soles have converted two campervans now and the Van Conversion Academy course outlines everything they did for their van builds and the massive amounts of research they've done. (A look at their Two Wandering Soles blog reveals the level of research that these two delve into!)
If you're ready to get started with your own van conversion, but need a bit of a blueprint to follow, then I highly recommend this course. (I have it and have gone through the whole thing.)
Click this link to have a look at everything that is included in the course.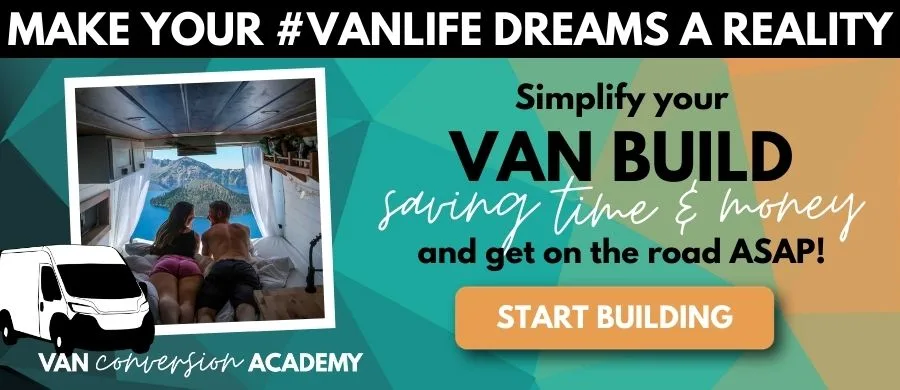 When talking to Katie and Ben about this course, they were a bit concerned that we might get frustrated that all their measurements are in imperial.
I told them that we're used to it! I'm forever having to convert feet and inches into metric.
And, since they're American, there are some parts of the course that are not completely relevant to us, or we have to 'translate into Australian'.
For example, they have a different selection of vans to us, shore power is 120V rather than our 240V and they have access to a different/much larger range of products than we do.
But I still think the course is really valuable for anyone doing a van conversion; especially as there is no Australian equivalent yet. So this is just a heads up.
Anyway, click the link to have a look and see if it's going to be helpful to you.
---
If you're not sure if you're up for the challenge of doing your own campervan conversion, there are camper van conversion companies all around Australia that can do it for you.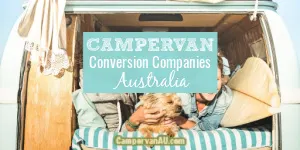 And if you're already thinking that building out your own van sounds like too much work, here's a look at my current favourite campervans (and how we're preparing for campervan life).
Trakka campervans build their motorhomes on the Mercedes Sprinter, VW Crafter and Fiat Ducato. They are freakin beautiful vans… but be warned, they come at a very 'beautiful' price too!
And if you're a total newbie, and not sure if you'd even like travelling in a van (or you trying to convince your partner to give it a go!) there are plenty of campervan hire options in Australia. I'd highly recommend this, especially for those that have never lived or travelled tiny before.)