Are you at the stage of planning the layout for your camper van?
One of the major considerations is going to be your bed.
Not only because you want a comfy place to retreat to every night; but also because no matter what size van you have, a bed is going to take up a considerable portion of the interior space.
Knowing that, your first decision about your bed will need to be deciding whether it's going to be a permanent bed, or a convertible bed.
Let's start by having a look at the different options:
Permanent bed for camper van
There are a few reasons why you would opt for a permanent bed in your van; the first 2 are, in my opinion, the most important:
You don't have to make (and unmake) the actual bed every day
You have loads of storage under the bed – which may be important for storing things like bikes, or providing kennel space
Can be as comfortable as you want – since you don't have to arrange cushions to make the bed and end up sleeping on joins
One person can rest/sleep while the other does other stuff inside the van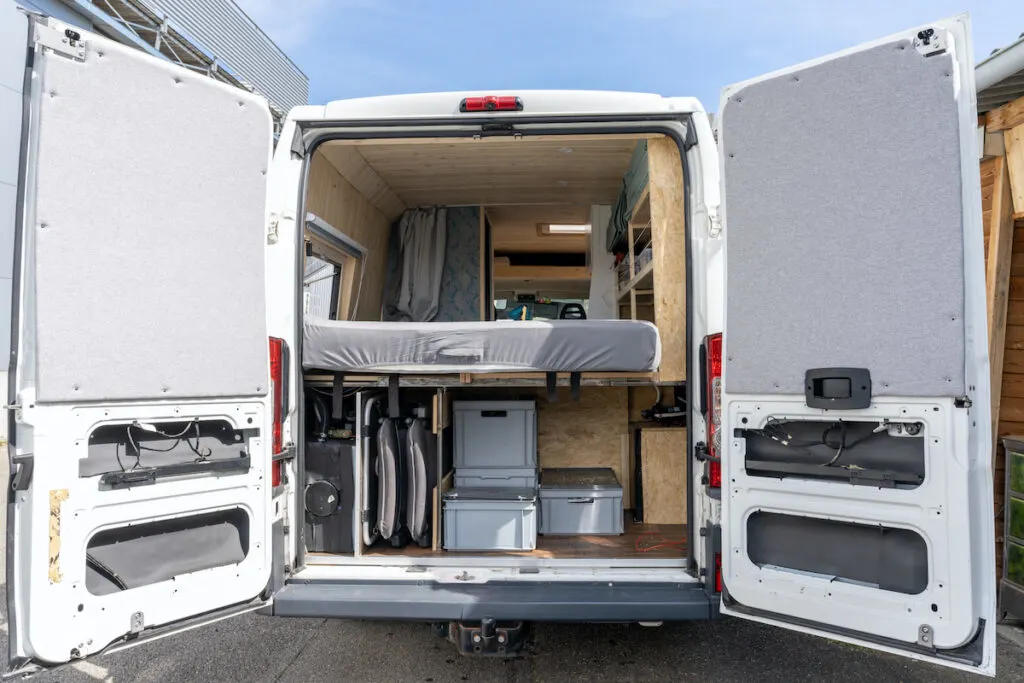 The downside is that it takes up a lot of room which can't really be used for anything else (except relaxing).
But if you do decide that a permanent bed makes the most sense for you, here are a couple of things to keep in mind when designing your layout:
Consider the height of you bed.You want to make it high enough so that you have space under the bed for storage, but still leave enough room for you to sit up comfortably while in bed.
Will you place the bed so that you're sleeping across the bed or longways. Placing the bed widthways (sometimes referred to as East/West) is great if you fit, but if you're tall, you're probably going to have to place the bed longways.
Convertible camper van beds
Here's where things get interesting. There are so many ideas for ways to have a convertible bed. I've hunted out all the ones I can find, with examples of how others have done it.
There's a saying in van/RV circles that says that every item in your van must have at least 2 purposes. With the bed taking up so much space, it really is ideal if that space can be used for more than one activity.
Dining area → bed
A very common choice is to have the dining area convert to a bed. The table can be dropped down and the backrest cushions arranged to fill in the gaps.
This allows you to have plenty of space during the day for working (very important for those of us that are working online), entertaining guests or even just having space inside when the weather is bad.
Couch → bed
There are a few different ideas I've seen for a couch / bed setup.
Kristin from Bearfoot Theory has a couch where the backrest folds down as you pull the base of the seat forwards. (See below)
Other versions use slats that slide apart.
Travel seats → bed
This is the perfect solution for those that want to use their campervan as a daily driver, as well as taking it away for holidays. Depending on the type of seat used, you could have 3 belted seats that convert into a comfy (I presume) double bed.
This is the Rock and Roll bed by Reimo.com.au

Drawbridge style / Murphy+ campervan bed
I'm seeing more campervan manufacturers incorporating this style of bed, where the middle section of the bed lifts up so you can use the space for transporting taller items (like bikes).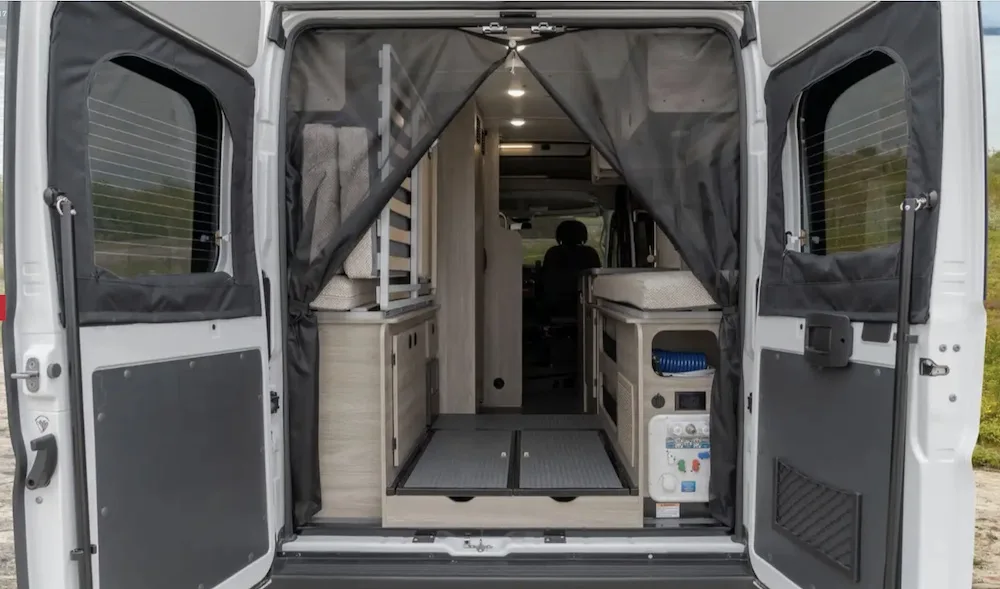 Murphy bed
Here are a couple of murphy bed setups that may help you design one that's right for you.
This murphy bed design by Jarrod is quite different from any of the others.
Electric drop down bed
I think this might be my favourite type of campervan bed set-up. The bed is already made and ready to go, and it requires zero physical effort to get it ready for sleeping.
The Avida Escape below shows one in action.
This self-built van by Cam and Em uses the Happijac bed lift.
Camper van bed orientation
Since beds are generally longer than they are wide, it's better (space wise) if you're able to sleep across your van.
However that won't work if you're tall and don't fit across your van, or you'd rather not have to climb over each other to get in and out of the bed.
If it's just a little bit too short widthways, you could eek out a bit more length with either cut-outs or flares.
Cutouts
Flares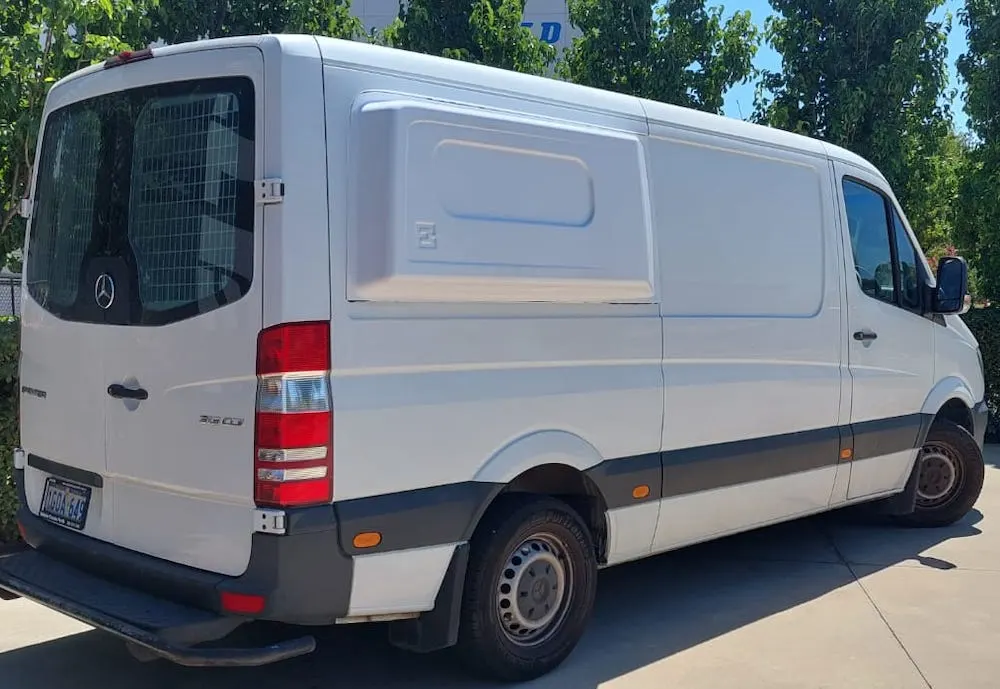 Extra beds
Van life is generally touted as being right for singles or couples, it gets a little bit difficult to fit more than 2 people sleeping in a van. But some have managed to do it with some quite elegant solutions.
Designing your campervan layout
If you're planning to do your own campervan conversion, you may consider using a drawing tool like Vanspace 3D.
I like Vanspace 3D because it has lots of van templates already, and you can add ready-made components and resize them.
And then you can view it from all different angles and get a really good idea of how your van will look when completed.