What is a camper van?
It's actually a common question, especially here in Australia and New Zealand, and that's because every country seems to have different names for different types of campers.
But as more and more people travel within our own country (thanks to covid yes, but also thanks to more and more people being able to earn an income online or from working remotely) living the van life is becoming more popular and appealing.
So let's define what a camper van means here in Australia:
A campervan is a self-propelled vehicle that provides both transportation and sleeping accommodation. Wikipedia
They are built on what we would call, on any other day, a van.
We're talking about Toyota Hiace, Mitsubishi Express, Ford Transit, VW Transporter or Crafter, Fiat Ducato, Renault Master and the Mercedes Sprinter.

It's those vans that many tradespeople use for their work vehicles.
Big enough to fit all their gear and supplies; but small enough to fit into a car park.
Almost all have a sliding door on the side and the back opens fully with double doors or a door that opens upwards.
In North America, a camper van is a Class B RV.
What is the difference between a camper van and a motor home?
I find that many people will refer to a motorhome as a camper van. But a motorhome is generally larger and can sleep more people.
You've probably also heard of RVs – this is an umbrella term used mostly in North America, to cover all types of recreational vehicles, whether self-powered or towed.
Hopefully, this chart will help clear things up a bit.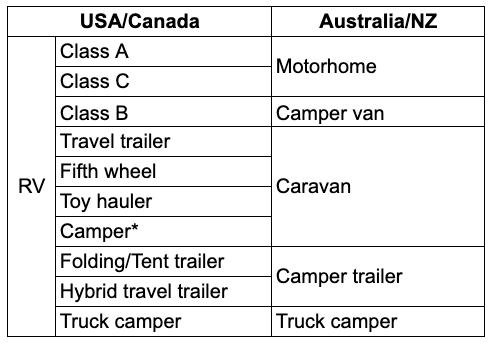 What is in a camper van?
A camper van in Australia will generally include the following:
Transport for at least 2 people (the driver and one passenger) but often more
Sleeping space for at least 2 people
Kitchen – space for food prep, a sink, cooker, a fridge, cooler or esky.
Fresh water storage
Storage space – for clothes, food, camping equipment etc.
When you get to the more well equipped camper vans, you could expect to find:
Bathroom – often a wet bath with the shower over the toilet
Waste water tanks
Power supply – batteries charged by driving or solar panels
And some can sleep more than 2 people (but not many can! Have a look at these family camper vans if you're looking to sleep more than 2 people)
What is the purpose of a campervan?
What makes a camper van so appealing, in my opinion, is that they are small enough to be able to take almost anywhere and be able to park (like tourist spots, the supermarket and your friends house), while also being big enough for it to house everything you need like transport, sleeping, cooking, cleaning and relaxing.
This means that you can holiday almost anywhere, and wherever you are, you've got everything you need right with you at all times.
Is a camper van right for you?
Much as I love camper vans, they may not be right for everyone.
Here are the factors you need to think about before committing yourself to the camper van life:
How many people are sleeping in it – most campervans are built for a couple.
If you want a family camper van the kids are likely going to have to sleep in a tent, or you'll need to do your own camper van conversion.
Do you plan to stop for more than a couple of days in each location – every time you want to drive somewhere, you will need to pack up your home.
Whether that's going on a sightseeing day trip, or just heading to the shops for a litre of milk.
This can be a nuisance if you're wanting to settle in for a while, but it's generally not so much of a problem if you're moving every couple of days anyway.
Storage space – if you have lots of gear with you, then you'll need to think about whether there'll be enough storage space in a van.
With fitting so much into a small vehicle, storage space is quite limited.
Be prepared for limited supplies – Since you'll likely have a small fridge, not much food storage space and small water tanks; you may need to replenish supplies and empty tanks more often than if you had a larger rig.
If you still think that a camper van may be your preferred choice for travelling around Australia, you could hire a campervan; just to make sure it's as good in reality, as it is in your imagination.
---
And if you're ready to dive right in and find your perfect van, we've saved you the hassle of combing through each manufacturers website and created a spreadsheet with all the vans and campervans that can be bought new in Australia.
The spreadsheet includes exterior dimensions, interior height, base price and links to each one.
Subscribe to our newsletter below and we'll send you the Campervan Comparison Spreadsheet for free. (You can unsubscribe at any time.)