As we prepare for living in a campervan as we travel around Australia (ideally in one of these), we're considering how life will be different (better?) once we hit the road again.
We've spent two years living full-time in a caravan, but we were doing more working than travelling, so the emphasis will soon be on travelling in a campervan rather than being stuck in one place and having to go to regular jobs.
Here are the things that we need to get/have already got sorted out before living in a campervan again.
Downsizing for living in a van full time
In the months since we moved out of the caravan, we've been moving from AirBnB to AirBnB, staying just one month in each place. Which means that everything we own, currently fits into our car. (Apart from the four boxes I have stored in the attic of the garage of my grandparents house… in NZ).
So we really went the through the process of downsizing our lives, in a big way, when we got rid of everything we owned in NZ, and came back to Australia with just a suitcase each.
The process that I go through when decluttering and downsizing, is this:
Scan all paperwork
Throw away
Sell
Give away
Store
Step 1: Scan all paperwork and throw out the original EXCEPT for those items that you need to keep, like birth and marriage certificates, title deeds, contracts etc.
Store all the electronic documents somewhere in the cloud. Whether that be Google Drive, Dropbox, Evernote or some other cloud storage system.
If you wanted an additional backup, you could save a copy to an external storage system, like a USB stick or external hard drive and keep that somewhere safe, along with any physical copies that you're keeping.
Step 2: Throw away – the easiest part (for me) of decluttering, is having a big throw out. It's amazing how quickly you can accumulate stuff, and how much of that is just junk.
Throw it out so that you can create some space (both physically and mentally) for all the sorting that you're going to have to do in the next steps.
Step 3: Sell – if the item is worth selling, then clean it up, fix it up and get it listed. You may as well make some money, if you can.
Step 4: Give away – TBH, I'm more likely to give things away rather than sell them.
Simply because I feel like the time it would take for me to list the item, is better spent on other things.
Before giving things away, I always make sure they are spotlessly clean and in good working order.
Step 5: My last resort, and one that I try to avoid, if possible; is to store things. Whether that's in a paid storage unit, a relatives attic or a friends spare bedroom.
I highly recommend only storing things that can't be replaced, those things that have sentimental value.
I've written more in depth about this process over at Ben & Michelle | Downsizing to a caravan.
Money – funding our camper van living as we travel Australia
When we were living in our caravan, we were pretty much living life as anyone else who had a house or apartment.
We went to work, cooked at home, cleaned on a Saturday and saw friends and family as much as normal.
There were some differences, of course; like having to put shoes and a jacket on and take a walk to get to the toilets and showers; and having to go to a laundromat once a week to do our washing.
But the most significant difference, was in the cost of our living expenses.
We paid very cheap site fees and this meant that with Ben working full time and me working part time as the after-hours caretaker, and a virtual assistant, we were still able to save. And I was still able to dedicate many hours to our blogs.
Now, our blogs and virtual assistant work are now bringing in a tidy income that means we're not dipping into our savings much.
Creating online businesses is how we decided to have an income (blogging and virtual assistant) but still be able to travel, but there are certainly many other ways to do it.
These include:
Stopping for work – whether that be fruit picking, truck driving, admin, farm work, caravan park caretakers… or any other short-term contract type of work.
Working remotely – thanks to the pandemic, many more businesses have realised how possible it is for their employees to work remotely. Maybe you could take your current job on the road?
Taking your business on the road – I've seen many examples of people taking their businesses on the road. This could work for mobile mechanics, hairdressers, massage therapists, dog sitters/walkers, people who sell their crafts.
House / farm sitting – while not usually paying a wage, doing house or farm sitting generally entails free accommodation.
If you're interested, I've written about how we've made money to support our nomadic lifestyle and what we're doing now.
Budgeting for living in a camper van full-time
I'm a self-professed budgeting queen. I love the process of setting out a budget by listing out all the items that we currently budget for, and adding in the ones that I think will be needed for our new life on the road.
I'll share a more comprehensive budget once we're closer to getting on the road, but this is the basic starting point for me.
| | |
| --- | --- |
| Living costs | AUD / month |
| Camping fees | $400 |
| Fuel | $400 |
| Food | $800 |
| Phone plan | $160 |
| Spending | $400 |
| Campervan maintenance | $400 |
| Insurance, Road side assist | $200 |
| TOTAL | $2,760 |
I'll briefly talk about my logic for each of these categories:
Camping fees – keeping the camping costs to just $400 per month will be dependant on setting up our van for off-grid living.
If you don't have a toilet onboard, or a way of making power (so you need to stay in caravan parks) your camping fees are going to be much higher than $400 per month. We found this out with our camper trailer.
Fuel – as long as we're not travelling at a furiously fast pace, budgeting for just $100 per week is reasonable.
Food – this is about how much we spend in our regular life. In more remote areas, this cost can go up significantly; so it will be more important for us to plan our meals around what is available and cheap and, umm, it wouldn't hurt us if we ate a little less! :-O
Phone plan – our plans have quite a lot of data and it's how we get our entertainment. (Netflix, YouTube, Disney+)
Spending – this is the really-difficult-to-estimate category. $100 per week for things like going out for a nice meal, doing a touristy tour, park entries, wine tastings, fish and chips on the beach, hiring bikes or enjoying an ice-cream on a hot day.
I'll start at $400 per month, and then see how it goes.
Campervan maintenance – to allow for annual services, oil changes, cracked windscreen, flat tyres or any other of the myriad of things that could go wrong.
Insurance, Roadside assist – based on a quick google search and estimating what these costs would be.
Note 1: When setting your own budget, you have to take into consideration your own circumstances.
For us, living in a campervan is a way of life, something that we will do for at least the next couple of years; so we're not in a hurry to move from one place to the next.
We're happy to stay in one area for a month at a time and move on only when we're ready. We can stop and relax in cheaper areas, and move faster in the more expensive areas if we wish.
If you're on a deadline, your costs will be quite different.
Note 2: I haven't included the costs of running our online businesses. This is different for every person and business so would be quite unhelpful to you (and isn't part of our personal costs anyway).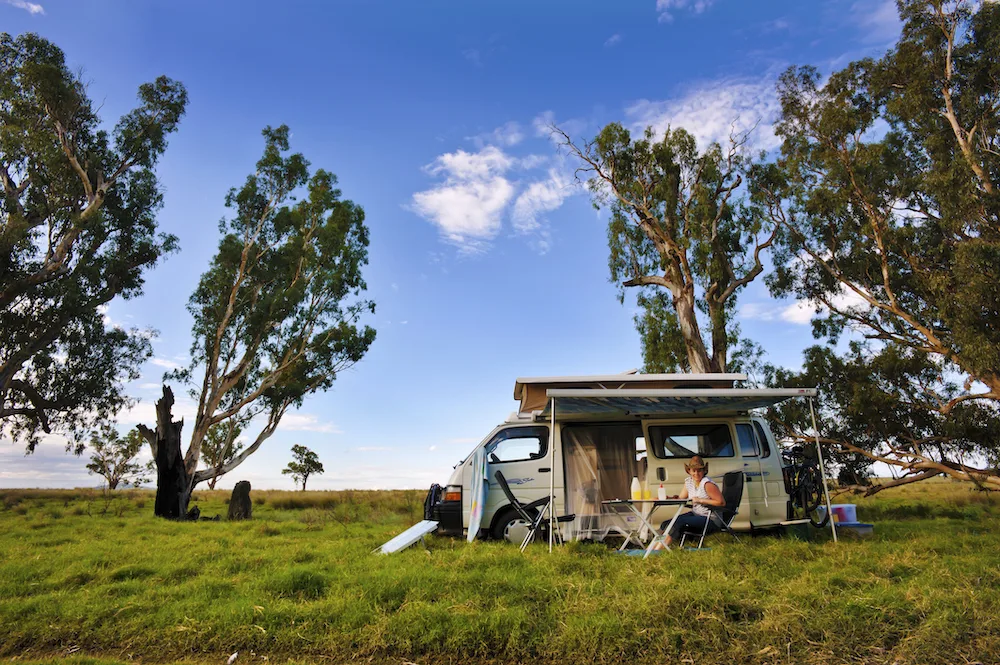 Route planning
And now we get to the fun part, planning your route!
For general route planning, my go-to is Google maps. It allows you to easily plot your starting point and end point, and add in any stops along the way. I like how it gives you estimated driving times and is easy to edit.
Once we've decided where we're going to go, I then have a look at WikiCamps to find a place to stay.
I don't know what I'd do without WikiCamps!
It has all the campgrounds and caravan parks in there, and all the free camps. And you can set up the filters so it only shows the types of places to camp, that you want.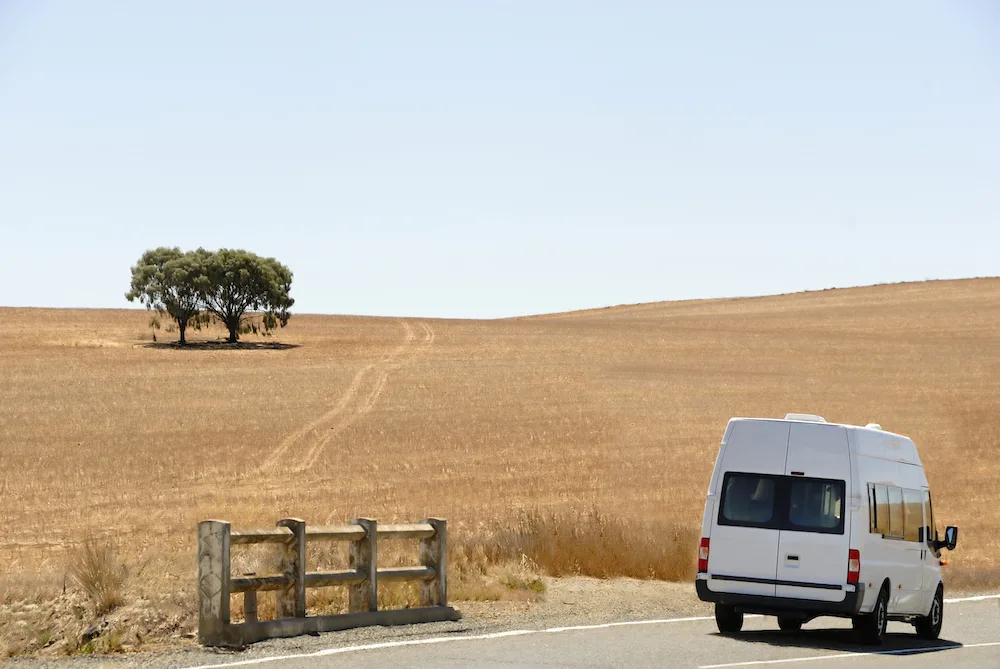 When it all gets too much
Here's one of the big perks of living and travelling in a campervan, in my opinion: being able to stop somewhere and rent a cabin or a motel room for a night, or heck, an AirBnB for a month (!) and not have to stress about where to park your mobile home.
With a caravan, motorhome or camper trailer, you have to make sure that there's space for you to park your vehicle while you enjoy the comforts of a full-size home for a while.
A campervan is less of a challenge to find parking.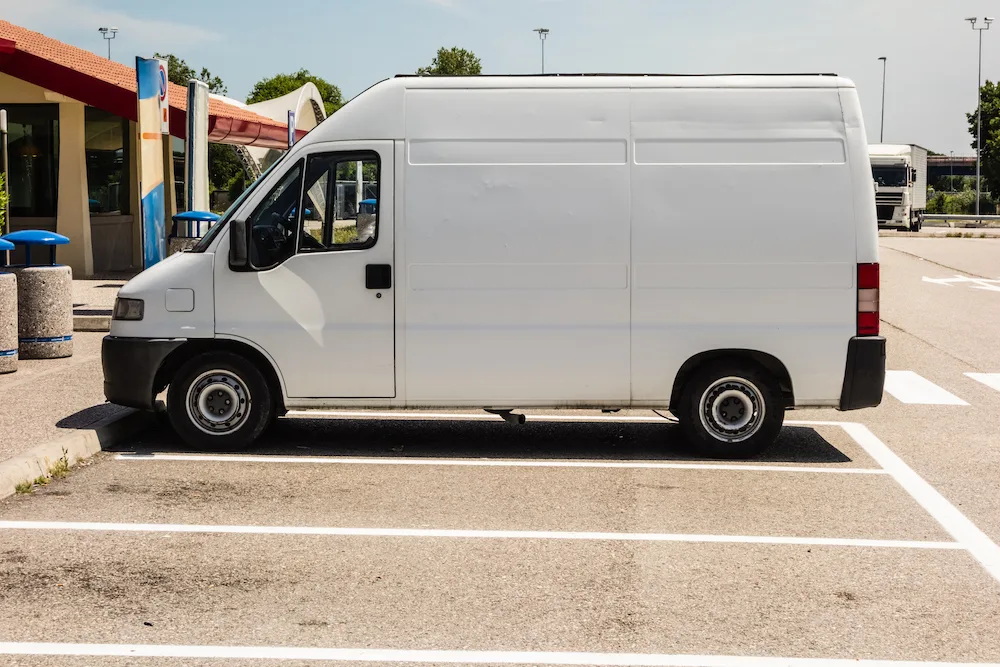 But while you're in your campervan, you still have everything you need for a comfortable life, in a compact and nimble vehicle.
I don't expect to need this option very often; but I do know, after travelling and living in a camper trailer and caravan for over 2 years, that having the option of renting a bigger space is important to me.
Either way, I can't wait to hit the road again and for campervan living to become my everyday reality!
---
Looking for the perfect campervan?
I've created a spreadsheet with all the vans, campervans & motorhomes that can be bought new in Australia.
It includes the exterior dimensions, interior height, base price, seating and bed layout, bathroom, solar and air conditioning; with links to each one.
Subscribe to our newsletter below and we'll send you the Campervan Comparison Spreadsheet for free! (Unsubscribe whenever you want).