Recently I had the opportunity to talk to solo female van lifer Casey, about her experiences travelling Australia in a van, by herself.
She also shares with us the process of converting her van into a camper van and what it's like now that it's completed and she's living in her van full time.
If you're planning to hit the road solo (and even if you're not solo) you'll find the tips that she shared with me to be helpful in making sure you have a great time in a van that's just right for you.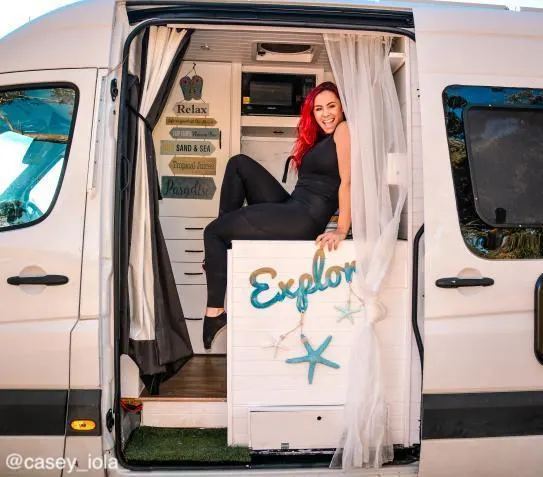 Articles on this site may contain affiliate links where we may receive a commission. Please see our Affiliate Disclosure for more information.
The van build
Casey chose to do her camper van conversion on a Mercedes Sprinter Long Wheel Base Mid Roof L3H2 which she felt has enough space to include a toilet. (Because as a solo traveller she didn't want to have to go looking for toilets in the middle of the night.) 
And while Casey didn't think she'd need to have a shower too, there was room for it and she's glad to have a nice shower included.
Casey, along with her dad, did all the work to convert the van over an 8 month period. The pandemic had brought her home after working on cruise ships and it gave her the perfect opportunity to pursue van life for a while.
Safety as a solo van traveller
I was curious to know what steps Casey took to ensure her safety, and particularly if they were different to anyone else travelling by camper van.
On board toilet
As mentioned before, Casey has a toilet inside her van, so there's no need for her to go outside for any reason.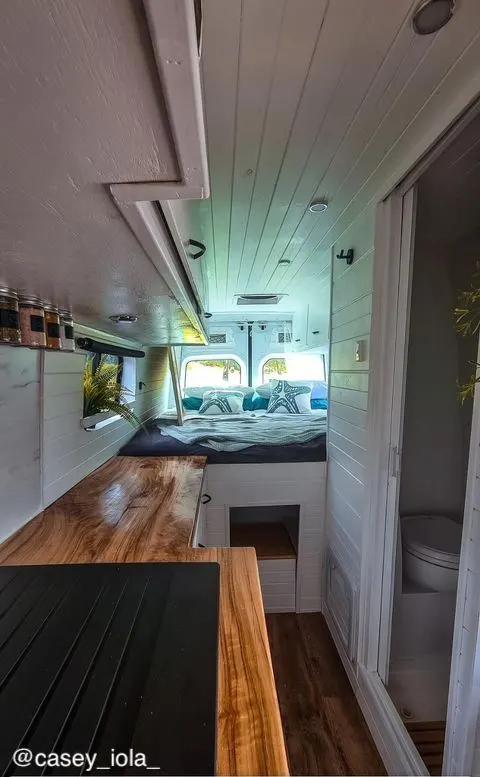 Walk through to the drivers seat
Another prerequisite of hers when building the van out, was that she have access to the driver's seat from the living area. Again, there's no need for her to have to go outside, and if she needs to move from where she is (for whatever reason) she's able to get straight into the drivers seat and move.
Camping
Casey prefers to free camp whenever possible, but if there's any time where she feels unsafe she will opt to stay in a paid campground.
Also, if she's going to street / stealth park she'll make sure no one sees that she's a solo traveller. She'll close the curtains, drive to the location and then just stay inside.
Casey makes sure she's very aware of her surroundings, knows where her keys are, and has everything packed when she goes to bed.
Also, her mum bought her an electronic dog that barks! She's not ever used it, but I think it could be a good deterrent; and it's a very cute example of a mothers love and care!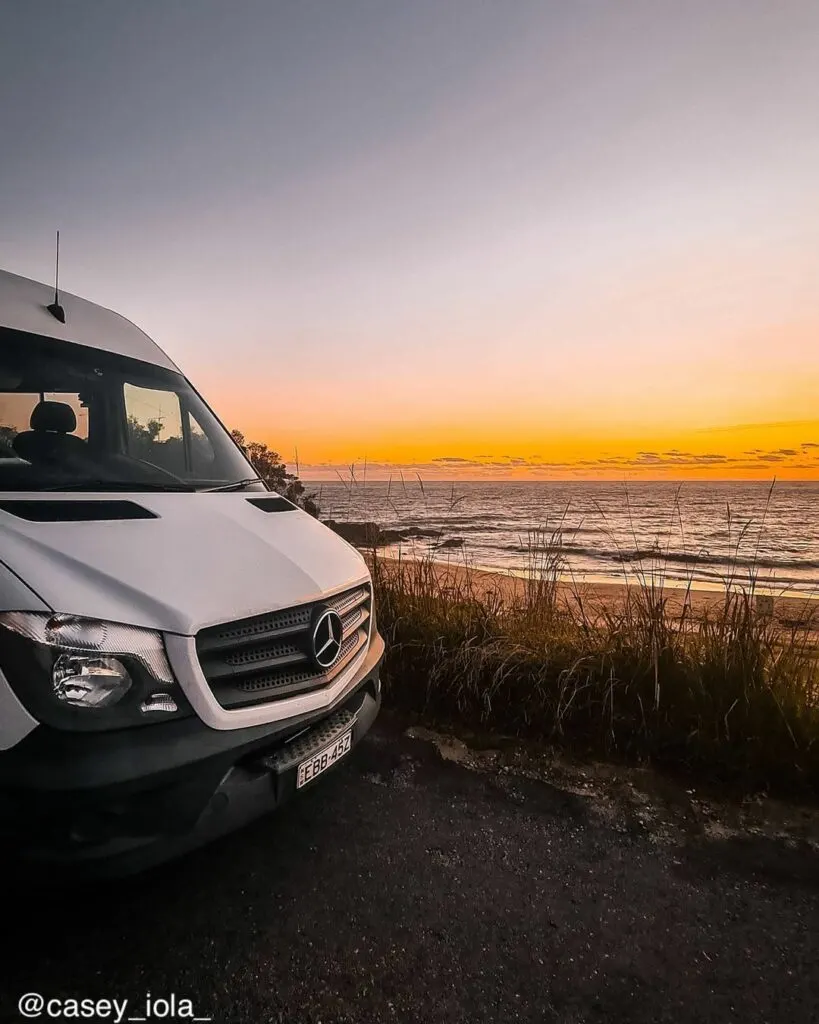 Knowing your van
One of the greatest benefits of converting your own van, is that you know exactly how everything works, and how it's all been put together.
So should anything break down, Casey can diagnose and probably fix the problem herself. And since her dad helped her and knows all about her build, she can call him if she needs to and he can talk her through the fix.
Living and working in the van full-time
Casey works full time as an online business and social media coach (more on that below) so she made sure to include a desk space so she can work on her laptop.
However, one thing that has made working in the van particularly difficult, has been the lack of air conditioning. Darwin, even in the middle of winter, has been too hot for sitting in the van to work, so she's had to retreat to libraries, cafe's and other co-working spaces.
Van conversion lessons
Now that Casey has lived in the van for a while, there are a couple of things she would have done differently, if she'd known.
Air conditioning – as mentioned above, she would have invested in an air conditioning unit so that she could use the van as her mobile office.
More research on electronics. There's something not right with her battery layout; even though she has two 100Ah lithium batteries they are not lasting as long as they should.
Bathroom placement – having the bathroom in the middle of the van works fine, but she considers that maybe putting it in the corner would be a better layout.
MWB – after meeting travellers with a mid wheel base van, Casey would probably opt for the shorter van next time (but still the same height). It's been great to have all the space in her LWB van, but the MWB would be easier to maneuver and park while still giving her enough space inside.
Van conversion cost
Ah, the all important question about costs! 
The van conversion cost approx. $15-16,000 AUD.
Yes, this could have been done cheaper, but Casey used some high end choices like the lithium batteries, nicer finishes in the bathroom and better toilet, etc.
Plus, she made a few changes that cost a bit more, like changing the bed layout when she realised the first iteration wasn't very comfortable.
This cost also includes tools. So if she did it again, she's sure she could do it cheaper.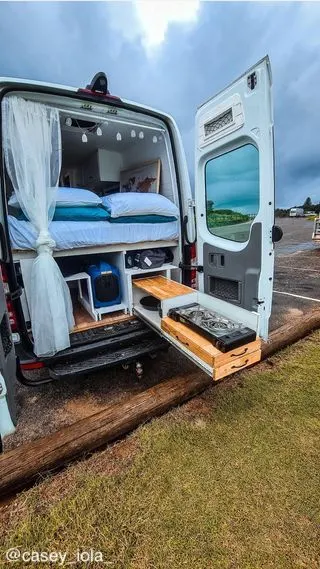 Making money while living on the road full-time
Casey is an online business and social media coach. 
She teaches small businesses who are trying to get into social media. She teaches them how to market themselves, their products, and their services to build a following and a network, and get clients.
She also has mindset and confidence clients, where she helps them with mindset, confidence and dealing with anxieties, to help them have a better, easier and happier life.
She also works for Rob Dial in the U.S who is known as 'The Mindset Mentor' and has programs on business, coaching and mindset. Casey does all the social media training for his coaches.
If you're keen to either start your own online business or to work remotely, both Casey and I recommend that you establish your business or secure your remote position before you hit the road.
Trying to establish a business as well as travel is really difficult; and you'll always have unexpected expenses, so knowing you have an income coming in is great.
Keep in mind too, that travelling in a van is not necessarily a cheaper way to live. You have expensive fuel bills, campgrounds, tourist activities and eating out.
#vanlife may not be cheaper, but it certainly is a great way to live!
You can follow Casey at @casey_iola_ where she shares great tips on using social media (particularly Instagram) to grow your business, as well as her coaching business, and van life. 
See a full van tour below
Now… if you're in the dreaming stage of embarking on van life around Australia, we've got some resources to help you:
Want to see more van conversions? Check out these amazing camper van conversions below