In looking for a family camper van (with a bathroom), I found lots of them!
Unfortunately for us, they were mainly manufacturers in North America and Europe.
Since this website is specifically for an Australian audience, I only want to feature family camper vans that can be bought here in Australia.
But, who woulda thunk it…
There's only TWO Australian made camper vans that can sleep more than 2 people AND has a bathroom. (But that's one more than last year, so that's good!)
So we'll get straight into it!
Family camper vans Australia
Avida Escape
Such a simple design, but boy this works a treat!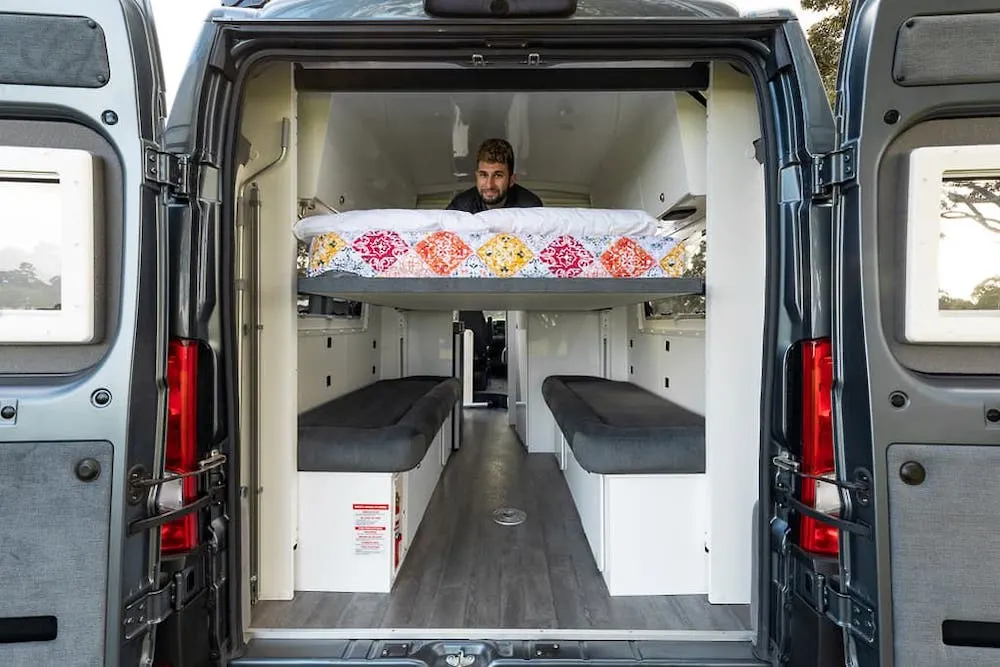 The dinette area at the back of the van, serves as the dining area during the day; and as 2 single beds at night.
Then, another bed lowers down from the roof to provide a double bed.
How genius is that!
Video walkthrough:
Jayco JRV FD 19-4
Just new on the market, the FD 19-4 model adds a pop-top roof to their already popular Fiat Ducato campervan.
The loft area means there is space for the kids to sleep too!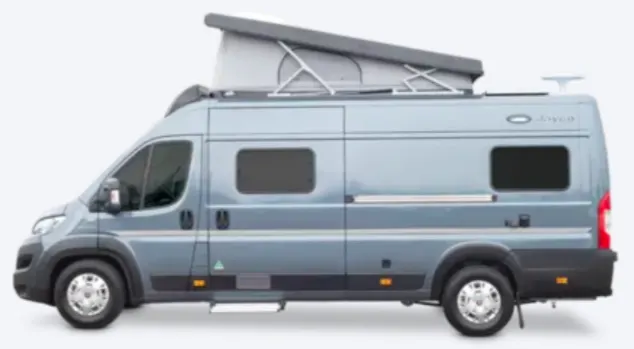 Converting your own van into the perfect family camper van
So if you want to travel Australia with your family, and you're determined that you'd like to do it in a small motorhome (i.e. a camper van) AND have a bathroom onboard, then I think that converting your own van may be the only way to go.
Here are some examples of families in their converted camper vans:
Bunks above the main bed
Small childs bunk above the main bed
The Fite family made a bunk bed above their main bed, for daughter Everly.
Now that they've added another tiny human to their family, they created a murphy bed crib to their set-up. It's simple genius. You can see it here: https://www.instagram.com/p/B56AVDhlJCJ/
Single bunks / cubbies above the main bed
If you've been looking at camper vans or RVs for a bit, you may have already seen the work of www.thismovinghouse.co.uk.
The design of this camper van allowed for a family of 4 to sleep comfortably, having seperate sleeping quarters, but still having the space be stylish and uncluttered. It looks like a purpose built boat design to me.
Double platform above main bed
This family created double bunk beds above the main bed, and these can be pushed up to create a bit more space when they're not in use.
Drop down bed
The Calloway family have been travelling for years and have set up their 4×4 Mercedes Sprinter to perfectly accomodate their family.
I love how this drop down bed can be easily lifted to allow for a dining space underneath, but still have everything neat and tidy.
Bunks in the living area
Bunks above living area
The two bunks can be tilted up to provide a bit more head room. But it's a great way to give each child their own sleeping space, and a bit of room between them and their parents.
Bunks along the side
Creating bunks for their 2 young girls was a great sleeping arrangement for this family, and it appears that others agree!
Ramble and Revive have now converted a couple of sprinter vans for others and added the small bunks!
All the peeps
Well that's one way of fitting everyone in!
It makes me think of sardines… but at least everyone is warm and on a comfortable bed.
Roof top tent
While not exactly 'in' the camper van, putting a tent on the roof means that you've got a comfy bed ready to go whenever you stop.
And I'm sure there are many kids and parents who would appreciate not having to share the same space!
Do you think any of these sleeping arrangements would work for you and your family?
---
Looking for the right size van for you to convert?
To save you the hassle of combing through each manufacturers website, I've created a spreadsheet with all the vans and campervans that can be bought new in Australia.
The spreadsheet includes exterior dimensions, interior height, base price and links to each one.
Just sign up to our newsletter below, and I'll send you the spreadsheet for free.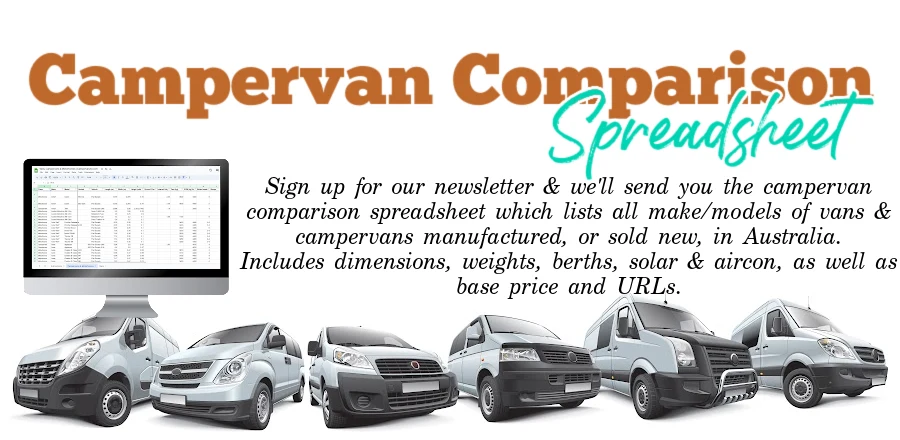 ---
Converting your van into a camper van
If you're planning to do the conversion yourself, you may want to start with figuring out the layout of your camper van and then finding the right size van for the layout that you want.
If you're not sure you can undertake the conversion yourself, we've put together a list of Australian van conversion companies.