Campervan toilets
Okay, so this topic isn't exactly my favourite to talk about, but it's not really something we can ignore.
We're tackling the topic of toilets.
Let's talk first about why you would… or wouldn't… have a toilet in your camper van.
Then we'll have a look at the different options for the type of toilet you can put in your van, and where you can buy them.
You may want to read this one in conjunction with the post on campervan showers, especially if you're planning on doing a camper van toilet shower combo.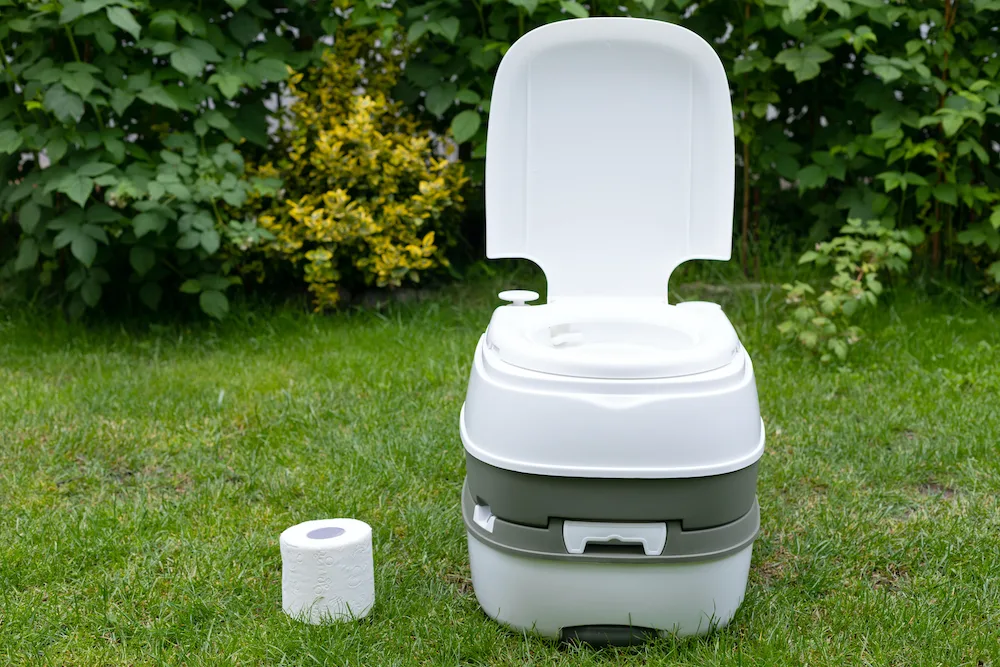 Is it worth having a toilet in your campervan conversion?
It depends on your priorities, I guess. If you're going to be living in your van full-time, or you're planning on free camping as much as possible, then yes, it's definitely worth having a toilet in your campervan.
If you're planning on staying mostly in caravan parks, have a small van, or just don't want to be dealing with a loo, then you're probably better off without one.
The Benefits of Having a Toilet in Your Campervan
Independence and freedom to camp anywhere
When we travelled around Australia with our camper trailer, the number one feature that limited our camping options, was not having a toilet. So I'm firmly in the yes-I-want-a-toilet-in-our-van camp.
I can talk about how nice it is to not have to use public toilets etc (which I go into below) but, as I said, the top reason to have a toilet is so that you can camp anywhere.
With a toilet onboard you can make use of roadside stops (that allow overnight camps), free camps that require you be self-contained and those more secluded and picturesque locations away from crowded campgrounds.
A camper van toilet means the end of public toilet searches
We've done our fair share of hunting for public toilets. Now, to be fair, there really are loads of them around. Every town, every tourist stop, heck, every McDonalds has a toilet you can use.
But having a toilet in your campervan… well that's just too dang convenient!
I would use public toilets if I'm there, I mean, no need to fill up your toilet tank if you don't have to.
And there's no more worrying about how clean the toilet is, no having to hover over the seat to wee because it's so dirty (or there's no toilet seat at all!) and no having to touch dubious taps or door handles on your way out.
Midnight tinkles
The second-top reason I would have a toilet in my camper van, is that even when you are staying in a caravan park, it's just annoying having to put on shoes, my glasses, maybe even a jacket or a raincoat, just to go to the toilet in the middle of the night.
The trek, plus the bright lights, would ensure that I was pretty much wide awake by the time I got back.
Hardly a trip-changing problem, but just annoying.
The Disadvantages of Having a Toilet in Your Campervan
Space limitations and layout challenges
The amount of space that a toilet takes up would be the main reason that you wouldn't want a toilet in your van.
If you're going to have a shower in your van anyway, then finding a campervan toilet shower unit might be the best solution.
Otherwise, you can have the toilet mounted so that it slides out from a cupboard, or under the bed. Or you can create one of those cabinets that unfold to reveal the toilet. I've seen some couples with that toilet set-up but I think I'd get too uncomfortable going to the loo in front of my husband all the time. It makes a lot of sense for a solo traveller though.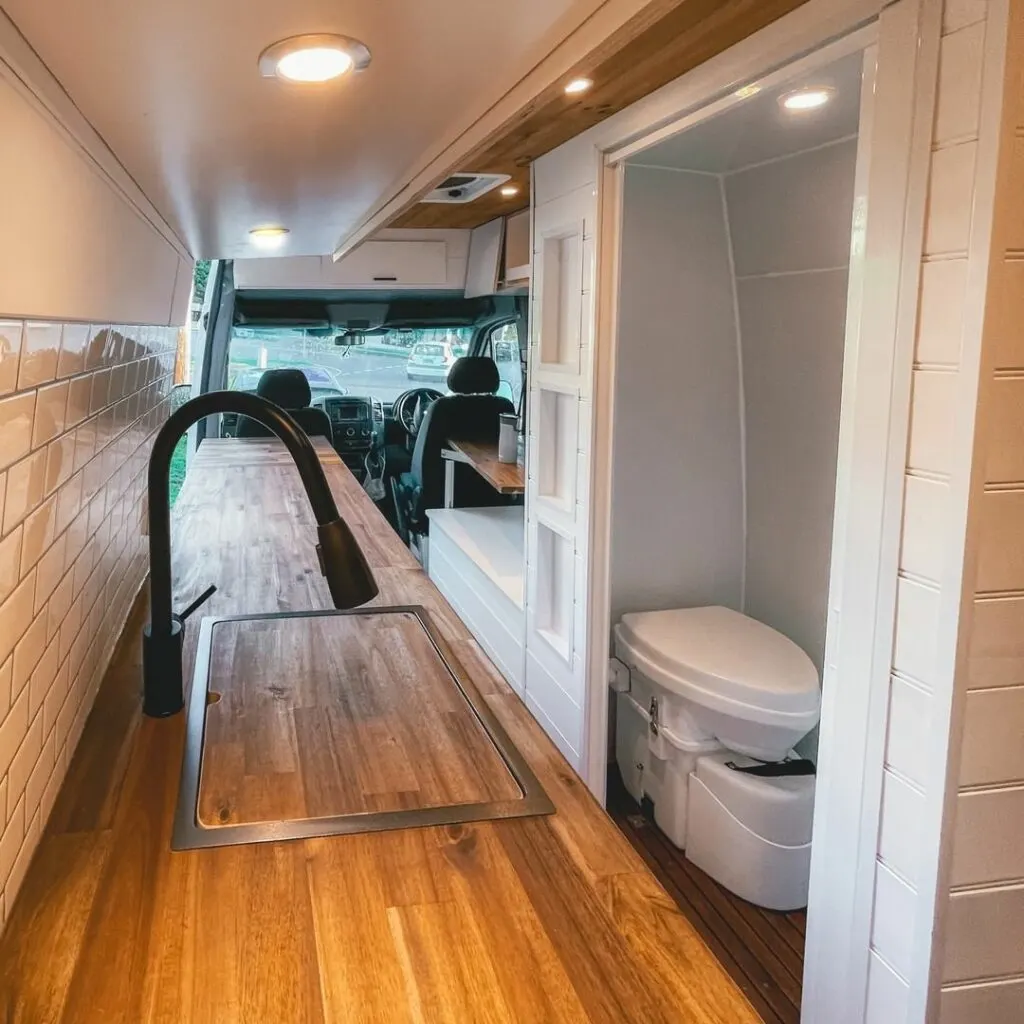 Smell
I'm told that composting toilets don't smell / if you get the right chemicals then a chemical toilet doesn't smell / if you don't do poos then the toilet won't smell / if you vent it properly then the toilet won't smell…
There's plenty of ways to mitigate the smell issue, but it's worth keeping in mind, you're gonna have to deal with it.
Maintenance
Having a toilet does mean that you have to maintain it.
You've gotta clean it, empty it, put chemicals in it, fix it, be mindful of how full it is so you don't overflow it, unblock it.
It's just a bit of an icky job. So if you're not up for that, well you should probably not put a toilet in your van. Or you should travel with someone who is happy to do all those things!
Different Types of Campervan Toilets
I'm sure you've already heard of chemical, portable and camping toilets; heck you probably already know all about composting toilets too. So lets start with a less well known, but I'm sure will get more popular, option: a dry flush toilet.
Dry Flush Toilets
A dry flush toilet is one where you can do your business, and then the waste all gets wrapped up (by the toilet).

IMO, this is a game changer… this is the easiest installation ever (if you could call it an installation… it basically just sits wherever you put it) and the easiest, no fuss, no smell removal of toilet waste that I've ever seen.

Here's a video of how it works… and a discount code below if you'd like to purchase one of these.
Laveo DryFlush Toilet
Laveo have generously offered CampervanAU subscribers a $100 on the Laveo DryFlush Electric Toilet! 🥳 Enter your details below and I'll send you the code.
Portable Camping Toilets / Chemical Toilets
These are the cheapest and easiest option for most people. They tend to be quite small though (so that they can still be portable) which means you will need to empty it regularly.
And the odour control is a bit (wh)iffy.
You can buy them at every camping store and there are a number of different brands and styles.
Camec Portable Toilet for any Van
Thetford Campervan Toilet
Aussie Traveller Portable Toilet
Cassette Toilets
Cassette toilets are the type that you find most often in caravans and motorhomes. I presume that's because they require a bit of skill to install (unlike the portable toilets).
The contents of the toilet empty into a storage tank/cassette under the toilet, you access the cassette from the exterior of the van and pull it out to go and empty it.
The storage tank is generally larger than a portable toilet, so you don't have to empty it quite so frequently. Also it's more convenient since you can access it from outside the van and it has carry handles, and often wheels.
The toilet can be plastic (for reduced weight and cost) or ceramic (for longer lasting).
Thetford Cassette Toilet
Thetford Ceramic Cassette Toilet
Dometic Cassette Toilet
Composting Toilets / Urine Separating Toilets
Composting toilets for campervans have been gaining huge popularity in recent years.
And a more accurate name for these toilets would be 'Urine Separating Toilets' since there's usually no composting going on with these loos.
In case you're not familiar with them, the toilet has two compartments, one for liquids and one for solids. And never the twain shall meet.
Apparently, it's the mixing of the wees with the poos that makes sewage toxic and smell so bad. If you keep them separate you can dispose of each one a lot easier.
The liquids portion can be poured into any normal loo and flushed away.
There is no water used in a composting toilet. In the portion where the solids go, after you've done your business you mix in a natural fibre like coconut coir or sawdust.
When the solids portion gets full you empty it out into a bag (yes, that step doesn't sound like fun to me either) and you can throw the bag in the rubbish. And if you use a biodegradable bag the whole thing will compost down.
There is a small fan that vents any smell outside the van and helps to keep the solids section dry.
But composting toilets are not cheap! Ranging in price from $1,200 to $2,000 it's one of those things that you want to be sure about before spending all that money on one.
Green Loo RV-Pod
Green Loo is an Aussie company, and these loos are manufactured here. Thank goodness they're also cheaper than the imported composting loos ($1,195) and they look great (in my opinion. I mean, they are just a loo, but still…)
Natures Head Composting Toilet
The Natures Head composting toilet is the first one that I ever saw and you'll see there are loads of reviews, both written and video, of this product. It's an American made product that sells here in Australia for $1,715.
Big Oz Explorers have created a really informative and helpful video about their Nature's Head toilet experience.
Ogo Toilet
Another USA based composting toilet product that retails here in Australia at $2,095. It looks a lot sleeker than other composting toilets, which appeals to me.
If you're seriously considering getting a composting toilet, there are reviews galore online; just do a Google or YouTube search and you'll find heaps of information.
Overall, most people seem to love them because you don't have to carry water to flush them, and they can go much longer without needing to be emptied; but there are also some that would rather not.
Seeing other peoples experiences with them should help you get a get a better idea if it's right for you.
Other (less popular in Australia) Toilet Types
Gravity Flush Toilets
A gravity flush toilet is the most like a normal toilet in your home. The contents drop into a holding tank under your van, but since it uses gravity, the toilet must be directly above the holding tank.
This type of toilet is for those that want as close to a 'conventional' toilet as possible. But you do need to factor in the position of the waste tank and where the toilet would end up. It's pretty rare to see these in a van, simply because of the limitations on where you can put the loo.
Disposing of your toilet waste
For newbie campervaners, the prospect of disposing of your toilet waste can be a bit daunting! But it doesn't need to be, it's pretty simple.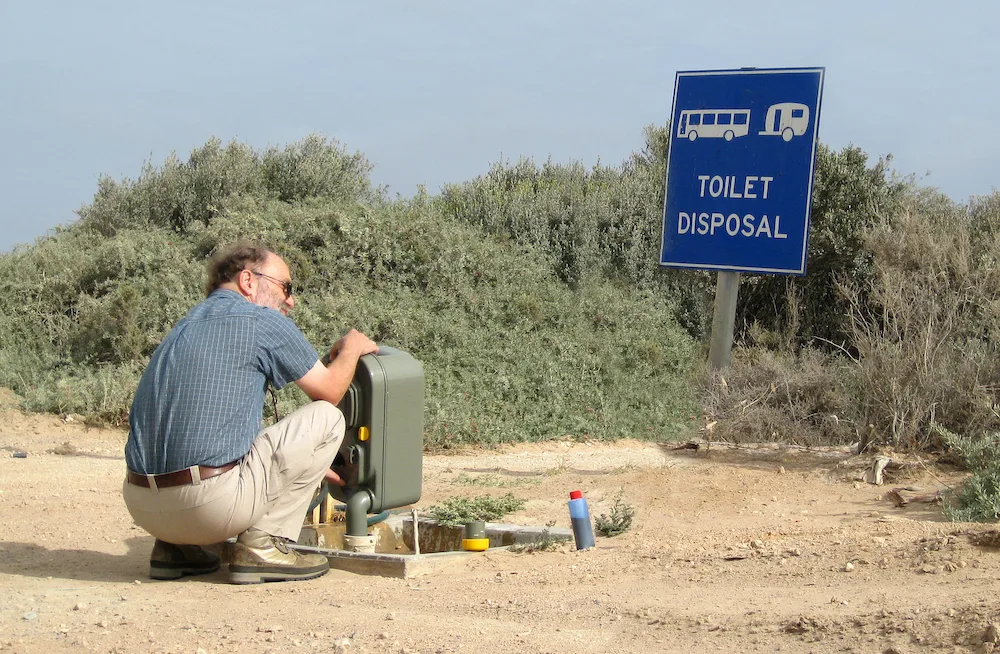 Portable toilet – Disconnect the toilet part from the storage tank part at the bottom of the toilet (should try this before using the toilet, so you know how it works). The tank should be emptied at a proper dump point or in a toilet on a sewerage system. Never empty into a toilet on a septic system as the chemicals can kill the bacteria that makes the septic system work.
Cassette toilet – The cassette will be accessed from a hatch on the exterior of your van, you should try doing this with an empty toilet, to make sure you know how it works. Again, the tank should be emptied at a proper dump point or in a toilet on a sewerage system, never into a septic system.
Composting toilet – The urine container can be emptied into a dump point or any toilet. Since there are no chemicals used in a composting toilet, the pee can be emptied into a septic system.
The solids container can be emptied into a biodegradable bag and put into a compost or into a normal rubbish bin.
Flush toilet – if you have a holding tank (like with a gravity flush toilet) then you'll need to empty the tank at a dump point.
Emergency toilet – I haven't included instructions on where to empty the emergency toilet (i.e. the bag in the bucket type) because I don't know what you're meant to do? I presume you need to empty it every day into a normal toilet or a dump point? Either way, it looks like it would be a pretty gross procedure to me.
Designing your van layout – to fit a toilet
If you're doing a van conversion yourself, and you have limited skills, a self contained toilet would be the easiest to install. That would be either a portable/chemical toilet or a composting toilet.
With these toilet types you are free to place the toilet where-ever it fits. You can even mount it on a slide so you can store it in a cabinet or under the bed and slide it out when you need it.
If you're incorporating a shower in your build, you can sit it in the shower pan.
I've put together some ideas for how to design your campervan layout here.
---