Nigel and Sue, the dynamic duo behind nigelandsueadventures.com, have turned their 2011 4×4 Mercedes Sprinter LWB high roof van into a campervan dream come true! Their extraordinary conversion is a testament to their passion for adventure, self-sufficiency, and a love for the great outdoors.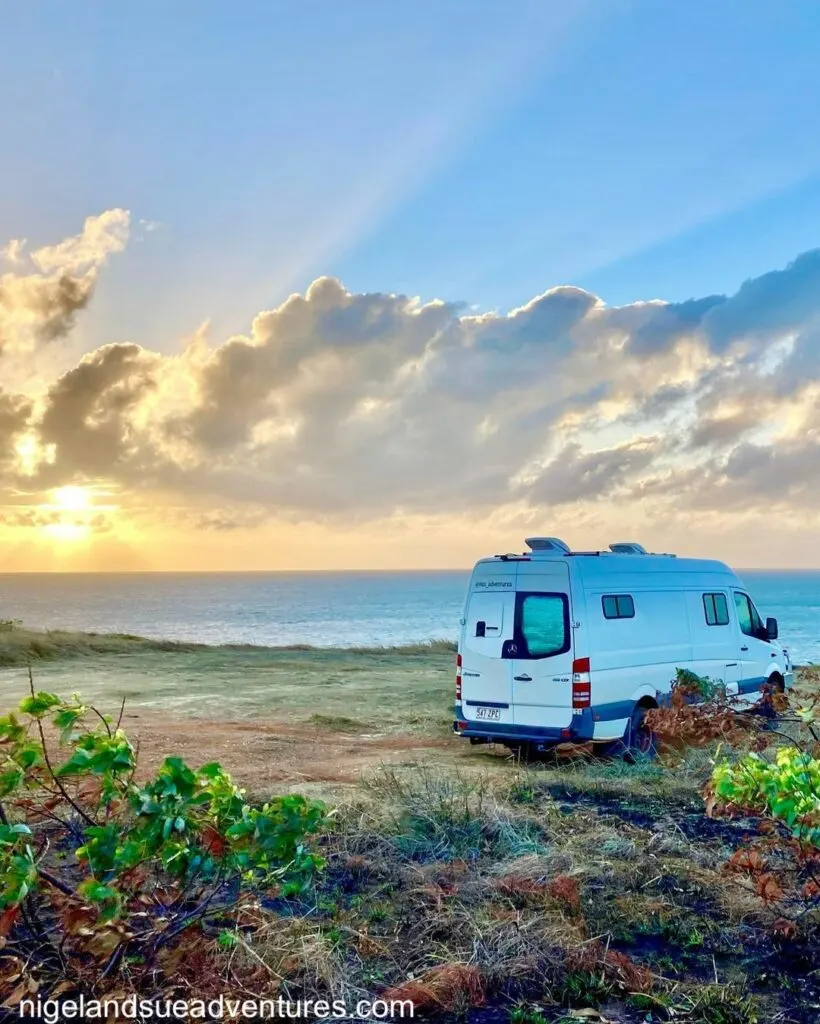 Nigel and Sue's journey began during the pandemic, as many van journeys have, with a vision – the vision of exploring our own amazing country when the rest of the world closed down to us.
They were lucky to find a 4×4 Mercedes Sprinter in good condition and snapped it up.
They rolled up their sleeves, donned their tool belts, and embarked on a 5 month transformation that would turn their ordinary van into an extraordinary home on wheels.
One of the standout features of their conversion is the full bathroom, complete with a hot shower and a composting toilet. This addition is a game-changer for those who enjoy extended adventures in the wild, where a hot shower can feel like a luxury after a day of hiking, mountain biking, or kite surfing. It's a touch of comfort in the midst of rugged terrain.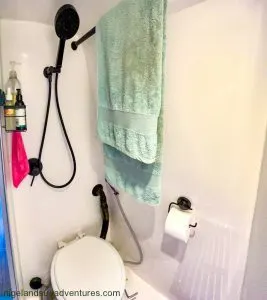 The kitchen area is equally impressive, boasting a stove top and oven that allows Nigel and Sue to whip up delicious meals on the road. After a day of outdoor activities, there's nothing quite like the aroma of a homemade meal wafting through the van.
But that's not all; their van is a treasure trove of thoughtful features. A spacious garage under the bed stores all their adventure equipment, and the slide-out bike drawer, capable of holding two mountain bikes, means they are always ready for the next adventure.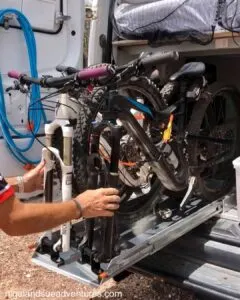 Nigel and Sue's commitment to off-grid living is evident in their van's power setup. With 370 watts of solar panels, a 200Amp hours lithium battery, and a 2000-watt inverter, they can go off-grid for extended periods of time. This eco-friendly approach not only reduces their environmental footprint but also grants them the freedom to explore remote and untouched destinations.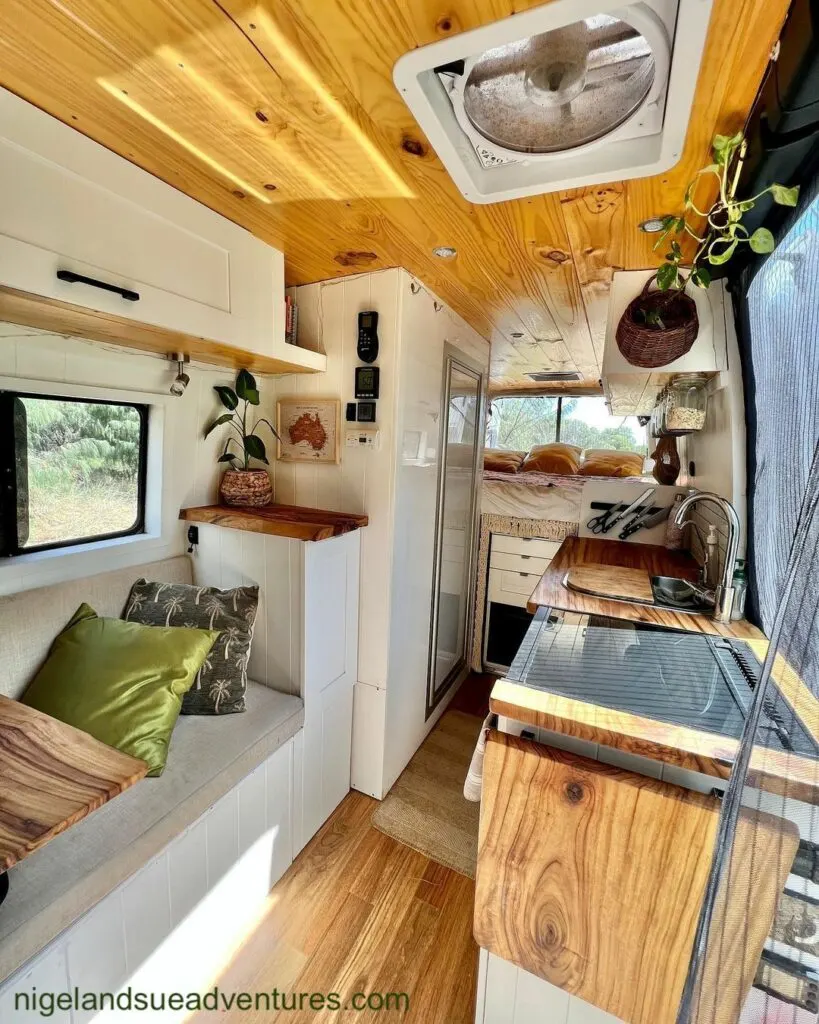 The interior of their van has a farmhouse chic vibe (I think that's what you call it?). Faux wood paneling on the walls and the lovely wooden benchtops and ceiling make it look like a home, and not a generic manufactured campervan.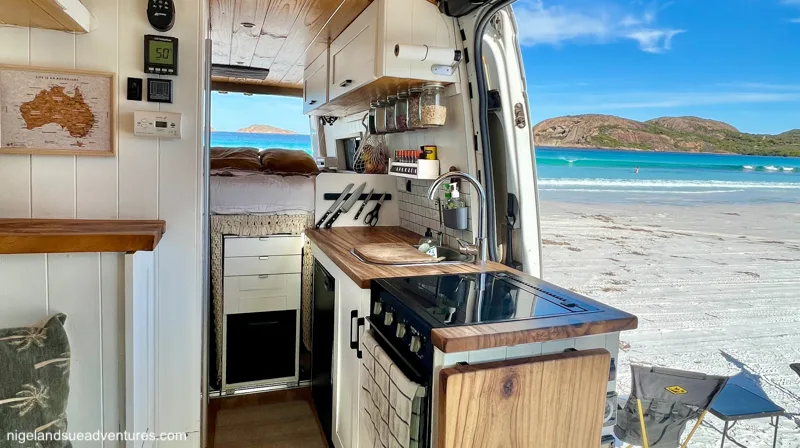 In my opinion, one of the best design choices in the van is the seating area near the sliding door. This sofa is large enough for two, but with the passenger seat being able to swivel around to face the rear, it makes a cozy nook for meals and conversation.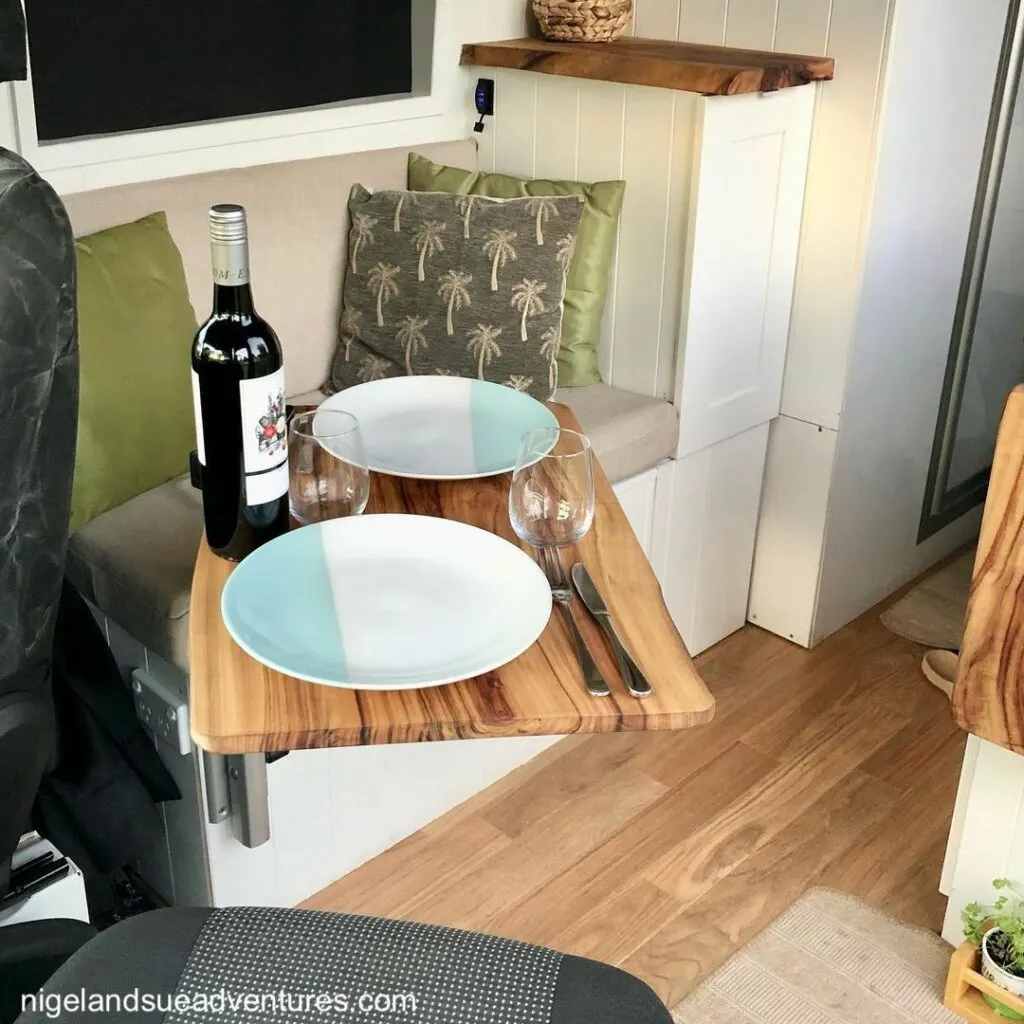 Nigel and Sue are not your average #vanlifers. There's no half clad pictures of them lounging in their impossibly perfect van (I've looked, but I couldn't find any :-O), they're a little bit past the couples in their 20's and, ahem, 30's that grace Instagram and YouTube; but they have a passion for outdoor activities, including hiking, mountain biking, and kite surfing, and this fuels their desire to explore the wild and untamed corners of the world.
They thrive on the thrill of the unknown, and their Sprinter conversion allows them to chase adventure wherever it may lead. Free camping in the most picturesque and secluded spots, immersing themselves in nature without sacrificing comfort.
To get an up-close look at Nigel and Sue's incredible campervan conversion, check out the van tour video below:
They provide a tonne of helpful posts on their website and YouTube channel, including a full cost breakdown of their van conversion and a list of all the products in their van build.
You can follow their adventures (if you can keep up) on the following channels:
Website: https://nigelandsueadventures.com/
YouTube: https://www.youtube.com/@nigelandsueadventures
Instagram: https://www.instagram.com/nas_adventures/