Australia is a vast country and many of the most exciting routes and destinations are in remote areas where only off road camper vans are able to go.
While there many, MANY wonderful places to visit in Australia where you don't have to leave the bitumen, there are many more that can be found at the end of gravel roads or difficult tracks.
And sometimes, just having a 4WD vehicle means you can pull out of a site that's become soggy with overnight rain, or get yourself through a sandy patch that caught you unawares.
What makes it an off road camper van?
Of course the first criteria for making an offroad campervan, off road, is a 4×4 drivetrain.
An off road vehicle can only truly be used off road if it has adequate clearance as well as 4WD. So we're looking for vehicles that have highish clearance (over 170mm).

In my own search for the best campervans in Australia, I always state that I want a bathroom on board, since I want to live in the van full-time. But I am aware of how much that limits my search, so for this list I will include campervans that are sans bathroom.
As long as there's somewhere to sleep, prepare food, hang out during a rainy day, and store all the stuff you need for travelling, then it's included.
Let's have a look!
BTW – Where I've been able to find them, I have included the overall dimensions of these campervans, and the price.
Please don't be quick to judge the van based on just this small snippet; I've included links to all these Australian campervan manufacturers, so if there's one that particularly interests you, you can do further research.
Off road campervans Australia
Kimberley Kampers Kruisewagen
I'm a bit psyched to be able to update this post with a new off road campervan! Kimberley Kampers, you may be more familiar with their range of unique looking caravans, have entered the motorhome market with a splash!
The Kruisewagen has some great, innovative features that make it different from other camper vans.
Built on the Mercedes Sprinter 419 LWB AWD, okay, that's not the 'different' part, has some cool features. The most notable one for me, is the electric drop down bed. This allows for a spacious dining area AND a fully made up bed.
The toilet is a compost toilet, there's a large fridge/freezer, passenger seat swivels around (so one person has somewhere to sit if their partner is still sleeping), outdoor kitchen and it's 'Starlink ready' (whatever that means :-O).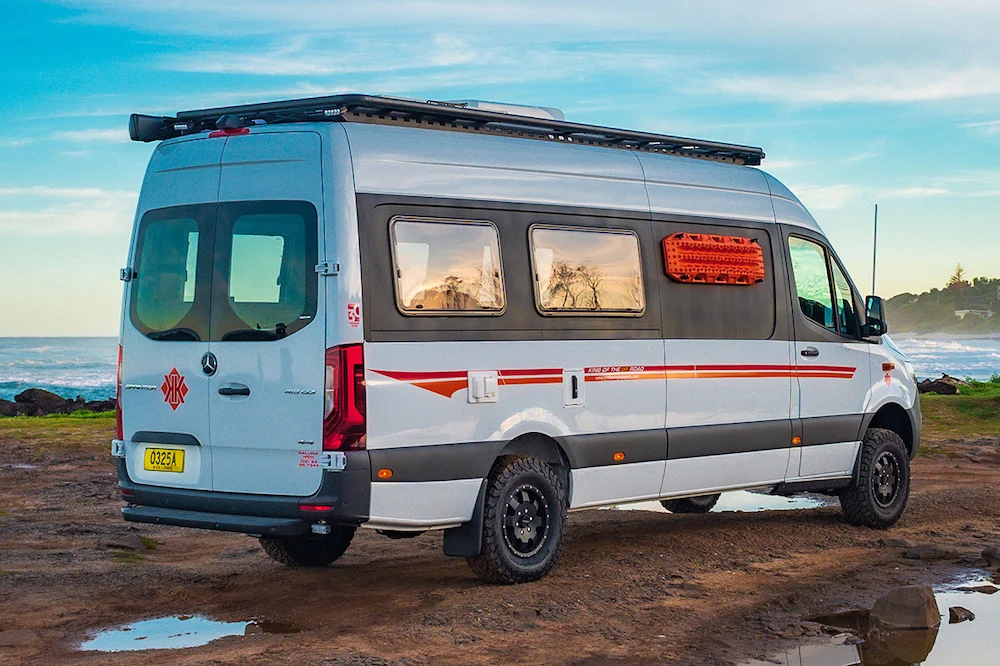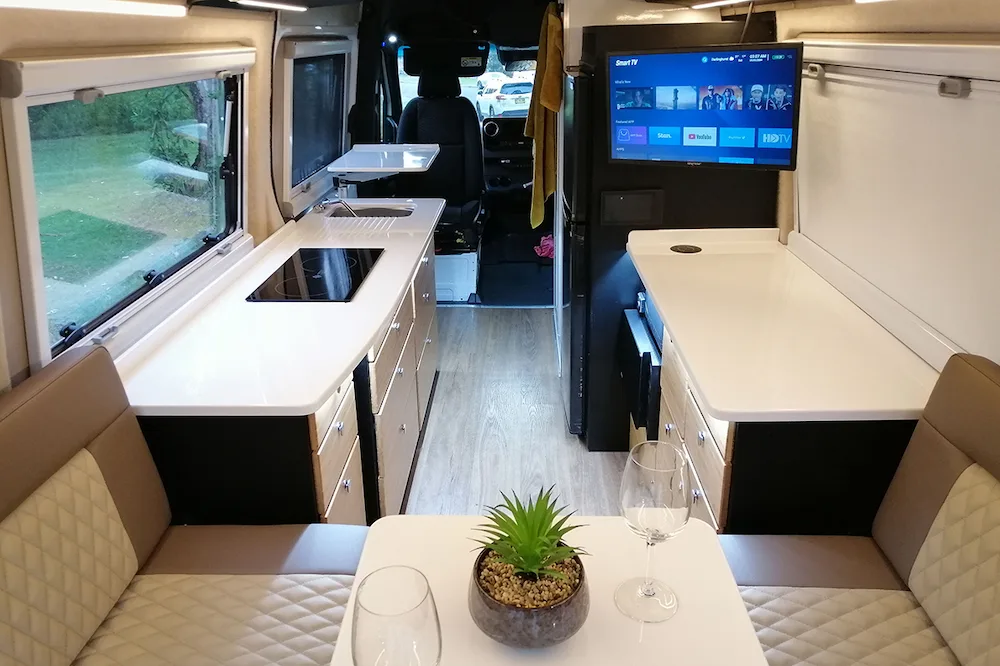 Here's a great walk-through video of the campervan:
Kimberley Kampers Kruisewagen
Vehicle: Mercedes Sprinter 419 LWB – AWD
Length: 6.967m
Height: 2.97m
Price: from $189,063
https://kimberleykampers.com.au/luxury-offroad-motorhome/
Trakka campervans and motorhomes
And now for one of my favourite campervans, Trakka.
Trakka seem to be really honing in on their model offerings, discontinuing those that (I presume) have not been selling as well, and just keeping the models that everyone wants.
And that includes the Jabiru.
Jabiru
There are 3 Jabiru models, J2M (2 seater, medium wheel base), J2 (2 seater, long wheel base) & J4 (4 seater, long wheel base). All three of these come as 2WD or AWD.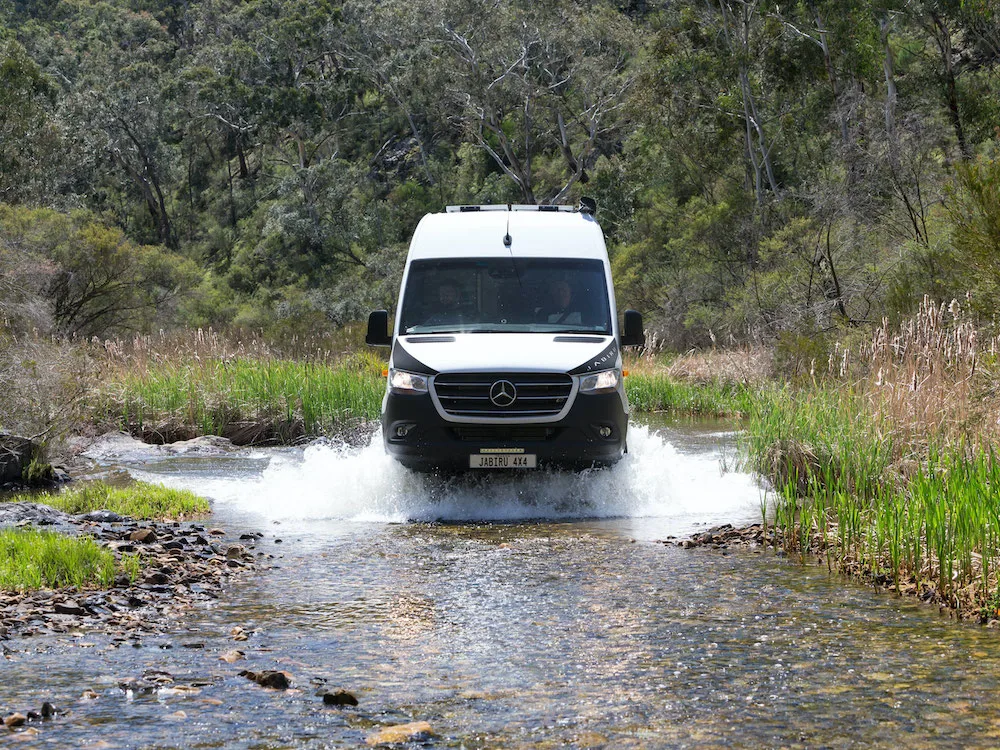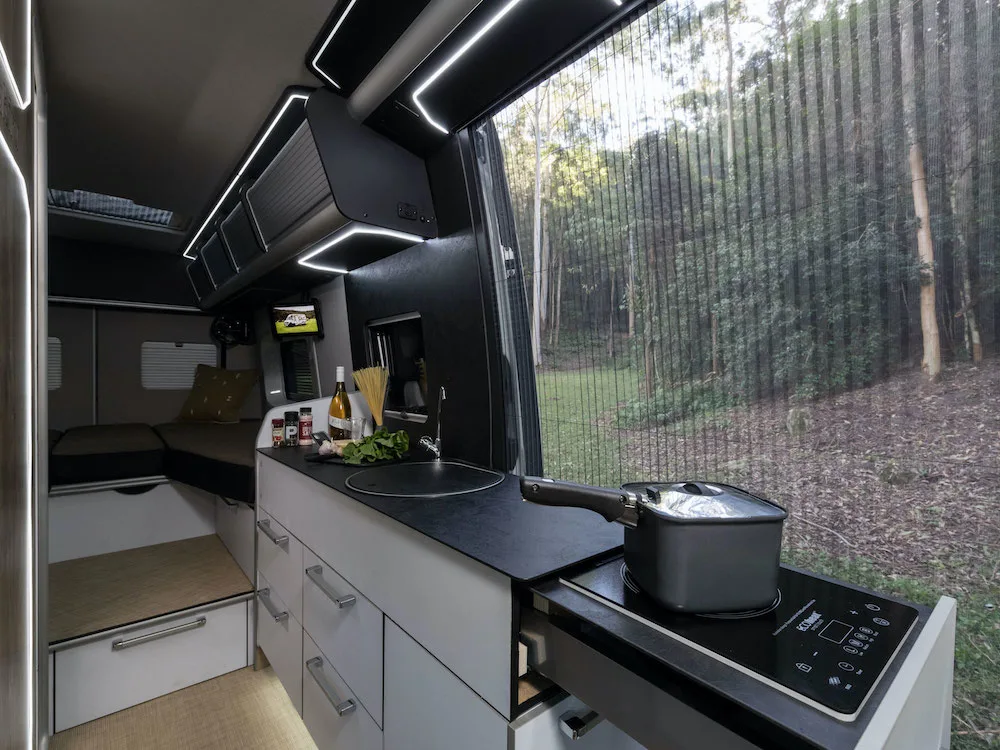 Trakka Jabiru
Vehicle: Mercedes-Benz Sprinter MWB/LWB
Length: 6.09 – 7.125m
Height: 2.85m (3m incl aircon)
Ground clearance: 210mm
Price: $205,674 – $229,758
https://trakka.com.au/collections/jabiru
When looking a 4×4 campervans it's all about the 4WD capabilities. Here's a great article on the Jabiru, covering all those details about how it drives and the mechanical features of these vans.
https://outbacktravelaustralia.com.au/buyers-guide-4×4-campervan/trakka-jabiru-awd-march-2020/
Horizon Motorhomes
Another big player in the Australian campervan space, are the Horizon Motorhomes range of motorhomes / campervans.
Built on the Mercedes Benz Sprinter AWD, they have the Boronia, Waratah and Wattle layouts.
Boronia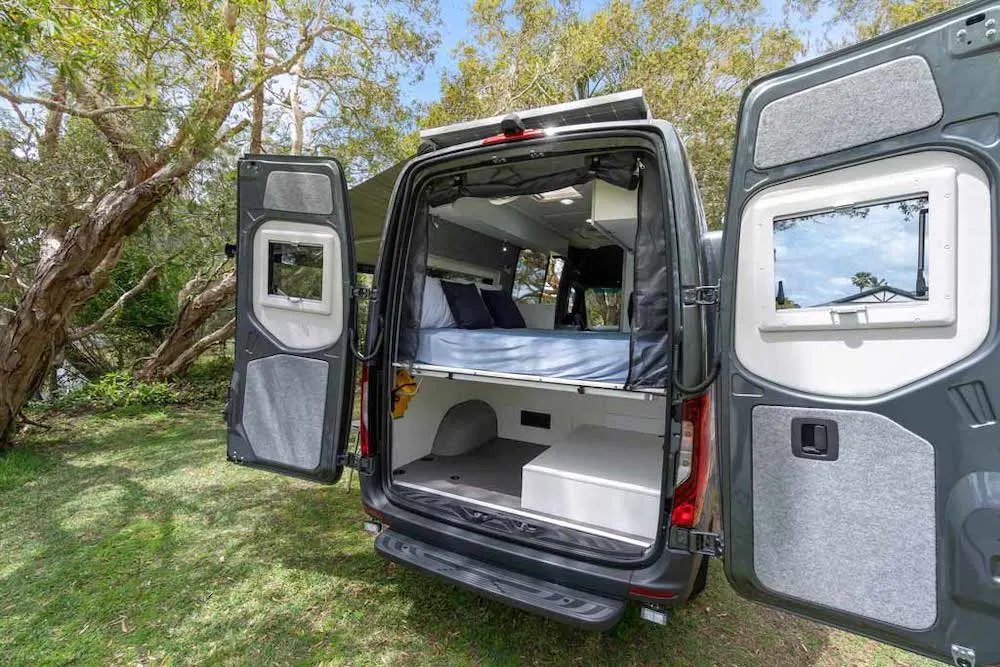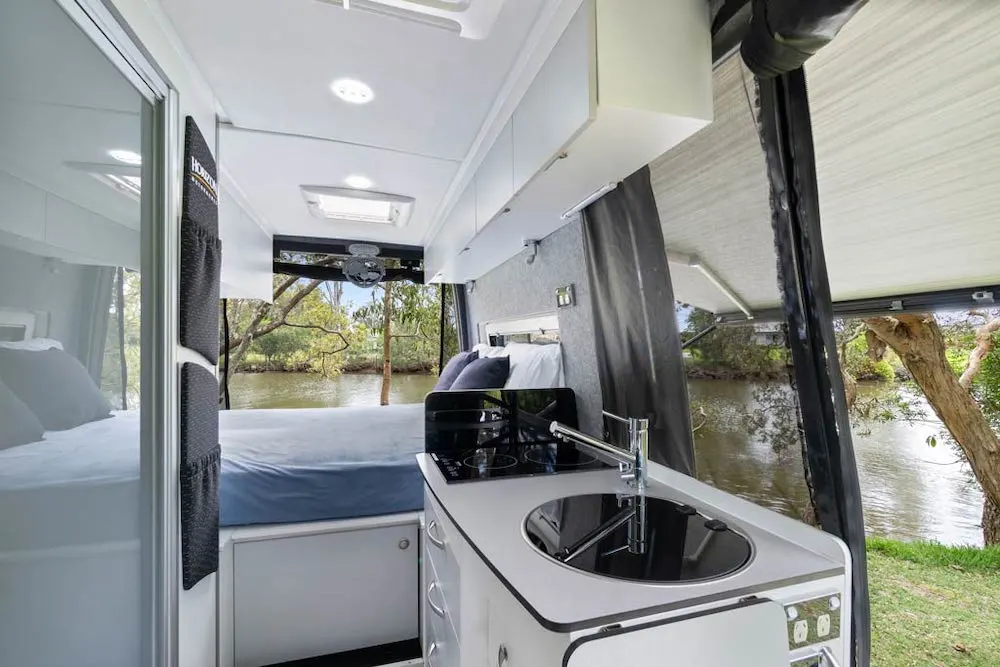 Horizon Motorhomes Boronia
Vehicle: Mercedes Benz Sprinter MWB
Length: 6.075m
Height: 2.79m (2.925m incl aircon)
Price: $212,000
https://horizonmotorhomes.com.au/mercedes-motorhomes/boronia/
Wattle
The Wattle comes in two layouts (single beds or a queen off to one side) which makes it perfect for couples with room to sleep, cook, eat, work, relax and go to the bathroom.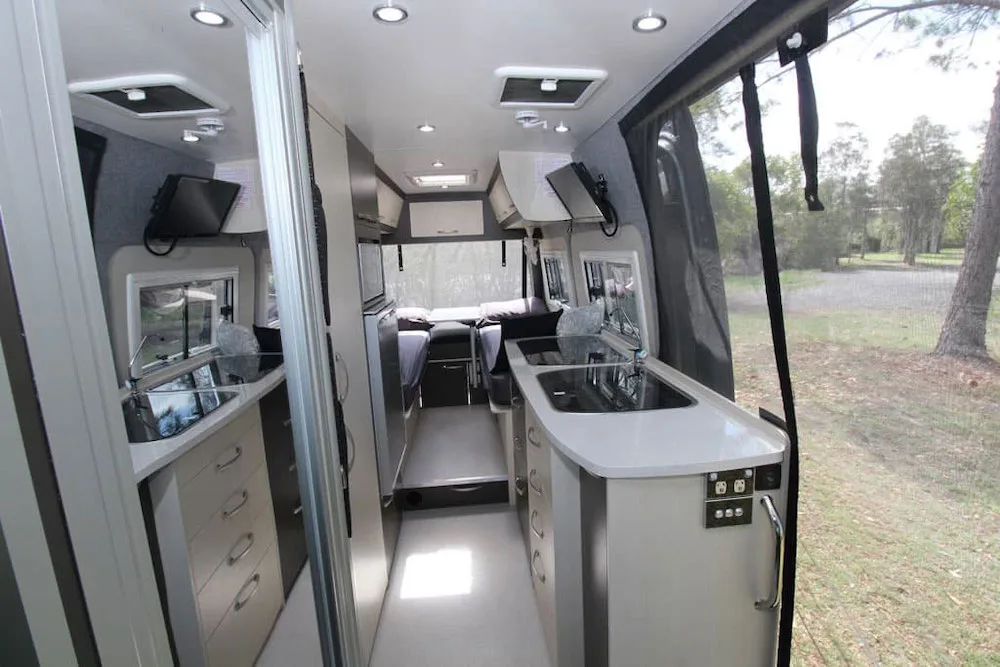 Horizon Motorhomes Wattle
Vehicle: Mercedes Benz Sprinter LWB
Length: 6.967m
Height: 2.82m (2.955m incl aircon)
Price: $215,000
https://horizonmotorhomes.com.au/mercedes-motorhomes/wattle/
Waratah
All 3 of these layouts are based on the same vehicle, and include bash plates, additional water capacity, solar and lithium.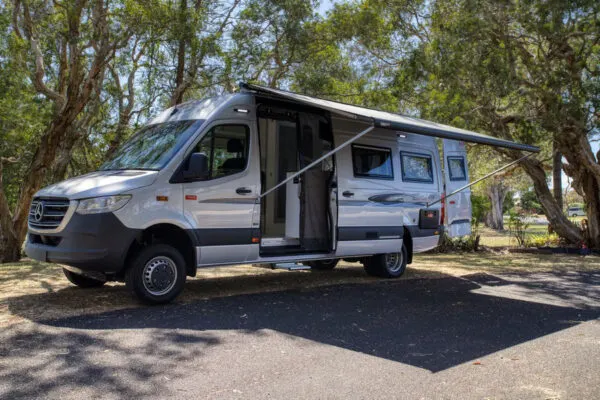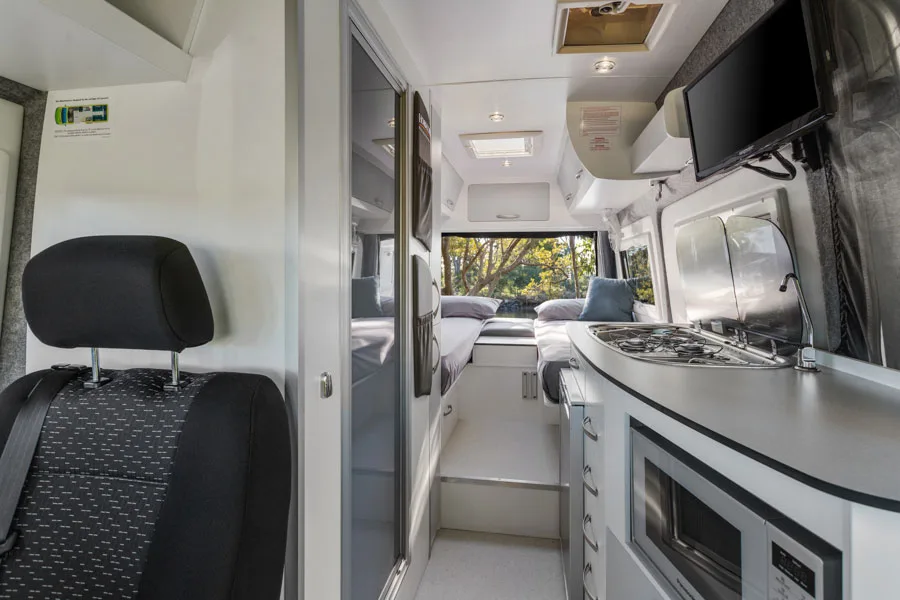 Horizon Motorhomes Waratah
Vehicle: Mercedes Benz Sprinter LWB
Length: 6.967m
Height: 2.82m (2.955m incl aircon)
Price: $215,000
https://horizonmotorhomes.com.au/mercedes-motorhomes/waratah/
Jayco All Terrain Campervan
The All Terrain Campervan from Jayco is also built on the Mercedes Benz Sprinter LWB AWD.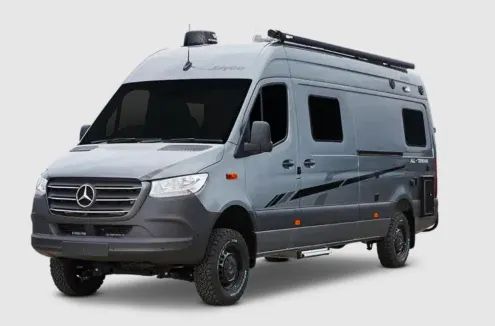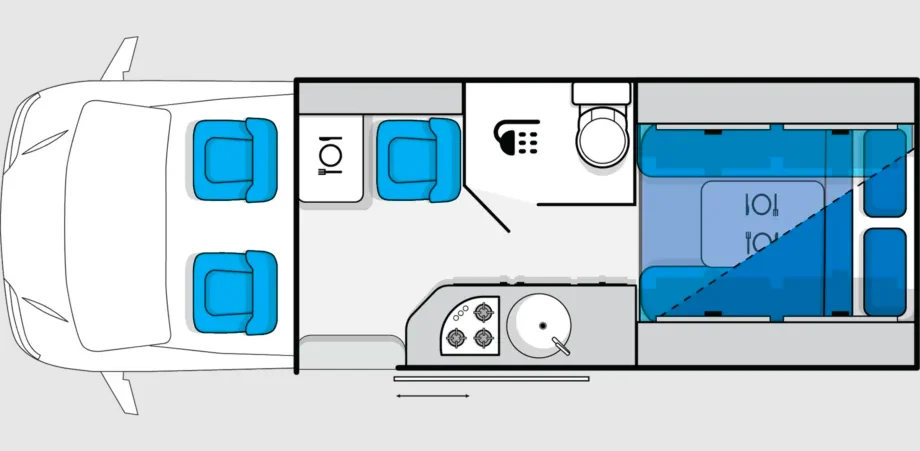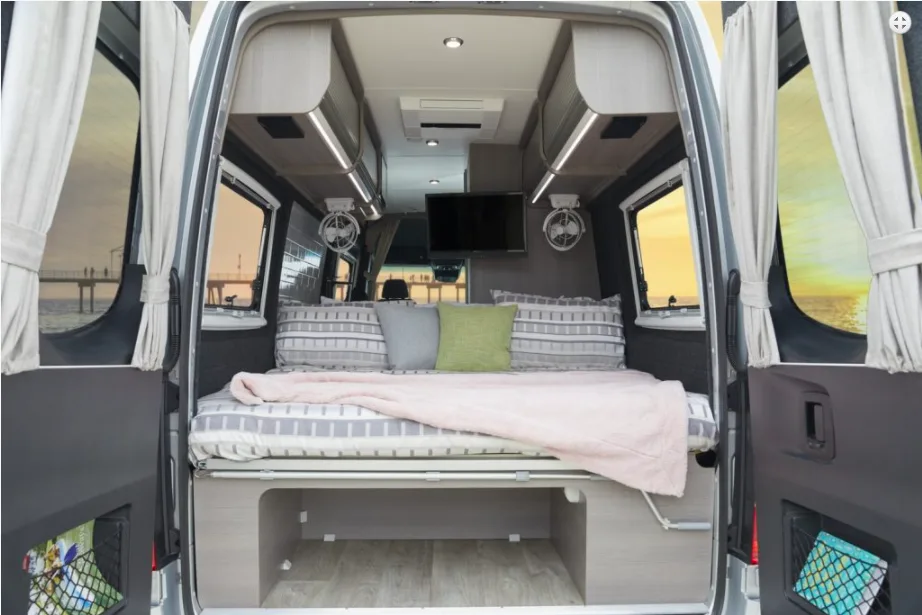 Jayco All Terrain
Vehicle: Mercedes Benz Sprinter LWB
Length: 6.97m
Height: 3m
Price: $168,990
https://www.jayco.com.au/range/jayco-campervans/jayco-all-terrain-campervan
Volkswagen Crafter Kampervan All Terrain
The Volkswagen Crafter Kampervan is a new model that has been designed and produced in conjunction with Jayco in Australia. With a limited production, as at May 2023 they will soon be taking orders for 2025 delivery!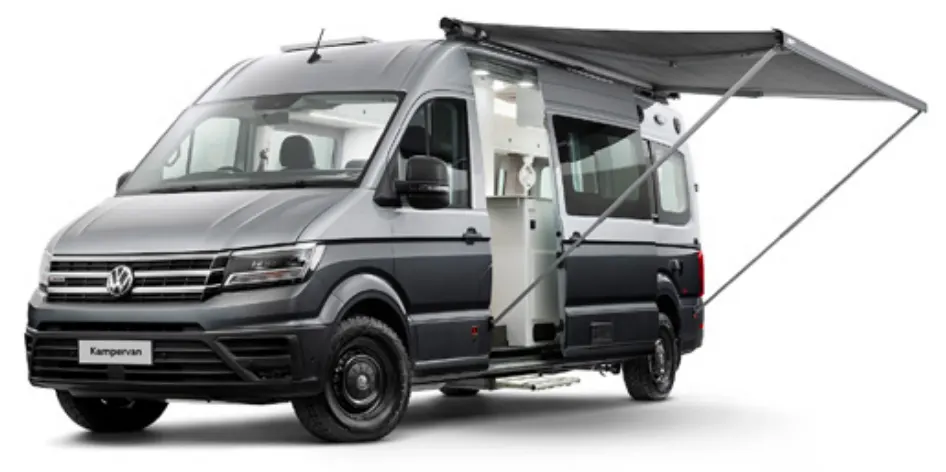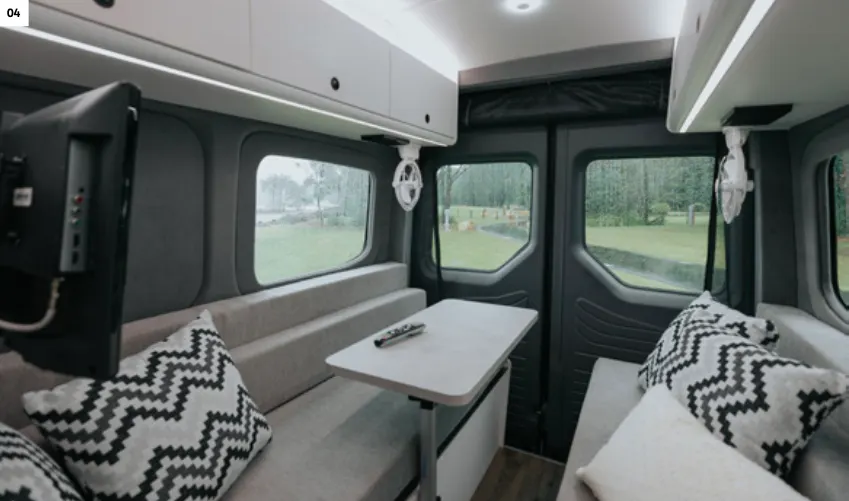 VW Crafter Kampervan
Vehicle: VW Crafter
Length: 6.836m
Height: 2.845m
Price: from $133,390
https://www.volkswagen.com.au/en/models/crafter-kampervan.html
As you can see, there's not a lot of off road campervans to choose from in Australia, so if 4WD adventures are something you're in to, you might have to convert a 4WD van into a campervan yourself.
Custom built off road camper vans
You may want to consider having your own 4×4 campervan custom made here in Australia, rather than buying one ready made.
In my search for 4WD campervans Australia, I've also found a few companies that can take your 4×4 van and convert it into the perfect home on wheels for you.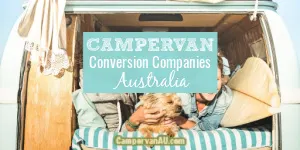 If you're planning on going the self-build route, we've written a short guide on how to design your van layout here.
As you can see, there's not a huge range of 4WD campervans made here in Australia, but those that are made here, are high quality (and ahemm… high price).
---
Want to see more?
I've created a spreadsheet with ALL the vans and campervans that can be bought new in Australia.
It includes the exterior dimensions, interior height, base price, seating and bed layout, bathroom, solar and air conditioning; with links to each one.
Sign up to our newsletter below, and I'll send you the spreadsheet for free.