Australia is a vast country and many of the most exciting routes and destinations are in remote areas where only off road camper vans are able to go.
While there many, MANY wonderful places to visit in Australia where you don't have to leave the bitumen, there are many more that can be found at the end of gravel roads or difficult tracks.
And sometimes, just having a 4WD vehicle means you can pull out of a site that's become soggy with overnight rain, or get yourself through a sandy patch that caught you unawares.
What makes it an off road camper van?
Of course the first criteria for making an offroad campervan, off road, is a 4×4 drivetrain.
An off road vehicle can only truly be used off road if it has adequate clearance as well as 4WD. So we're looking for vehicles that have highish clearance (over 170mm).

In my own search for the best campervans in Australia, I always state that I want a bathroom on board, since I want to live in the van full-time. But I am aware of how much that limits my search, so for this list I will include campervans that are sans bathroom.
As long as there's somewhere to sleep, prepare food, hang out during a rainy day, and store all the stuff you need for travelling, then it's included.
Let's have a look!
BTW – Where I've been able to find them, I have included the overall dimensions of these campervans, and the price.
Please don't be quick to judge the van based on just this small snippet; I've included links to all these Australian campervan manufacturers, so if there's one that particularly interests you, you can do further research.
Off road campervans Australia
Trakka campervans and motorhomes
We'll start off with my (current) favourite campervans, Trakka.
There are 2 Trakka campervans that are off road capable; the Trakkadu and the Jabiru.
Trakka Trakkadu AT
The Trakkadu is the flagship campervan of the Trakka family. Built on the VW T6.1 Transporter this iconic camper appeals to those that want an everyday vehicle AND a versatile camper van that can handle a bit of rough stuff.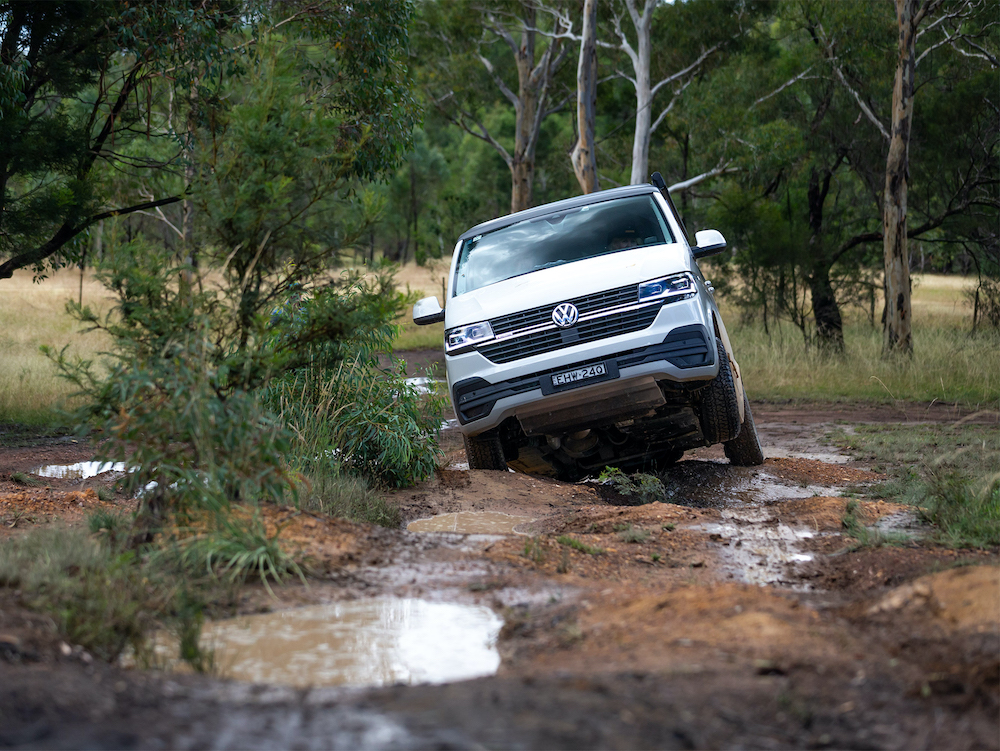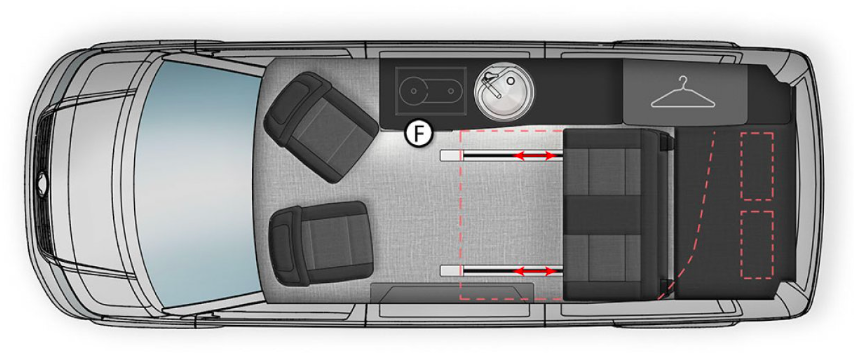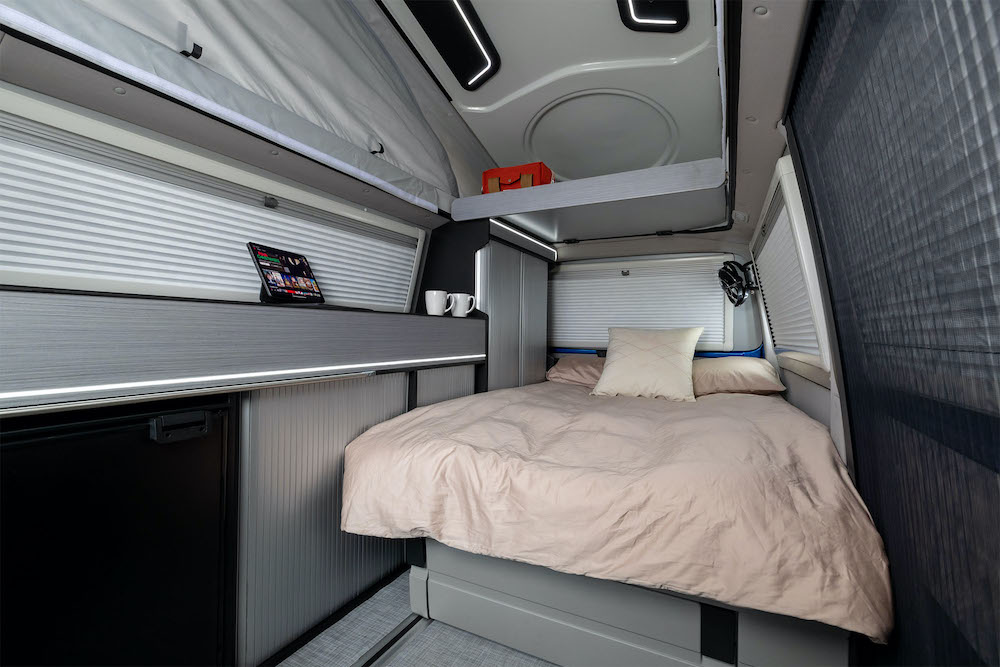 Vehicle: Volkswagen T6.1 Transporter LWB
Length: 5.3m
Height: 2.19m
Ground clearance: 230mm
Price: $141,500
Jabiru
The other Trakka off road campervan model is the Jabiru.They have 3 Jabiru AWD's, the J2M (2 seater, medium wheel base), J2 (2 seater, long wheel base) & J4 (4 seater, long wheel base).

Vehicle: Mercedes Benz Sprinter SWB/MWB/LWB
Length: 6.09 – 7.15m
Height: 2.85m (3m incl aircon)
Ground clearance: 210mm
Price: $203,000 – $213,500
When looking a 4×4 campervans it's all about the 4WD capabilities. Here's a great article on the Jabiru, covering all those details about how it drives and the mechanical features of these vans.
https://outbacktravelaustralia.com.au/buyers-guide-4×4-campervan/trakka-jabiru-awd-march-2020/
Horizon Motorhomes
https://horizonmotorhomes.com.au/
Another big player in the Australian campervan space, are the Horizon range of motorhomes / campervans.
Built on the Mercedes Benz Sprinter AWD, they have the Wattle, Acacaia and Waratah layouts.
Wattle
Perfect for a couple, with room to sleep, cook, eat, work, relax and go to the bathroom.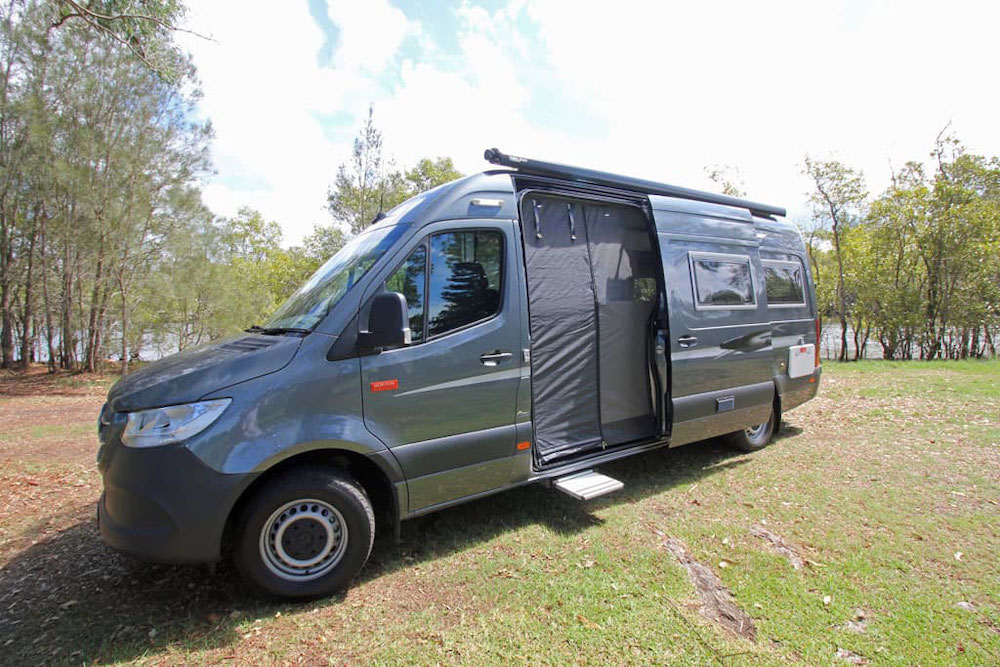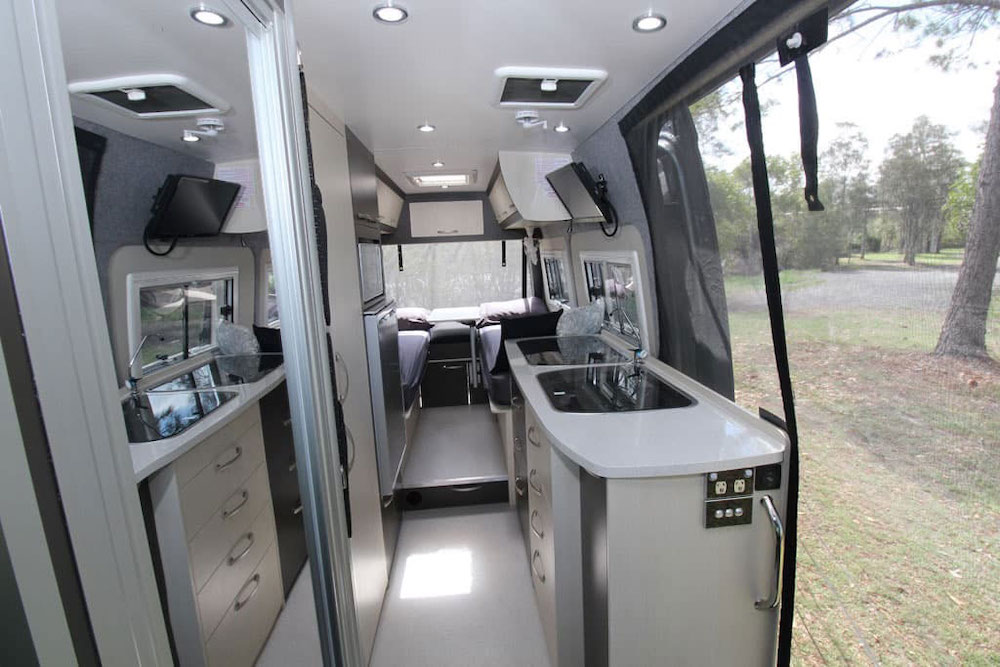 Acacia
With the bed situated across the back of the van, this layout allows more living space up the front.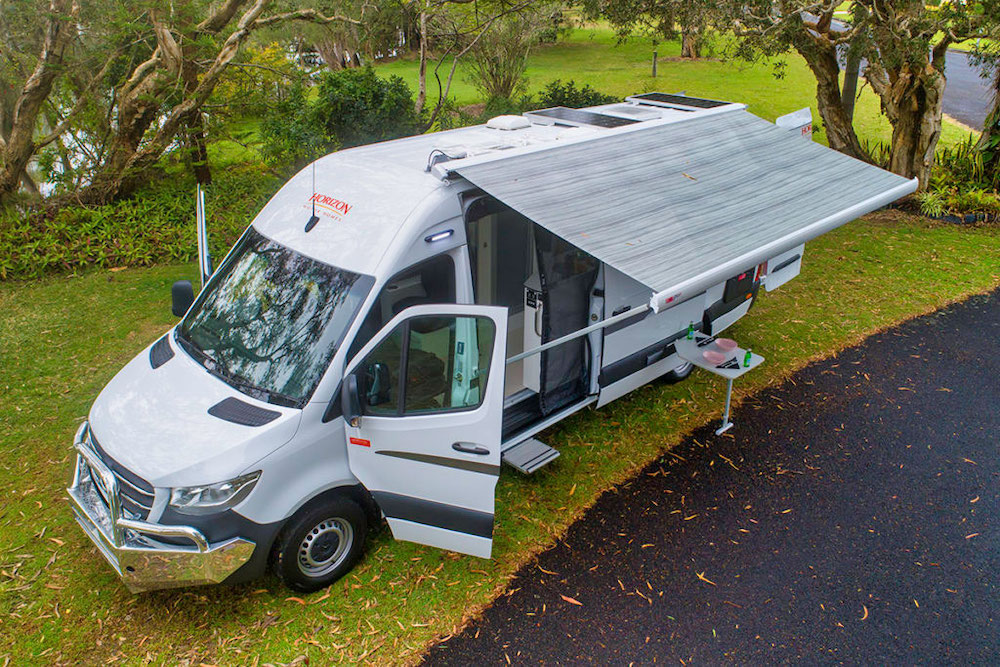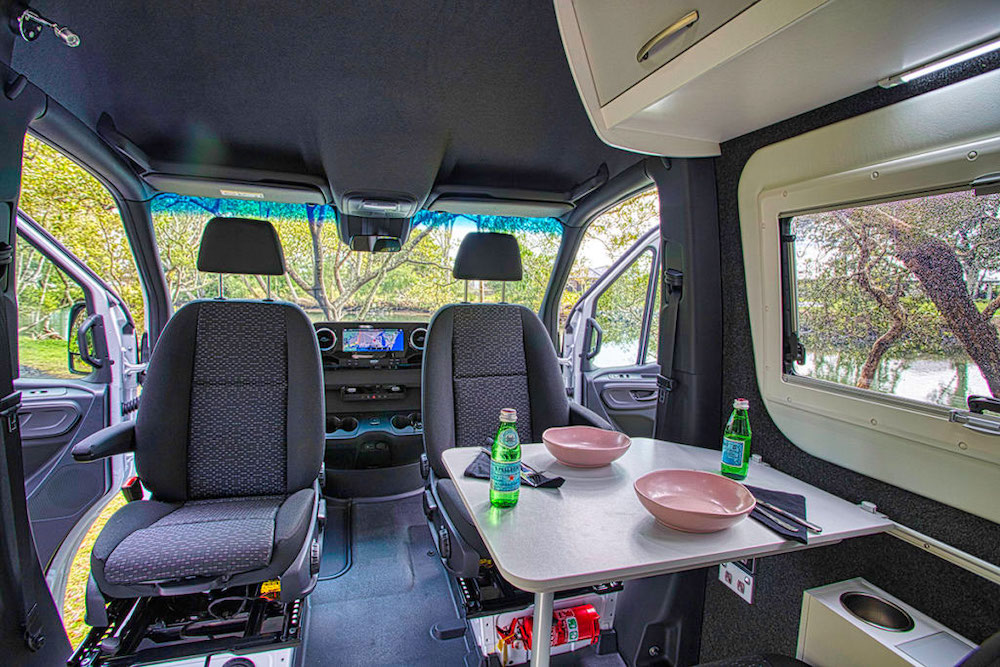 Waratah
All 3 of these layouts are based on the same vehicle, and include bash plates, additional water capacity, solar and lithium.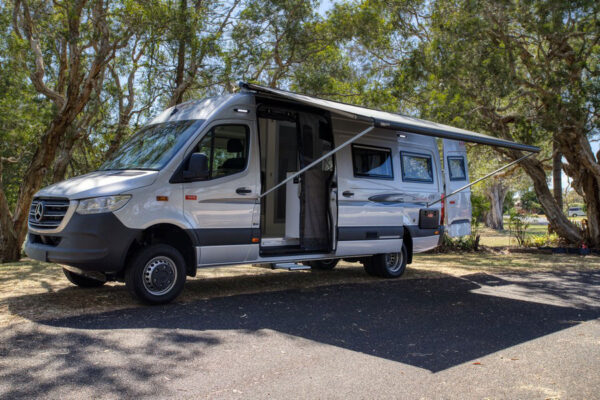 Vehicle: Mercedes Benz Sprinter LWB
Length: 6.967m
Height: 2.820m (2.955m incl aircon)
Ground clearance: 176mm
Price: $199,000
Jayco All Terrain Campervan
The All Terrain Campervan from Jayco is also built on the Mercedes Benz Sprinter LWB AWD.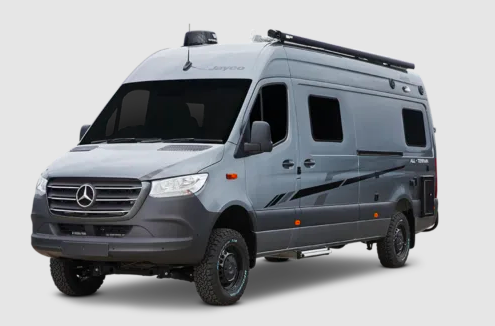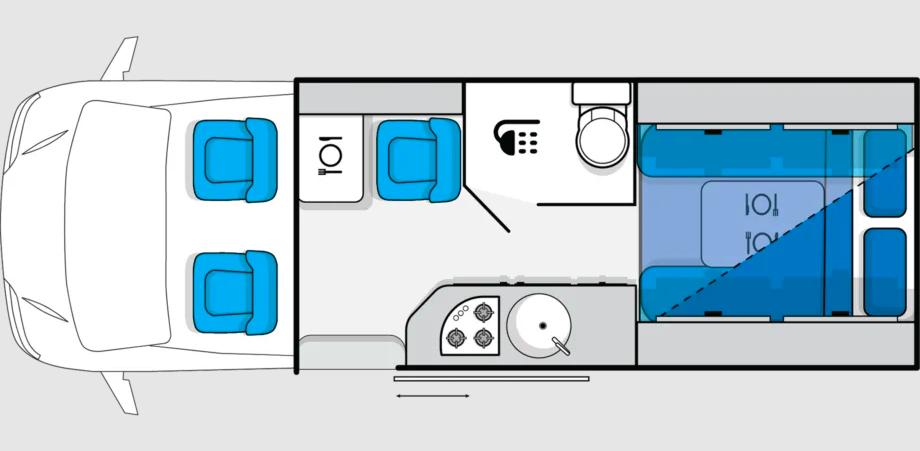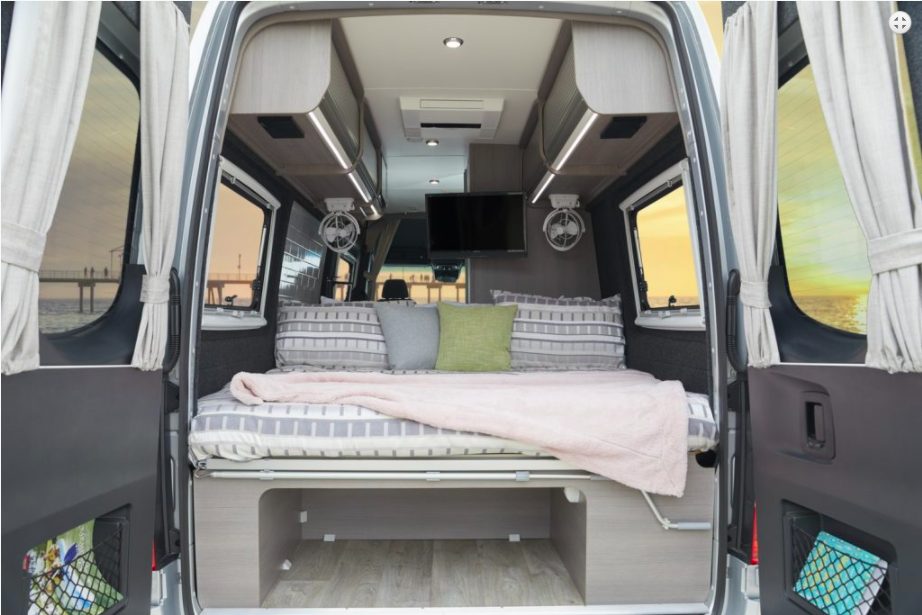 Vehicle: Mercedes Benz Sprinter LWB
Length: 6.967m
Height: 2.820m (2.955m incl aircon)
Ground clearance: 176mm
Price: $146,650
---
Looking for the right size van for you to convert?
To save you the hassle of combing through each manufacturers website, I've created a spreadsheet with all the vans that can be bought new in Australia.
The spreadsheet includes exterior dimensions, interior height, base price and links to each one.
(It also includes all the camper vans you can buy new in Australia, if you change your mind and decide you don't want to do a conversion.)
Just enter your name and email address and I'll send you the spreadsheet.
---
Custom built off road camper vans
You may want to consider having your own 4×4 campervan custom made here in Australia, rather than buying one ready made.
In my search for 4WD campervans Australia, I've also found a few companies that can take your 4×4 van and convert it into the perfect home on wheels for you.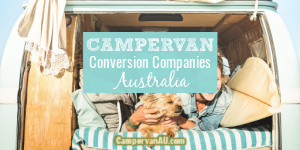 If you're planning on going the self-build route, we've written a short guide on how to design your van layout here.
As you can see, there's not a huge range of 4WD campervans made here in Australia, but those that are made here, are high quality (and ahemm… high price).
Save these 'Off road campevans Australia' to Pinterest