Which van conversion guide book or course is the best?
I'm the type of person that likes to plan things to the n'th degree, and it's that personality that has me looking for some great van conversion resources long before we've even purchased our van!
I like to do my research beforehand so that I can learn as much as possible before committing my hard earned cash.
So with that in mind, I've been looking out for best courses and books that will help me when converting our van to a campervan.
You're probably aware that there is loads of help out there, but a large portion of it is geared to USA/Canada or UK audience.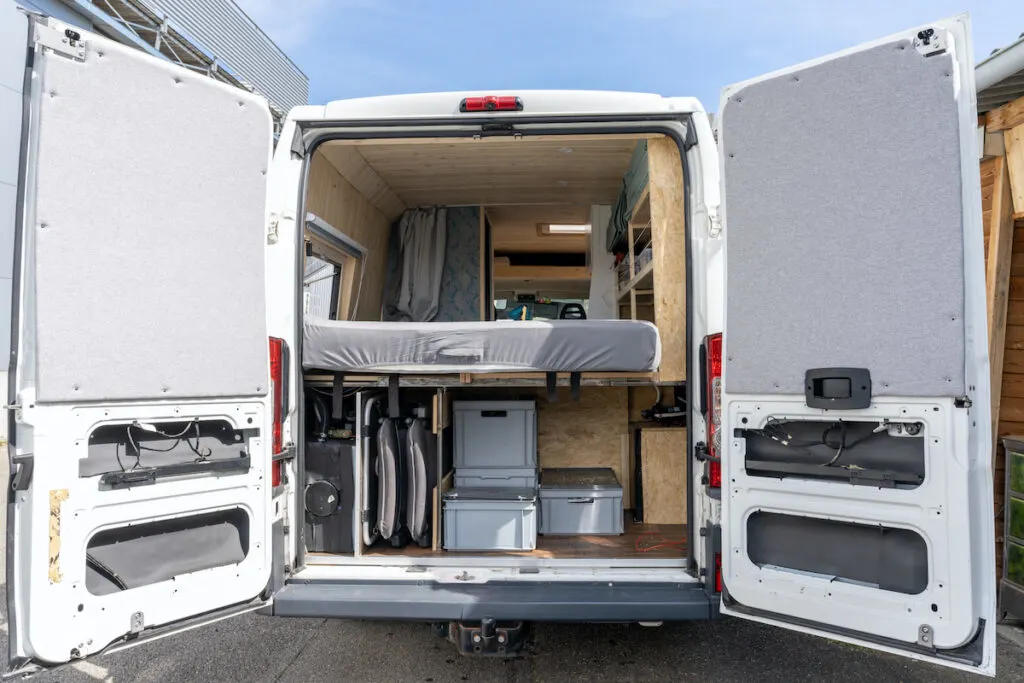 I'd love it if there were an Australian campervan conversion course, but alas, I haven't been able to find one.
So everything listed below is either US or UK based, unless I've stated otherwise. (Basically only the Van Build book, the WeSeekTravel article and the Salty Vanventures YouTube channel are Australian.)
I've gone through my library of courses, ebooks and even blog posts and YouTube channels, to find the resources that will help fellow Australians converting their own campervans.
This article contains affiliate links where we may receive a commission if you choose to buy from them. Please see our Affiliate Disclosure for more information.
Please note, all of the reviews below are from my own experience either going through the course materials, reading the books and blog posts or watching the YouTube channels. I have bought (or been given) every one of these resources and gone through them myself.
Campervan Conversion 'How To' Courses
By Ben and Katie from Two Wandering Soles
You can see from Ben and Katies website (TwoWanderingSoles.com) that they have lots and lots of really comprehensive information on their site, and this course is no different.
They go into a lot of technical explanations and diagrams to explain the water, electricity and propane (LPG) systems. They have lots of 'don't forget about this' tips and things they've learnt from their personal experience.
The blueprints in the resources section give a really good oversight to how everything works and I think it's great for beginners to understand how everything works together.
Of course, a lot of their product recommendations are USA based and their units of measure are in imperial, but I'm sure we're all used to having to convert.
The contents are listed out below, but you can find a bit more detail about each of the sections on their course page.
Contents
Choose your van
Design your van
Maxxair Fan
Window Installation
Sound Dampening Material
Subfloor
Insulation
Electric System
Solar System
Walls, ceiling and cabinets
Composting Toilet
Water System
Propane System
Kitchen
Bed & Benches
Storage
Flooring
Resources

Van build planner
Van build budget tracker
Van conversion costs
Floor plan blueprint
Electric system blueprint
Water system blueprint
Propane system blueprint
---
✓ Step-by-Step Instructions
✓ Video Tutorials
✓ Blueprints you can copy!
✓ Tips & Recommended Products
✓ Exclusive Facebook Group
✓ Lifetime Access
---
By ProjectVanLife.com which has come out of their big Instagram following.
I don't know if the creator, Henry Cooper, has a van himself or is just curating all the content.
The course content tends to feel a little disjointed but it has some good contributors.
Overall I think the course is in-depth and comprehensive, if somewhat disjointed. But for the price, I think it's great that you have multiple contributors.
The contents are listed out below, but you can find a bit more detail about each of the sections on their course page.
Contents
Preparing for van life
Planning your van build
The Build
Build tutorials – these are a bit like a course within the course. From experienced people with actual build experience.

Nate Murphy – has much of the same information as his Van Conversion Guide (below) but it seems to be in a lighter format here. Even if you do get this course, I recommend getting Nate's book as it is more comprehensive.
Jayme and John from GnomadHome.com – some great information here that is not replicated on their own website (that I can see)
Mitch Cox – YouTube videos and the series is unfinished
Peter Thuli – just an overview of his build and photos – more content coming.

Life on the road
What's next
---
The course consists of 97 lessons divided into 5 Modules with 100,000+ words, 40+ videos, and 4 different conversions (neatly organized) so you have more than enough information to execute on.
---
(Complete Course for 2022)
Shane from Ireland – hosted on Udemy
This course takes you through the process of building this van. He has videos for each section of the build and explains what he did.
The videos are short and succinct, but relevant only to what he did. There's nothing on installing a toilet or shower so I think this course would be most useful if you want your van to look similar to his.
Contents
Planning
Prepare the van
Electrics – preparation
Electrics – Installation
Insulation & Wooden skeleton frame
Wood panelling
Carpentry
Electrics – permanent hook-up
Gas
Everything else
---
3.5 hours on-demand video
3 articles
1 downloadable resource
Full lifetime access
Access on mobile and TV
---
Van Conversion Guide Books
Van Build
A guide to designing, converting and self-building campervans and motorhomes.
By Ben and Georgia Raffi
An American/French couple who converted their van in Australia. They've also completed a van build in France and have updated the book with a few more things that they've learnt and added to their new build.
This book is quite good in my opinion. It has lots of step by step pictures, good diagrams of how everything fits together and well laid out.
There is a bit of fluff, like at the beginning of each section they list out all the tools and supplies you'll need for that project, but even I don't need to see a picture of a drill and a roll of electrical tape.
The kindle version is only AUD $12 on Amazon so I think it's worth it. Just be aware, it hasn't been properly formatted for kindle (my version bought November 2021 wasn't anyway) so there's no contents page for you to jump to each section. It's like one big PDF that you have to scroll through.
Contents
Introduction – why this book, is van life for you
Plan – choosing your van, design the layout, make critical decisions, design electrical, plumbing and gas systems
Get ready – tools, order parts, 'know-hows' for plumbing, electrical and gas
Build your van in 21 days

Fan installation
Solar panels
Electrical roughing
Wall insulation
Shower framing
Fresh water tank
Grey water tank
Plumbing part one
Electrical system
Ceiling – insulation and framing
Hanging cabinets
Shower tray & fan
Shower wet panels and framing
Plumbing part two
Outdoor shower
Bed frame
Painting and staining
Kitchen
Sofa
Storage and floors
Finishes
Gas system
Awning installation

Conclusion – top tips
Price: AUD $12
Van Conversion Guide Version 12
By Nate Murphy
I purchased the ebook directly off his site https://www.thevanconversionguide.com/shop but it's PDF and the contents aren't linked (which is a bit of a pain cos it means you have to scroll through to the page you want), so I recommend getting the kindle version. (However, if you buy the ebook off his site then you'll get any updates for free.)
A comprehensive book by someone who's done the hard yards, and Nate is well known in the van community for his guide book and his YouTube channel.
The book has been updated continuously and includes all sorts of vans and options. He is based in the UK though, so keep that in mind.
There are also video guides to help you through some of the steps.
Contents
Introduction
Ebook-only Video Guides
Choosing a type of van
Second-hand Vans
Regulations
Layout and Design
Colour scheme
Feature choice
Phases and ordering
Installing a window
Fixings and Wiring set-up
Preparation studwork
Insulation
Cladding & Danish Oil
Bulkhead Openings
Bed designs
Water Systems
Building Furniture
Kitchen Tiles
Making Drawers
Installing a roof vent
Fridges
Gas System
Gas Compliant System Installing LPG Safely in a Self-Build Campervan
Gas regulations for van conversions
How to test your LPG installation
MY GAS SYSTEM
LPG Inside your van – Safety Notes
Heating System
Electronics
Electrical Installation
Solar System
Attaching the panel to the roof
Split Charger
Shower & Toilet
Built in shower – Pros, Cons & How to install one
Toilets
Windowsills & Black out blinds
Lean-on bed-side cupboards
Raised Cupboards
Above the Cab & Bathroom Cabinet
Fold-down cupboard
Fabric panels and Side Lights
Waste storage
Chair & Upholstery
Better Upholstery
Sound system
Safety & Security
Security
Finishing touches
What worked really well (latest van)
Commonly Asked Questions & Answers
Parts and bill of materials
Key Parts List
Other build advice
Price: USD $18

This is what you should buy…
So let's just cut through all the wiffle waffle… having gone through all these resources, here are my recommendations for which van conversion guide book and course you should buy:
Van Conversion Academy – ugh, of course the most expensive thing is the one that I recommend first. <face palm>
Of all the courses and books, I have found this one to be the most comprehensive, well laid out, supported by excellent documentation and it's the newest too, having only been released in 2021.
The 'extra's' that are included are not gimmicky things like checklists that you sometimes get with other courses, but actually useful and informative resources.
I love the blueprints, they really help me, a non-mechanical person, to understand how all the bits go together. Maybe if you're already pretty smart with how plumbing and electrical go together you won't be as impressed. But this course, in my opinion, gives you what you want/need in a 'how to convert a campervan' course like this.
Buy the Van Conversion Academy course here.
Next, I would recommend getting Nate Murphy's Van Conversion Guide. I wouldn't say this is a replacement for the Van Conversion Academy course (not at all), but for the price point, you get a lot of information.
Buy the ebook or kindle version (not the hard copy which I think you can get on Amazon) because there are links to the videos. At about $25 AUD it's a really good resource.
Buy the Van Conversion Guide book here.
Okay, and now on to some of the resources that are freely available on the internet… for free.
Free Resources
Posts
You know, you can actually get heaps and HEAPS of info, for free, on the many campervan and van life blogs on the net.
But it can be a little bit hard to sort through, which is why courses and books are so popular. Here are a couple of really helpful and comprehensive posts that may be enough to get you started. Or at least give you an idea of what you're in for.
https://www.weseektravel.com/diy-van-conversion-australia/ Olly's covid lockdown project was converting a 2013 Ford Transit LWB High Roof into a full-time campervan. In this massive post he walks through each step of conversion process.
https://www.parkedinparadise.com/how-to-live-in-van/ – there is A LOT of information in this blog post with lots of links out to more of their content.
https://gnomadhome.com/build-your-van/ – excellent in-depth post on all the different options you have when converting a van. It's a big affiliate post, but it's still really informative and helpful.
https://www.thewaywardhome.com/category/van-life/build-a-van/ – Kristin has just oodles of van life information on her site. She's been living part-time in a small van (other part-time on a sail boat) and has just bought a new Sprinter that she's also converting. So I expect to see even more campervan conversion content coming out soon.
YouTube Channels
With so much content on YouTube I'm sure I don't actually need to write up a list. You can just do a search using keywords like: campervan conversion, how to build a campervan, how to convert a campervan…. etc. This will lead you to a tonne of accounts and you'll then need to wade through the information that's relevant to you and your build.
Here are a couple that I think are good:
https://www.youtube.com/channel/UCSqGj5KgpYFD0R-nCHqh_OQ
Salty Vanventures are Australian based so at least you know the information in this channel is relevant to us.
https://www.youtube.com/c/VanKookz/videos
Van Kookz have lots of 'how to' videos, you just have to be aware that they're based in North America so things will be a little bit different.
Conclusion
So there you have it, my round up of the van conversion guide books and courses that I have.
In case you skipped straight to the bottom, my recommendations for the paid van conversion resources are:
Van Conversion Academy (course)
&
Van Conversion Guide (book).
But if you're on a super tight budget, just get as much info as you can out of the all the free resources.
Have you found any van conversion resources that you think are great?
---
Have you ever thought about converting an electric van into a campervan? In this post we look at which electric vans are available in Australia now.